Details

Written by Wade Rathke

At the midpoint, this has shaped up to be a funny year for me thus far. In addition to the usual organizing and international road work along with scaling up the ACORN Home Savers Campaign in the United States, I've been doing "sales and promotion" on a double bill with the documentary, "The Organizer" and my new Social Policy Press title, Nuts & Bolts: The ACORN Fundamentals of Organizing. Having now seen various versions of the documentary several dozen times, I'm most interested in the Q&A at the end and listening to what people around the country and the world are thinking about when organizing is the topic at hand.
Here and abroad, people are curious – and captivated – when they see the footage of ACORN's squatting campaigns. The global crisis facing tenants is acute. Eviction rates are soaring in city after city in the United States. The notion that people can successfully organize, take action, and win with such militant tactics gets hearts beating and hands clapping. Hearing the questions, I can always tell what people are really asking is "How can I get some of that going?"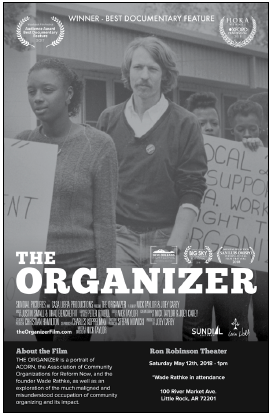 Those questions come fast and furious from younger people. Whether in San Luis Obispo, Lansing, St. Petersburg, Santa Fe, Lafayette or Little Rock, if there are women in the audience and especially if they have some gray in their hair, they want to talk about "the resistance." They are organizing in various and sundry local political groups. They want to talk about the midterms. My survey of "hands-in-the-air" says that President Trump is in trouble if he is underestimating the anger and disgust of American women. They have questions. They are reaching out for help. They are putting in the work. They are laser focused on the midterms and 2020.
Older men most often are incredulous. Some are worried that America and what a generation – our generation – had accomplished is being unraveled. They can't believe politicians got away with attacking ACORN. They still can't believe that Donald Trump is President. They are mystified that all Americans are not up in arms in the streets trying to stop the draconian policies of the administration. Some ask about impeachment. Some are so angry they can hardly ask the questions. Their faces are shrouded in frustration and disgust at their own inability to put a stop to all of this. Often there isn't even a question, just a face speaking with barely contained rage.
In European countries whether England, Scotland and France or Greece, Slovakia, and Bulgaria, I was always asked about Senator Bernie Sanders. He had hit a nerve. Some hoped it was a sign of a "socialist" awakening in the United States that might make it, how can we say this, "more European" perhaps. Few were happy with my answers.
The one common theme everywhere and in every demographic and age group that has been very encouraging is how inspired people get by the movie, whether they knew ACORN or not. People want to fight. They want to believe they can win. They want to join some organization or cause somewhere that makes change and empowers. That's exciting to hear!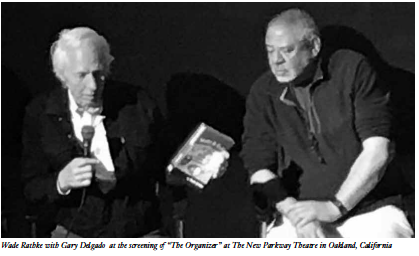 Everywhere I am asked whether ACORN can be revived. I answer that there's never a way to put Humpty-Dumpty back together again, but there is a vacuum that a "new" ACORN could fill, though the odds are long and the task would be huge to create the organizational formation that would respond to these times and rally low-and-moderate income families to join. Then I change the subject to the need for a national tenants' union for lower income and working families. It's important to keep it positive. Keep everyone looking forward in this troubling time.
But even as I have been listening to them, they have been listening to me, and they understand I am really talking about a "new" ACORN being more like a tenants' union than the kind of organization it was almost a decade ago. I'm really answering that each and every one of us has to do whatever we can think might work to the best of our ability, because so much is at stake and the time for action is now, ready or not.
Wade Rathke is the Chief Organizer of ACORN International, Founder and Chief Organizer of ACORN (1970-2008), and Founder and Chief Organizer of Local 100, United Labor Unions (ULU).
Details

Written by John Anderson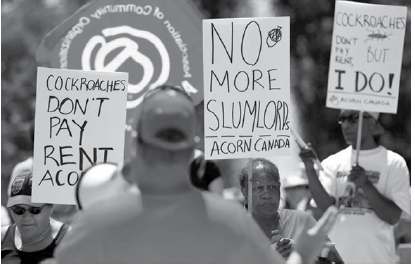 Doing research for the Hamilton ACORN's campaign to reign in bad landlords shows again the stark power imbalance that exists between property owners and tenants. That imbalance leads to owner-friendly policy and low-quality housing for our low-to-moderate income people.
Case in point: By decree only property owners can sit on Hamilton Property Standards Committee, the appeal body for all tenant complaints in the city. I just checked the calendar and it is 2018 and not 1865, yet the City of Hamilton systematically excludes a large segment of its population from having any say in what it classifies as a property standard violation.
Look at the makeup of Hamilton Property Standards Committee and you won't be surprised. All white, 80% men, 40% real estate agents — these are people with biases and a vested interest in not protecting property standards but doing the exact opposite.
A recent report put out by our allies at the Advocacy Centre for Tenants of Ontario shows how bad tenants have it, even in the postindustrial city of Hamilton, Ontario, which has seen hard times with the closing of steel mills. Forty-five percent of Hamilton renters are now living in unaffordable housing. With rents going up by five percent annually, and the vacancy rate at two percent, the
One of our leaders reported that a member of ACORN was given notice of an illegal rent increase and told by his landlord that if he didn't agree to it there would be repercussions. Now ACORN fights these things, and this member is doing just that, but this is not an isolated occurrence. The same landlord was a fixture on local news last year and these same ACORN members held actions in an attempt to get mold infestation cleaned up. This landlord has successfully exploited the power imbalance by disregarding the ineffective laws that are in place.
To date, a long, fractured and confusing debate has taken place in Hamilton on the subject. The debate is so confused that recently the Social Planning Research Council and an anti-poverty roundtable signed on to a series of landlord lobbyist recommendations that opposed tightening regulations on landlords. They argue, if I am getting this right, that regulating apartments to ensure they are up to basic living standards will mean a loss of affordable housing stock and will exacerbate the affordable housing crisis.
So nice for liberal do-gooders to tell our low-income tenants - who live in mold- infested buildings, who face the illegal rent increases from harassing sociopath landlords - that the answer to their problem is the status quo.
Interestingly, and also adding to the confusion of the debate, is that an anarchist network of activists is an active voice for tenants in Hamilton. They also oppose regulations and laws that enforce property standards, agreeing in part that fixing buildings up leads to gentrification, but even more from an anti-state/anticapitalist bent.
Now, I'm not new to all that. And I'm not confused by activists arguing, on behalf of tenants, that enforcing property standards in apartment buildings is bad for tenants because it perpetuates the capitalist state. But you better believe that average Hamiltonians are confused!
I'm making the argument that the debate on landlord licensing is so unbelievably confused in Hamilton because it lacks an organized voice for tenants themselves. Having average tenants speak for themselves will help clarify the debate, and that is essentially all ACORN ever wants to do.
ACORN tenant leaders from around the city have now together to begin planning for a large-scale campaign leading up to the municipal election in October. They have action plans, trained staff, budding tenant leaders from around the city, and are ready to roll.
With the truth at our back we are organizing to tip the power balance at Hamilton City Hall to the side of working people. If things go as planned we will create laws that protect people, not just landlords and their bank accounts and we will help clarify what working people want to fight for in Hamilton.
John Anderson is the Head Organizer of Toronto ACORN. Since 2004 John has helped to develop the ACORN Canada operations in Toronto, Ontario, and British Columbia. He is a graduate of the University of Winnipeg.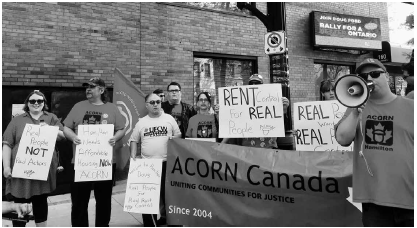 Details

Written by Review By Beth Butler with Ruth Rinehart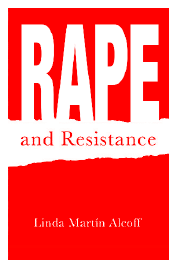 Among a range of vital voices on rape, Linda Martin Alcoff has issued a call to action for all of us to hear. In Rape and Resistance her prescription begins with the powerful and simple: to listen more closely to those who have been violated. No, really listen. The #MeToo movement has also forced us to hear some of these voices. It has increased our understanding of the depth of the problem, the legitimate anger of women trying to change these conditions, and the depth of nuance necessary to understand the life of the survivor. Yet, the level of sexual violence and aggression against women and girls is so vast and ubiquitous that the statistics remain staggering and massively undercounted. Globally, Alcoff points out, it might be impossible to ever assess the numbers.
Within their first waking moments at home or opening the front door, many women and girls begin their day confronting sexism, brutality and
violence. Whether the violations are as common and socially acceptable as enduring the male gaze or as violent as rape (reportedly one each minute), women live the world over under the constant real or latent threat of sexism, attack and sexual violence.
Alcoff illustrates the conditions at play and the necessity to listen well to survivors who too often are discouraged from sharing their moments of fear and abuse. She urges us to get a handle on how to listen, while she highlights the culture that shuts down the story-telling. And she highlights that the culture is essential. How many women do you know — in your inner circle as well as your wider community —who are survivors of rape and sexual assault? Have you heard their stories? Have you listened well? Why not? What is it about the dominant culture that controls the behavior of women and girls to the point that they have no voice to share the horror, to share their feelings, or share their lives? Why have only some exceptionally brave people who come forward and risk being reduced to the stereotype of victim? What's in it, in the short run, for a rape survivor to be vulnerable and talk to anyone, ever?
To know and understand the very details, feelings and nuances of these encounters is to better understand sexual violence and what can be done about it. It starts with listening to folks who have been violated, including men, boys, girls, women, transgender folks and others who identify as non-binary.
Alcoff's call to listen is powerful. The listening and the being heard is transformative. The act of one person's affirmation of another is deceptively simple. Listening to another's story, their pain, their confusion, their anger, their rage, their healing, their power, their agency — Alcoff seems to demand that really listening directs us to change. That is where it starts in all organizing, listening. We need to know that change will involve organizing. And that as organizers we have responsibilities to figure out the model for more changes.
It is true that more rapes are now reported, and this certainly can be seen as a victory. It is not a means for systemic change, however. Alcott insists that the first step is listening to survivors. This deceptively simple act offers more opportunity for change, for healing, and for organizing. We must listen. We must do this in order to get it right.
Where are we as organizers in a culture of rape, misogyny, and the patriarchy? We're all survivors of the patriarchy … women, men, cis-, trans-, non-binary people. Where are we as women organizers, working for justice within a rape culture, swimming in misogyny? How do we assess the issues and understand where and how to move to change this condition?
From direct community organizing experience, there are some examples that highlight a listening culture, and how changes can be made.
A sexual offense victim, "Mary," contacted A Community Voice (ACV) since chapters were working on rape issues in the low to moderate income neighborhoods of New Orleans. She heard that ACV members were doing outreach on a rape issue; this is a form of actually listening. In her initial visit it was very clear that she hadn't been listened to, that her very words could have helped the investigators or detectives solve the crime and likely prevented others from being raped as well.
As the group requested help for her from others who were better trained — specifically a police monitoring group — we learned more details from Mary that were horrific, disempowering, highly insensitive to her life, and her being. We learned of her community's support for her, and her boyfriend's lack of support. We learned of her boyfriend's constant pressure for sex when she could only "feel nothing." Listening to her, sometimes it seemed that she had it so together and that she was doing great, until she had said something to let us know that no, she wasn't fine at all. She carried with her fears heightened by her proximity to the sexual offender's likely residence in the same community.
Alcoff asks us "where would Mary's story be reflected in a rape statistic?" Statistics alone are inadequate to move changes in the conditions of rape and sexual abuse. Alcoff argues that there are other unheard, un-listened to voices out there that reflect other factors of oppression for women of color, of poverty. This brought to mind other community organizing experiences that helped develop a construct of how to listen for stories of sexual violence. The mere fact that women, low-income and people of color can have a sisterly camaraderie through community organizing may be the very reason that they can feel supported in bringing forward incidents of rape.
In 1979, the Memphis ACORN chapter began perhaps the first campaign against rape ever by a community organization. An incident was brought forward by a single mom whose differently-abled daughter was raped in a school gym. The principal and vice- principal, both male, denied the rape, ridiculed the daughter and ostracized the mother. The ACORN chapter there however, was almost entirely women, and led by women of color, experienced in fighting injustice. The mother's courage to bring forward her own heartbreak for her daughter and the way she was dealt with were met with strong sympathy, empathy and support for making vital changes in an institution. Her voice was supported before she brought the tender and hurtful subject to them. She had a way to believe that her sisters there had the fight in them and would rally with her. Throughout the pickets, the shunning, the division of the principal's pets against the ACORN members, she was strengthened and her daughter supported. At the end, the principal was fired, the school had new procedures, and there was security for the students. There was also justice and belief in fighting for change. There was an experience for all to learn the value of community organizing.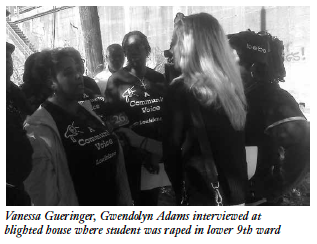 This wildly successful campaign presaged another rape campaign in another ACORN chapter in New Orleans. In that case, the rape was in an abandoned house, which the group tore down in a single day. It was such a radical action that the police threatened members, leaders and staff, and finally broke the large plate glass windows in the ACORN office, and stole 3 electric typewriters before dumping them in a nearby garbage can, just to leave a message. Eventually, in a huge victory, the state law was changed so that a house could be torn down; but in the meantime, women from all over were enthused and thrilled at this fight so clearly highlighting community and women against the system.
Boston ACORN also had a fight for street lights and other changes to make women safer. In post – Katrina New Orleans, A Community Voice leaders took on a rape campaign when a student was violated in an abandoned house on an unlit street in the lower ninth ward. After marching and rallying, suddenly five abandoned houses on that block were torn down, all of the street lights were brilliantly lit, and the school system stopped allowing drivers to drop students in blighted areas.
In one key elevation of historic rape campaigns, ACORN was able to lift the statewide campaign to the national level and support the efforts of mainstream women's groups who led the way to propose the National Violence Against Women Act. (NVAWA) Although rape was seen as a women's issue, ACORN had been politicized and changed to grasp it as a community issue, so it was normalized to step into the "women's arena" and support the National Violence Against Women Act through a national canvass and lobbying operation. ACORN was credited by the women's groups with the fact that the NVAWA passed where it previously had been doomed to failure.
Clearly, organizing is one serious vehicle for change. The voices of the threatened and the survivors beckon us. Listen Up and yes, Organize!
Beth Butler is a Director of community organizing at A Community Voice, New Orleans, LA, an affiliate of ACORN International and pillar of the citywide coalition Justice and Beyond. Butler developed ACORN's largest community organization in the South, with a 45-year focus in organizing low to moderate income people. Rev. Ruth Rinehart is a Unitarian Universalist minister, a former ACORN organizer and works to smash the hetero-normative, ableist, white supremacist, capitalist patriarchy in every way she can.
Details

Written by Philip Mattera

For the past two decades, Walmart has repeatedly been accused of compelling workers to perform certain tasks off the clock and has paid numerous fines for those practices. It is often suggested that the retailer is an anomaly, acting more like a fly-bynight sweatshop than a corporate giant.
I recently completed a research project showing that, on the contrary, off-the-clock work, denial of overtime pay through misclassification and other forms of wage theft are pervasive in American big business. After digging through court records for much of the past year, I found more than 1,200 successful wage and hour lawsuits against hundreds of the country's largest employers. These collective action suits have yielded some $8.8 billion in settlements and verdicts in the period since 2000. The same group of corporations have paid around $400 million in fines to the U.S. Department of Labor.
Among the dozen most penalized corporations, Walmart, with $1.4 billion in total settlements and fines, is the only retailer; second is FedEx with $502 million. Half of the top dozen are banks and insurance companies, including; Bank of America ($381 million), Wells Fargo ($205 million), JPMorgan Chase ($160 million) and State Farm Insurance ($140 million). The top 25 also include prominent companies in sectors not typically associated with wage theft including; telecommunications (AT&T), information technology (Microsoft and Oracle), pharmaceuticals (Novartis), and investment services (Morgan Stanley and UBS).
Due to Walmart, retailing is the industry with the highest aggregate penalties ($2.7 billion) imposed on large companies. It is followed by; financial services ($1.4 billion), freight and logistics ($828 million), business services ($611 million), insurance ($557 million), miscellaneous services ($486 million), healthcare services ($417 million), restaurants and foodservice ($397 million), information technology ($335 million) and food and beverage products ($315 million).
More than 100 large corporations have paid penalties in three or more collective action lawsuits. Bank of America and its subsidiaries did so two dozen times.
Although there are fluctuations from year to year, the lawsuit penalty total reached a high of $1.3 billion in 2016. The tally in 2017 was $732 million, the fourth-largest yearly total.
There have been seven individual settlements in excess of $100 million, including the $640 million omnibus settlement by Walmart of more than 60 lawsuits and two FedEx settlements each in excess of $200 million. Since collective actions are usually settled before trial there are few verdicts. But Walmart leads in that category too, with a judgment of $242 million. It has also paid the largest single fine—$33 million—to the U.S. Labor Department.
The occupations represented in wage theft lawsuits range from low-wage jobs such as cashiers, cooks and security guards to higher-paid positions such as package delivery drivers, nurses, pharmaceutical sales representatives, and financial advisors.
The totals and rankings are based on penalties that were publicly disclosed, although the report documents 127 cases involving 89 large companies that petitioned courts to keep the details of their wage theft settlements confidential. AT&T, Home Depot, Verizon Communications, Comcast, Lowe's and Best Buy each had multiple sealed settlements.
Of the ten most penalized industries, all but two—freight and information technology—employ large numbers of women according to the Bureau of Labor Statistics. Several of these industries—especially business services, insurance and healthcare services—are predominantly female. In about half of these top ten industries, the percentage of Black and Latino workers is greater than in the workforce as a whole. For example, Black workers account for about 12 percent of the overall workforce but 20 percent of the labor force in business support services and 17 percent in freight. Latino workers account for about 17 percent of the overall workforce but about 25 percent in restaurants and foodservice and 29 percent in food and beverage production.
Many companies accused of wage theft are highly profitable. Among the dozen most penalized corporations, all but two had an annual net income of more than $2 billion in their most recent fiscal year. AT&T, JPMorgan Chase and Wells Fargo each had more than $20 billion in profits. These companies pay their chief executives generous salaries and bonuses. CEOs at AT&T, Bank of America, JPMorgan Chase and Walmart receive annual compensation of more than $20 million each.
Along with more than 300,000 other cases, the data used in the report can be viewed and downloaded from ViolationTracker.org, the nation's first comprehensive database on corporate misconduct. Grand Theft Paycheck, a report summarizing the data, can also be found there.
Philip Mattera heads the Corporate Research Project in Washington, DC, and writes the blog Dirt Diggers Digest.
Details

Written by Richard W. Wise
Born in the northern Arctic, the icy wind swept due south past a freighter steaming east out of Argentia, Newfoundland, veered west, curled round the rockbound Maine coast, hummed a tune through the rigging of the Boston Lightship, crossed Boston harbor, swept up the corridor between Columbus Avenue and The Jamaicaway, ruffled the steel-gray surface of Jamaica Pond, funneled through the narrow canyon of doubledeckers packed along Jamaica Plain's Green Street, then cut like a sharpened blade through a down jacket and several layers of wool and sent a shiver tap-dancing up the spine of the young neighborhood organizer who stood lonely vigil on a cold winter's night.
It was half past midnight and Susan Barlow was still alive.
She rocked up onto her toes then stamped her feet. The night was black and as bitter as the dregs at the bottom of her cardboard coffee cup. The young woman gazed up at stars shining like icy pinpricks in a coal black shroud. She crumpled the cup in her hand and started to toss it into the trash-strewn alleyway, then hesitated, "No, no, mustn't litter," she whispered to herself, grinned and stuffed the crushed cardboard deep into the side pocket in her down parka.
"Very sexy, Suze! You look like a corndog wrapped in a blue bun." That was her roommate Sara's verdict the day she wore the new parka back to the dorm.
"Didn't Ali McGraw wear something like this in Love Story," Susan asked, twisting side to side, admiring her new purchase in the full-length mirror.
Sara was an Ivy League wannabe and the actress was Sara's role model — she had seen Love Story "like a gazillion times" and Susan had bought the parka partially as a protest against her roommate's stultifying conservative style of dress. "Yeah, well", she thought, wrapping her arms around her chest and hugging herself close, "I'd rather be a warm corn dog than a frozen French fry on a night like this".
She leaned back against the door, her eyes closed, her lips curled into a smile as her mind drifted back to a golden August afternoon. For the moment she forgot the cold, forgot that she stood shivering in the cramped shadow of a cellar doorway guarding one of a serried row of hulking tenements, their darkened windows gazing with sightless eyes over Green street. Instead she stood engrossed in the gurgling melody that played against the smooth hull of her catboat; her mind recalling only the warmth of her family's carefree Nantucket summers.
She felt herself falling and instinctively reached out and steadied herself against the pealing doorframe. "Whoa there, Suze, let's try to stay awake!" She stretched her back, then pushed back her sleeve, exposed the glowing watch dial and sighed— 12:50am, just ten minutes since the last check. She glimpsed something out of the corner of hereye. Her breath caught, Was that a light in the first floor window? She narrowed her eyes and studied the window. Must be seeing things! She stamped her feet, checked her watch again. Shit! she had been standing in the doorway now for an hour and a half.
"Easy, Suze," she admonished herself, "Don't go getting all squirrelly on me"!
She and her boss, Jedediah Flynt, had discussed the surveillance and the wisdom of her getting an early start. Does the guy ever sleep or take nourishment?, she wondered.
She had stopped by the old stone church that served as the project's office just after 10pm to pick up a file. Her planning meeting with a couple of block-club leaders had run late. Her ladies had won a commitment from the city to have a neighborhood firetrap boarded up in record time and the buzz of power was as heady as it was unfamiliar to a pair of working class Boston-Irish housewives.
Flynt sat alone in the project's office, lounging in his swivel chair—feet up on his desk with the phone cradled in the crook of his hunched left shoulder, a white porcelain coffee mug stood by his right hand. The office was open-plan cube farm with dividers separating it into a crossword puzzle of workstations, one for each of the staff organizers. The eight-foot fluorescent tubes mounted in the ceiling lit up the interior like a fish market. Flynt nodded in recognition, spat a few quick words into the black mouthpiece, dropped it into its cradle and swung his feet onto the floor.
"You're up late," he said.
"Yeah, the block club meeting just ended," she said.
Flynt looked up and rubbed his chin. "How'd it go"? he asked.
"Really well, the city has scheduled a board up early next week."
Armed with Susan's research and tactical advice, the two ladies had led the charge to secure the abandoned property. It had been a short, tough fight between the neighborhood group and the Boston Building Commissioner. But the commissioner was clearly not prepared for an ambush by a crowd of neighborhood people who filled his office like an overstuffed sandwich, refused his demands that they leave and could quote the State Sanitary Code chapter and verse.
"Congratulations—how about the leadership?"
"Oh, the ladies, they're on a power high! There's a group of neighborhood kids want the city to build a street hockey rink and the block club is already making plans to help them get it."
Susan stood with her feet apart and her hands on her hips and looked down at Flynt. "You think anybody's going to try and torch that building before midnight, boss?" she asked.
He shrugged. "Hard to say."
"Supposed to be a cold snap all this week?" she said.
He shrugged. "Yeah, it'll be cold. Your call," he said.
"Yeah, right!" she said.
She saw right through the feigned indifference. He was being cute, manipulating her, and she resented it. But then, what did she expect? Keeping the place from being burned down before the city had a chance to board it up was her problem and she knew that she had to deal with it. She was scared of being out there late at night but wasn't ready to admit it to herself and she was never going to admit it to him.
She and Flynt had an odd sort of relationship. He's definitely a sexist, she decided, though at one point she had fantasized about an afternoon in bed with him.
"What makes you so sure, Jedediah, about the burning, I mean?"
His dark eyes rounded briefly at her use of his full first name. He had a lopsided smile that played off against the sharp angles of his face. He usually called his employees by their last names and most just called him Jed.
He raised his elbows and stretched his long rangy body. "Come on, Barlow, you've done the math! Except for those that were properly secured, every vacant building within two or three blocks of the corridor has been torched. The one you just took care of is in the zone — and if memory serves, you were the first one to notice that pattern."
Susan shrugged her heavy bag onto an opposite desktop and slumped down into a facing chair.
"Yeah, if it really is a pattern! Me and my big mouth, huh?" she said. "Played too many games of Monopoly when I was a kid, I guess."
Flynt smiled at her. "Yeah, maybe, but nobody else noticed— shows you've been paying attention."
Her eyes looked boldly back at him. The color was arresting, disconcerting. China blue one of the other young organizers had called them. "Really? That sounds almost like a compliment, boss."
"Yeah, well don't let it go to your head, Barlow. Thereare a lot of homeless types looking for a place to crash. They break in, make fires to keep warm, piss on the floor, strip out the copper to buy booze or drugs and at somepoint, the fire gets away from them. Like you said in the staff meeting, lately it's been happening too damn quick and nobody even bothers with the copper."
"Any word from the district fire chief's office?"
"So far can't get anyone from the district to return my calls," he said with a thin smile. "Better make up a Freedom of Information request, get one of your leaders to sign it, they know they have to respond to that. Talked to one of the flak-catchers over at Little City Hall. She claims all fires are thoroughly investigated, Mr. Flynt."
He raised his hands and dropped them in a gesture of helplessness.
She made a face. "Guess I better write a letter. So, what's the point, insurance?"
"You kidding, fire insurance on Green Street? Good luck getting any insurance company to write a new policy in your neighborhood or anywhere else in central J. P. The whole area is redlined."
"Redlined? You've mentioned that before, but I really can't say that I understand it all that well?"
Flynt hesitated and gazed at her for a moment to make sure that she wasn't pulling his chain. Susan, he knew, typically came on like she knew it all even when she didn't.
"Well," he began, "it's complicated. The Northwest Community Organization in Chicago was the first people's organization to get a handle on it. I've got an organizer from N.P.A. — that's National People's Action — fellow by the name of Trapp, used to be lead organizer at Northwest, coming in to run a staff training session. Basically, redlining refers to a practice where the banks or the insurance companies or all of the above get together and draw a big red line on a map around parts of the city that they consider too risky to do business."
"So, they write off the whole neighborhood?"
"You got it and once that happens, kiss the central neighborhood goodbye. Ninety-five percent of all residential housing sales are sold subject to a mortgage, and to get a mortgage you must have insurance. So, it's a Catch- 22, you can't get one, you don't get the other. If mortgage or the insurance money is choked off, the housing market collapses — which sets the stage for blockbusting, slumlords, racial steering and housing abandonment.
Redlining is the underlying economic cause of most of the shit we have been organizing around."
"So, basically these properties are worthless?"
"Yeah, well there it is," he said rocking back in his chair. She noted the stubble on his cheeks and the dark smudges under his smoke-gray eyes.
"You ever read the novel Gone With The Wind"? he asked.
"Yeah, when I was like about twelve, why?" she said.
"Well, there is this scene where Melanie is questioning Rhett Butler about how he made all his money. You recall he was a smuggler, dodging the Yankee blockade to bring supplies into southern ports during the Civil War?"
"Uh, huh."
"Okay, so, Melanie overcomes her proper Southern manners and asks the question, and he says, 'there is more money to be made out of the wreckage of a civilization than from the building of one.'"
Susan rolled her eyes, "Yeah right, okay, I get it, like blockbusting?"
"Exactly."
"Ok, but what's with the corridor anyhow? I mean whose bright idea was that?"
"Happened before my time. Bunch of community groups got together to stop I-95 running right through the middle of the neighborhood. Finally got the governor to stop it but not until the whole thing was demoed in from Route 128 to Roxbury. What you see is what's left," Flynt said.
She stood up. "Okay, I'll get setup as soon as I leave here. But what do I do if I see anybody?"
"Stay out of sight! Hide in an alley between the buildings. Or just stay in the shadows. If you see anyone or anything suspicious, try for a description or a license plate. Then get the fuck outta there, call the cops and then call me."
"And if it's late and you're home asleep?"
"I'm serious, Barlow. Don't take any chances. People who torch houses are not the kind of folks you want to screw around with. Call me if you see anything suspicious, no matter what time, day or night, just call me, okay?"
"Aye, aye, sir! "she said, and she tossed off a mock salute.
"Susan!"
"Okay, okay, I get it, I'll call!"
He had just used her first name and she felt absurdly pleased.
If it was one of the guys, Flynt was thinking, I'd be worried—but Susan has a good head on her shoulders. He picked up his cup and cradled it between his hands.
"Chances are, these guys are professionals, they are going to show up in some kind of vehicle and be in and out quick. Try for a description of the car, and above all a license plate—look, can't you get any help? What about your leadership?"
"The whole neighborhood is watching the house, but Cathy and Mrs. Sheehan both work third shift. People have got to sleep!"
"Nobody else?"
"Molly Reagan. She lives just up the street. She loves this kind of shit, keeps a lookout on the street all day long, writes down the license numbers of the cars that stop, but she's an old lady and she turns in early. Looks like it's down to me. I can hang out in the cellar doorway along the side of her house, though — it's almost right across the street."
"Right, okay, good. You need some help? I can assign one of the guys to spell you."
Not one of those assholes, she thought. She liked her three male colleagues well enough, but, like most guys, they were a bunch of chauvinists. She'd be damned if she showed anything that could be interpreted as female weakness. She'd never live it down
She propped her hands on her hips.
"It's only a few days. You think I can't handle it? You say one thing to any of those guys and I walk right now. "Flynt stood up and held up both hands palms forward.
"I never said you couldn't handle it. But it's spooky late at night. If there are guys out there systematically torching houses it could get seriously dangerous if they catch on to you."
"I'm a grown woman and I can handle anything any of the guys can, and Green Street is my territory and that makes it my problem, right?"
"Right."
"Okay, that means I'll deal with it."
"Yes mam."
"Ok"! Susan grabbed the strap of her bag and hiked it up onto her shoulder, turned and strode straight though the vestibule and out the door without another word.
Jedediah Flynt watched her exit, admiring the slim retreating figure in tight jeans. He stood still until he heard the outside door slam shut, and then shook his head slowly side to side and sighed. My, my, my, he thought — keep your eyes on the prize, my son, because there surely lies the road to perdition.
Flynt sat down at his desk, propped his feet up, picked up the phone and dialed.
Richard W. Wise is a former lead community organizer. He directed organizing projects in Providence, Rhode Island, Boston and New Bedford, Massachusetts. His other books include: Secrets of The Gem Trade and The French Blue." Wise has the copywrite to "Redlined." This is an excerpt of the beginning of the still unpublished novel which is a work-in-progress.