Details

Written by Wade Rathke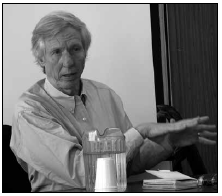 A couple of years ago I wrote a book that included in the title – and a long section of the volume – "the lessons of disaster."
After Katrina in New Orleans, we learned these lessons every day. One thing worth remembering from our school days though is that we only really learn the lessons that are being taught, if we actually pay attention in class, or at least read the book, and do the homework.
Looking at the disaster of President Trump's anti-immigrant policy and the "natural" disasters delivering one punch after another from rains, floods, wind, and storms, it is clear that even if these disasters are not linked, the recovery and what should be the lessons they teach, are. Not that the White House or President has noticed.
Trump is all wall and no cattle, all quick relief and no permanent cure, all about governing from his narrow base and ignoring the consequences reverberating throughout America. After the Harvey deluge, he visited Texas several times. He wants to establish that his administration can actually walk and chew gum in dealing with the disaster. He misses the problem of the recovery, because of his bias against immigrants and their labor, at least those not working at one of his hotel or golf properties. After Katrina, President Bush implemented a "looking the other way" policy about immigrant, undocumented labor that was critical to the recovery of New Orleans and the Gulf Coast. Immigration enforcement was effectively suspended, because every willing worker was desperately needed, and those willing to rough it, sleep in camps in City Park, and make do, were especially prized. New Orleans had always enjoyed a diverse Latin American population, but mainly from Central American countries like Honduras, El Salvador, and others with a very small Mexican presence. After Katrina the Mexican migrant footprint was huge. At one point it seemed that they were putting up every new roof in the city.
Houston has low unemployment, so does Florida and much of the beleaguered South that is caught in the wake of Hurricane Irma. There is a critical shortage of skilled labor especially in the construction trades. Talking to organizers in Houston, the immigrant population in the city and the state is huge, yet they are now being twisted in the wind by Trump's tweets and tantrums. Not suspending enforcement in the recovery area means that construction will be delayed and costs will go through the roofs that need fixing all over path of the storm.
Median income is up for the second straight year – over 10% in the last 2 year period. Unemployment is down. Immigrants are not taking jobs away from anyone, and in fact jobs are going wanting.
We've had government for the 1% for so long, that government for the 30 or 35% hardcore Trumpsters is a shocking and unsettling experience. When it was all about lining the pockets of the rich, it was possible to have an analysis, learn the lessons, and close the book and hope for a new chapter and another class. With Trump, nothing is connected, nothing learned, feint and jab, and cut our own noses off to spite our face. He loves the dreamers he says. We need him to love the workers, too!
Will we ever learn?
Wade Rathke is the Chief Organizer of ACORN International, Founder and Chief Organizer of ACORN (1970-2008), and Founder and Chief Organizer of Local 100, United Labor Unions (ULU).
Details

Written by John Anderson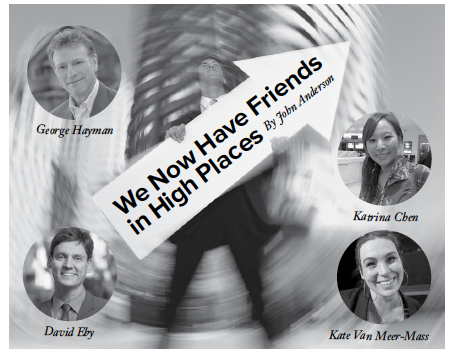 New Democrats have won in British Columbia. After 16 years of BC Liberal rule, a worker friendly party is leading Canada's third largest province, albeit a minority government propped up by two Green Party MLA's.
We now have friends in high places.
George Hayman, the former president of BCGEU, is the Minister of Environment. After years of Government green-washing, Hayman can now ensure that the resource-dependent province does its part to stave off the impending environmental catastrophe that the world faces. Already something he showed leadership on as president of BC's largest public sector union.
Longtime ACORN ally David Eby is now the Minister of Justice and the Attorney General of the province. The former head of the BC Civil Liberty Association, Eby has a very solid track record on housing justice, police accountability, and drug law reform. Politically he is in a very powerful position in the party, and now has a chance to change the laws he has long fought to reform. After working with him over the years I can only hope that his power continues to grow.
Even some former ACORN organizers are now powerful people in BC.
Katrina Chen did a solid organizing drive for ACORN in Surrey, BC in 2006. Soon after she was scooped up by Burnaby NDP MP Peter Julian and served as his constituency assistant for several years. She then got the nod to run for the Burnaby Citizens Association (BCA) as School Board Trustee. Low and behold Chen is now is the Minister of State for Child Care, hopefully a position created to do something real for hardworking parents in BC.
There is a bit more to the BCA connection for Chen. BCA pushed through a redevelopment that displaced 1000s of low to moderate income tenants from the Metrotown neighbourhood. Burnaby Mayor Derik Corrigan, whose wife was a long time NDP MLA, led the charge on what ACORN and our allies called 'renovictions'. While the campaign ACORN and our allies ran against the BCA redevelopments plans had flaws, this was an egregiously horrendous policy. Early on in the campaign we had then NDP MLA David Eby come out against the policy, but once the tight provincial election campaign started all opposition to BCA's plan was muted.
More connections though Burnaby: Mayor Corrigan, the dominant leader of the BCA, is good friends with the NDP leader, and now BC Premier, John Horgan. A special advisor to Mayor Corrigan was actually the person who took me out door-knocking on my 'obs day' applying as an organizer for Toronto ACORN In 2004. Kate Van Meer-Mass was briefly an ACORN organizer when we were fledgling in Canada, and moved on her own accord to work with COPE Vancouver, and then for the Burnaby Mayor, and she is now Chief of Staff to the BC Premier. She mentioned to me in 2013, when I was Head Organizer at BC ACORN, that she indicated disagreement with the Mayor's plan for Metrotown and any notion that Burnaby did not have an affordable housing problem.
The debacle in Burnaby is something that should temper one's aspirations of what a BC NDP Government will be, especially for our low to moderate income constituency. The job for ACORN and other organizations representing poor people is to take advantage of this opportunity to see if our friends in high places can deliver for all the people, including our members.
John Anderson is the Head Organizer of Toronto ACORN. Since 2004 John has helped to develop the ACORN Canada operations in Toronto, Ontario, and British Columbia. He is a graduate of the University of Winnipeg.
Details

Written by Patrick Foster
"I don't know what the president believes in. Maybe he doesn't believe in anything".
Republican Richard Nixon, won the White House in 1968 and would serve in that office through 1974, when he became the first and only U.S. President forced to resign office in disgrace. Romney later held a grudge against Nixon, but at the time, just after the election, Romney made no negative public statements about him. The President-elect held out a sop for Romney - the offer of a cabinet position in Nixon's first Administration. The job was Secretary of Housing and Urban Development (HUD), and was a natural position for a caring, compassionate man like Romney.
Nixon made the announcement in a national broadcast presenting his new cabinet on December 11, 1968. He praised Romney for his "missionary zeal" and said his job at HUD would be to mobilize volunteer organizations to fight poverty throughout the United States. However, inwardly Nixon disliked Romney and was suspicious of his motives, and appointed him to the low-profile federal agency partly to appease Republican moderates and partly to reduce Romney's potential as a challenger for the presidency in 1972.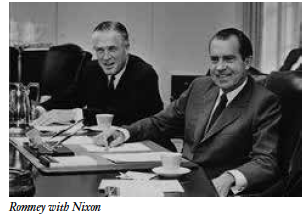 The Senate confirmed Romney as Secretary of HUD on January 20, 1969, the same day as Nixon's inauguration. There was no opposition to Romney's appointment and he was sworn into office on January 22. He resigned as Governor of Michigan the same day and was succeeded by Lieutenant Governor William G. Milliken. Romney tackled the job at HUD with his usual vigor. Upon taking office he conducted a reorganization of the department. By November 1969, he brought together programs with similar functions and created two new assistant secretary positions. At the same time, he made it easier for local officials to enact his programs by increasing the number of regional, and area offices and then decentralizing program operations so that local problems could be addressed by local officials.
There was a very severe shortage of affordable housing in the U.S. at the time with the result that many people paid exorbitant rates for apartments, and many were living in substandard housing or slums. A big part of the problem, Romney insisted, was that the construction trade unions had too much power, causing excessive labor costs, while restrictive work rules wasted time during the construction process. All of this drove up the cost of building new housing. As Romney attacked the problems, he made numerous enemies in the trade unions and among the builders themselves. He didn't care. He saw excessive power being used to the detriment of society and he wanted things changed. Despite his growing unpopularity, he refused to back down.
The Fair Housing Act of 1968 mandated that the federal government commit itself to solving the problem of housing segregation. As part of the law, HUD was to orient its programs towards ending housing discrimination. Romney, filled with moral compassion, decided that the best way to end segregation and address the economic and geographic gulf between whites and blacks was to create low-cost housing in the suburbs and move inner-city blacks out of the ghettos and into the previously restricted suburbs. He proposed a plan dubbed "Open Communities" as a way to desegregate America. His agency worked on plans for months without informing Nixon.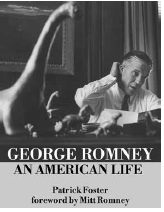 When Romney's open housing proposal was made public, there was an outcry of hostility against it in many towns and cities, including Warren, Michigan, a blue-collar suburb of Detroit where many blacks worked but could not live owing to zoning practices and discriminatory actions by whites. Romney decided to make Warren a prime target for Open Communities enforcement and threatened to halt all federal assistance to the town unless it took a series of actions to end racial discrimination. Romney claimed that all he was asking for was affirmative action, but town officials argued that integration was being forced on them unnecessarily. Romney declared that, "The youth of this nation, the minorities of this nation, and the discriminated of this nation are not going to wait for 'nature to take its course'. What is really at issue here is responsibility –moral responsibility." Romney visited Warren in July 1970 where he was jeered by townspeople.
When Nixon saw the response from Warren, he came to the conclusion that America was not ready for forced integration. He compelled Romney to back down on Warren and release the federal funds without preconditions. When the town of Black Jack, Missouri also resisted Romney's HUD-sponsored plans for desegregated lower and middle-income housing, Romney appealed to U.S. Attorney General John Mitchell for help. But Mitchell, no doubt with Nixon's blessing, refused to get involved and the plan came to nothing.
Regardless of the lack of White House support, Romney accomplished much good while at HUD including stricter racial guidelines regarding new public housing projects. However, overall Administration support for the implementation of the Fair Housing Act was simply not there. Nixon had little use for it and knew it would anger his Southern constituents. Romney himself failed to drum up political support for his efforts, feeling that his programs were so obviously right that most would agree to implement them. In this regard he was showing a surprising naiveté.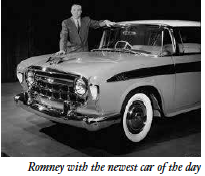 In Washington Romney continued to try to make a difference at HUD. His most ambitious initiative was a bold idea he dubbed "Operation Breakthrough". Begun in 1969, it was intended to increase the amount of housing available to the poor by utilizing the skills of private sector builders to develop new, inexpensive methods of building housing in large quantities. With his automotive industry experience in mass production techniques Romney thought that the cost of housing could be significantly reduced if in-factory modular construction was tried, and with more liberal work rules at job sites. He looked to private industry to come up with building techniques designed to lower the cost of housing. He saw it as a way to put an end to the massive and ugly apartment complexes that were the hallmark of low-income housing. If America could provide low-cost attractive and easy to build housing HUD would be able to spearhead desegregation by moving blacks out of ghettos and into the suburbs. "We've got to put an end to the idea of moving to suburban areas and living only among people of the same economic and social class."
His idea smacked of forced integration, which it was, and this again brought strong opposition at the local level while losing support in the White House. Romney spent over half of HUD's research funds on Operation Breakthrough, and it was modestly successful, though nowhere near the revolution Romney hoped for. But its greatest benefit was that it triggered a transformation in home construction in private industry as builders adopted many of the better ideas for low-cost construction, and many more houses began to be built.
Operation Breakthrough was the country's first large-scale systematic housing demonstration program, featuring a public demonstration of innovative house designs and site plans. It put advanced ideas on trial, in prototype form, at nine locations. HUD chose the sites from among many nominated by local and state governments to represent a variety of market conditions. Urban, peripheral, suburban, and semi-rural neighborhoods became the settings for nearly 3,000 housing units built between 1971 and 1973. Developers brought to the job an unusual array of capabilities and many of the management techniques in Operation Breakthrough were completely new to the housing industry. Construction began on the prototype units in 1970 and most were occupied by families within two years.
But Operation Breakthrough was unpopular with Nixon and was phased out once Romney left HUD. The program did instigate useful changes in the housing industry by exposing builders to new construction methods and materials, encouraging significant changes in building code requirements and supporting the idea of statewide building codes.
Throughout his four years at HUD Romney remained outside Nixon's insular inner circle. Nixon neither liked nor trusted Romney and looked for an excuse to have him removed from office. Besides fearing he might have to run against him some day, Nixon also had little interest in Romney's liberal ideals. Also working against Romney was his own intense, often bombastic style of talking about his favorite programs, which irritated Nixon. In addition, Romney failed to understand or circumvent Nixon's use of presidential assistant John Ehrlichman and White House Chief of Staff Bob Haldeman as gatekeepers.
Romney, used to being the boss and having people listen to him annoyed Nixon by interrupting him at meetings, and talking over him; Nixon told Haldeman, "Keep Romney away from me". In 1970, Nixon tried on two occasions to remove Romney but was unsuccessful. He did manage to pressure Romney into backing off on some of his favorite positions and got grim satisfaction from that. He gleefully boasted to an aide "Romney talks tough but folds under pressure". For his part, Romney was puzzled by Nixon's inconsistency in regards to policies, and told a friend, "I don't know what the president believes in. Maybe he doesn't believe in anything." Romney could never understand someone who believed only in raw power and its uses.
The spring of 1972 brought a new problem; a major scandal struck the Federal Housing Administration (FHA), the agency responsible for helping the poor buy homes in inner-city areas via government-backed mortgages. The homes were financed by mortgage-backed securities, the first issues of which Romney announced in 1970 to great fanfare. Certain FHA employees, along with a number of real estate firms and lawyers, had come up with a scheme in which the value of low-priced inner-city homes was inflated and sold to black buyers who couldn't afford them, all using the government-backed mortgages.
When payments stopped and the mortgages went into default, the government was stuck for the bad loans. The FHA was under Romney's purview, and in the end, he had to admit the mistakes made under his watch. He conceded that HUD had been unprepared to deal with speculators and wasn't alert to early signs of illegal activities. Sadly, the FHA scandal gave Nixon the ability to shut down HUD's remaining desegregation efforts with little political risk. By January 1973, all federal housing funds were frozen and the program suspended.
Romney left the Nixon White House at the end of Nixon's first term. Although he had been in many meetings with the president, he expressed surprise later when the expletive-ridden White House tapes were released to the public. He claimed Nixon never used locker-room language in front of him. Perhaps that was another reason why Nixon felt uncomfortable around Romney - he was too moral and honest for Nixon. In any event, Romney was looking forward to a return to private life. The Boston Globe later dubbed Romney's conflicts with Nixon a matter that "played out with Shakespearean drama".
Despite all the frustrations and setbacks at HUD, University of Buffalo political scientist Charles M. Lamb concluded that Romney tried harder to achieve suburban integration than any prominent federal official from the 1970s through the 1990s, a testament to Romney's good heart and determination. And Lehman College sociology professor Christopher Bonastia said that the Romney-era HUD came "surprisingly close to implementing unpopular anti-discrimination policies" but in the end was unable to bring about meaningful alterations in American segregation. Both are fitting judgments on George Romney.
Overall, Romney's HUD record was good. Although he didn't meet his personal goals, HUD was able to set records for the amount of construction of assisted housing for low-and-moderate-income families. Near the end of his term, Romney oversaw demolition of some of the more infamous low-income slum projects including the notorious Pruitt–Igoe housing project in St. Louis, Missouri, one of the worst slum projects in America. Perhaps the best reflection on his legacy at HUD was penned by a columnist, who noted years later that Romney's HUD programs had "helped thousands of families- and fewer Americans were homeless on George Romney's watch".
Details

Written by Philip Mattera

A corporation once known as the Merchant of Death because it dominated the gunpowder market has united with a company that became notorious for its production of napalm and Agent Orange during the Vietnam War. The merger of DuPont and Dow Chemical into DowDuPont is not a marriage made in heaven.
The more recent track records of the two chemical giants are also seriously tarnished, raising questions as to whether the merger and planned spinoff of some operations is really a ploy to evade liability -- something each of the companies has done in the past.
DuPont's feel-good postwar campaign promoting "better living through chemistry" gave way to a series of environmental controversies. In the 1970s and 1980s the issue was the company's production of chlorofluorocarbons (CFCs) like Freon, which were destroying the earth's ozone layer. After resisting for years, DuPont finally agreed to phase out production of CFCs but sought to use substitutes that were also harmful.
In 1989 evidence emerged that the Savannah River nuclear weapons plant, which DuPont had built and operated for the federal government since 1951, had serious structural flaws and safety problems that the company failed to report. Numerous accidents at the South Carolina facility, which made plutonium and the tritium gas needed in nuclear warheads, were also kept secret.
DuPont was a pioneer in developing perfluorinated compounds (PFCs), one of the most highly toxic and likely carcinogenic group of chemicals that work their way into the bloodstream of humans and wildlife. DuPont's highest profile PFC-based product is Teflon, best known for its use in non-stick cookware. In 2004 the EPA charged that for two decades DuPont failed to report signs of health and environmental problems linked to perfluorooctanoic acid (or PFOA), the PFC used in making Teflon. Residents living near the plant in West Virginia where DuPont produced PFOA sued the company, which settled the case by agreeing to pay about $100 million and conduct ongoing medical monitoring of residents. DuPont also paid $16.5 million to settle the EPA charges and later agreed to gradually phase out PFOA.
In 2014 a leak of methyl mercaptan (used in the production of pesticides) at a DuPont plant in LaPorte, Texas caused the death of four workers. In July 2015 OSHA proposed fines of $273,000 in connection with the accident and put DuPont on its severe violator list.
In 2015 DuPont spun off numerous facilities with tainted environmental and safety records into a new company called Chemours. DuPont's initial SEC filing about Chemours disclosed that the new company would begin life with some $298 million in environmental liabilities but acknowledged that the total could rise to 3.5 times that amount.
Dow Chemical was involved in one of the most controversial cases of liability evasion: its decision to do nothing for the victims of the Bhopal disaster after acquiring Union Carbide, the company whose subsidiary operated the pesticide plant in India where in 1984 a vast quantity of highly toxic methyl isocyanate gas was released. More than 8,000 people died in the immediate aftermath of the incident, and many thousands more suffered serious harms from exposure to the gas, including genetic damage that affected their offspring.`
Union Carbide paid compensation of $470 million, far below what many advocates felt was necessary to care for the victims. After the merger, Bhopal advocates began to pressure Dow to do more, but the company insisted that it had not assumed Union Carbide's liabilities and thus had no responsibility to help.
Dow's sins are not all inherited. In the 1980s its Dow Corning subsidiary was hit with class action lawsuits filed by women claiming that they had developed autoimmune diseases as a result of silicone leakage from breast implants produced by the company. In 1992, following a review of Dow Corning internal company documents suggesting that the implants had been rushed to market without complete safety tests, the U.S. Food and Drug Administration called for a moratorium on new implants. The New York Times reported that the documents revealed that Dow Corning executives had delayed conducting critical safety studies for more than a decade.
In 2011 Dow had to pay $2.5 million to settle EPA allegations that the company's complex in Midland, Michigan violated the Clean Air Act and Clean Water Act in a host of ways at its chemical, pharmaceutical, and pesticide plants.
Given the histories of these two companies, the new DowDuPont entity deserves the utmost scrutiny.
Philip Mattera heads the Corporate Research Project in Washington, DC, and writes the blog Dirt Diggers Digest.
Details

Written by Andrew Brooks
There are two perspectives to the end of development. The first is observing that new processes are superseding the previous Western-led International Development programmes. The second is looking towards an agenda for radical change.
First, a growing cast of actors are shaping life in the Global South in new ways. African elites practice extraversion and use their position as intermediaries between national and global markets to their own benefit.26 For example, leaders like the Mutharika brothers in Malawi or Guebuza in Mozambique were neither handmaidens to the West nor were they entirely powerless in the face of market forces. At the same time international capital has become more capacious. Multinational corporations including CNOOC, ExxonMobil and Kosmos are tapping into Africa's natural resources with renewed vigour, contributing to the phenomenon of GDP growth without jobs and social progress. In Mozambique and other 'rising' nations international donors and local elites use the Orwellian language of double-think to portray failures of development policy as successes. New philanthro-capitalists bring ideas and funding that is qualitatively and quantitatively different to state and multilateral led International Development. They are more evangelical about the power of new technologies to transform life in poor regions, yet deliver less capital than the loans and grants provided by governments and development banks.27 More significant is Chinese involvement alongside the engagement of other emerging powers who are doing much to shape economic and political life in Africa. The ability of Western governments and the US-dominated multilateral agencies to dictate policy is being diluted by the presence of other assertive interests.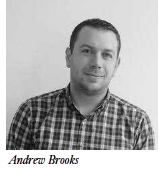 International Development assistance, as a Western-led project that dominates life in Africa, is going to come to end. Yet in the same way that colonialism ended, but the long shadow of imperialism is still cast over the South, International Development will not just go away, but will leave its own imprints. The darkest episode in the history of International Development is the debt crisis and structural adjustment. The 1980s is often dubbed the 'lost decade of development' due to the declining livelihoods of that period. But rather than being an ideological defeat it was actually a successful phase in the history of capitalist expansion as it opened up new territory to flows of capital by enforcing economic liberalization. Through promoting structural adjustment the West paved the way for the BRICS to invest in Africa. The emergence of China and the continual restructuring of the global economy away from US hegemony presents a terminal challenge to Western-led International Development, and forecloses the opportunity for African nations to follow the East Asian developmental state approach.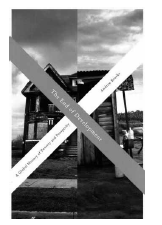 Capitalist development will continue and will produce inequalities across space. New maps of relative wealth may look different to the familiar divide between Global North and South.
The rise of East Asia and other places of accumulation like the oil-rich Gulf states means the old geographical relationships between North and South based on the colonial past are breaking down. Despite this changing cartography the issue of inequality is not going away, there is no equalization of income across space. Instead geographic differences in prosperity are becoming greater. Importantly this happens over different scales and terrains, yet humanity is contained within one shared environmental system.
In Africa the number of people in poverty is growing, and their vulnerability to environmental change is increasing; the world's poorest will be hit hardest by global warming. People living in precarious agricultural lands and marginal peri-urban settlements are exposed to new risks associated with climate change and increasing market volatility. The influence of social change and technological advances on the environment is now so great that humans have brought about irreversible change to the global climate. When policy makers attempt to embrace the unwieldy issue of global environmental change they are inevitably hamstrung by the reality that capitalist development and environmental preservation are incompatible.28 What results are botched and limited attempts to balance growth and sustainability. Flawed policies include those inspired by the SDGs as well as ill-conceived approaches to use the market to correct environmental problems through the hopeful promotion of new phases of green modernization. Over consumption is a global problem that will not be overcome by market instruments. On an individual scale the global obesity crisis, which is most apparent in the United States, is emblematic of the logic of relentless consumption that drives present social relations. If we cannot temper our hunger for fried chicken and other fatty foods it appears unlikely that the capitalist market will reduce its thirst for oil.
If capitalist development is not coming to an end what is the second way of looking at the opportunities presented by the end of development? Critical theorists have previously put forward the possibility of a 'postdevelopment era'. This term, coined in the 1990s, denoted both the failure of conventional capitalist development and the alternatives to International Development. Postdevelopment scholars advocated that interventions in the Global South should not take place solely 'under Western Eyes'. Rather than relying on modern ideas and technical experts, ordinary people should be involved in constructing more humane, and culturally and ecologically sustainable worlds. Social movements and grassroots mobilizations could provide new political structures and the bases for moving towards such a revolutionary era.29 Postdevelopment serves as a useful critical term to disrupt the meta-narrative of development. While this verb may work in an academic context, it is unlikely to be translated into policy documents or popular discourse and has had little impact over the last two decades. Instead another approach is needed.
Practical opportunities are limited in terms of a fightback against the inequalities of capitalist development. Confronting capitalism head on through peaceful revolution is not an option at the present moment. The history of the twentieth century was marked by horrific warfare which erupted whenever the energies of capitalist development were seriously constrained; starting with the First World War. What comes after confrontation could further amplify the gaps between the world's rich and poor. The ballot box offers hope, but the pessimism of the intellect outweighs the optimism of the will. Left-wing political activist movements in Europe and America have not led to sustained changes in state policy and they are primarily focused on pressing domestic issues.
Those on the center left, such as within the US Democratic Party or the Labour Party in the UK, tend to revert to siding with liberal economic policy on development issues. The solution to poverty posed by liberal economists is to promote the entrepreneurial spirit. The poor may be ingenious and resilient, but abandoning them to the market depoliticizes their plight. When people who are poor survive against the odds it is a sad indictment of society, not the basis for progress. This conclusion is deeply depressing. It paints a picture of a perpetually uneven landscape of affluence and impoverishment. Yet there is potential for optimism if we understand that inequality is hard wired into the very fabric of capitalism, as we can then begin to think about different ways of organizing society.
The answer to some of the challenges of global poverty lie within historical experience; reducing economic liberalism, nurturing industry and resisting the temptation to borrow more money to fuel consumption. As a Chinese envoy to Malawi, allegedly frustrated by individuals, NGOs and government departments asking him for assistance, astutely told Malawian reporters: 'No country in the world can develop itself through foreign aid. That is a fact. To develop your economy is your job, you have to do it yourself.'30 That Chinese diplomat knew the lessons of his own nation's rise. China owned its own capitalist development. Health and education were prioritized before liberalization and the state retained a strong grip over the market. The temptation to accept new International Development assistance either from the West or China, or elsewhere, and swap this money for further loss of economic protection and independence should be resisted at all costs by nations such as Malawi. As otherwise, if African leaders continue with the current policies of new borrowing, their successors will face another debt crisis in the near future. For now this is the immediate solution African countries need to deploy if they want to progress and own their own capitalist development: regulate the market, curtail borrowing and avoid another lost decade.
The central problem of capitalism is that it reproduces inequality, but this can be regulated and tempered. Regulated capitalism does not mean reduced dynamism. A model of a state- managed economy where capitalism is guided and constrained offers a better approach for economic growth. Annual growth in world GDP per person was 2.8 per cent from 1948 to 1972, during the period before neoliberal reforms. In contrast the economic liberal period up to the last financial crisis (1972–2008) had a growth rate of just 1.8 per cent. Dogmatic and irresponsible liberalization undermines global stability as it has increased current account deficits and the frequency of banking crises.31 A rolling back of economic liberalism in Africa could stimulate more equitable growth while capitalist social relations continue. In the short term this offers the best practical solution for African economies trapped by the declining terms of trade. Once the spread of liberal capitalism in the guise of International Development has been abandoned, there is the opportunity for different ways of organizing political society and combating poverty to emerge. History demonstrates that the current trajectory of capitalist development is not going to provide a meaningful future for the millions of Africans of tomorrow. Now is the time to think about more progressive and equal models as the alternative is further and renewed exploitation of the poor by unbridled capitalism, led by new and different constellations of capital and power. Call it post-capitalism or something else, but it can only happen after the end of development.