Details

Written by Manuel Salamanca Cardona, Mostafa Henaway, and Eric Shragge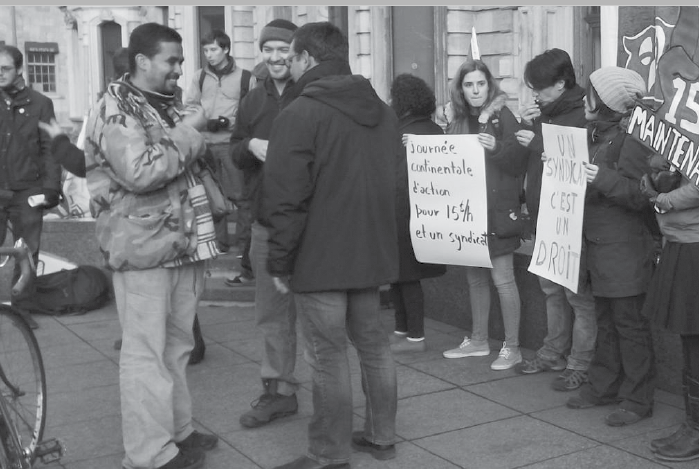 At the end of May 2018, just before the Quebec National Assembly rose for the summer break and with parties preparing for an election campaign beginning at the end of August, the ruling Liberal party passed Bill 176 to reform the labor standards act. In Quebec, as across Canada, labor standards for most jobs are under provincial jurisdiction. These standards are usually known as employment standards because they cover non-unionized workers. Some of the changes addressed in this legislation include the reconciliation of work and family life, including expansion of paid sick days. Within the reform, several changes were introduced that will improve the conditions faced by some of the most precarious workers, who are employed through placement agencies. This article will discuss these reforms and the related campaign led by the Immigrant Workers Centre (IWC) in Montreal. The process of organizing will be described and some of the implications of the new legislation, although as of this writing, the administrative regulations associated with the legislation have not been introduced.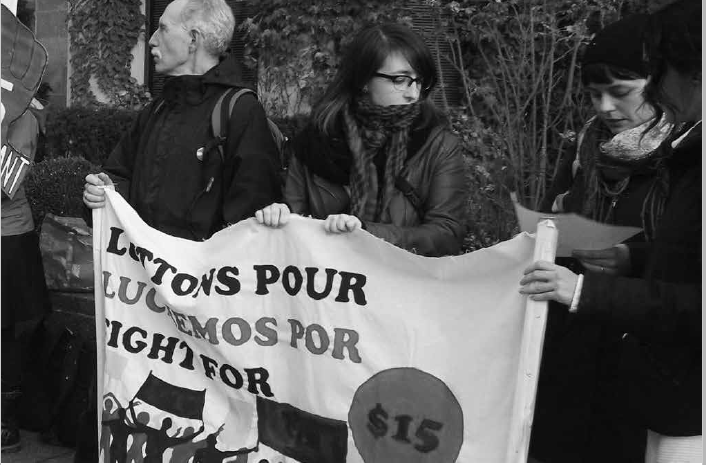 The Immigrant Workers Centre and Agency Worker Organizing
Since its founding in 2000, the IWC has played an important role in Montréal aiding hundreds of migrant and immigrant workers each year in their various workplaces and in immigration struggles both individually and collectively. With minimal staff and funding and a host of dedicated volunteers and board members, the IWC acts as a resource and education center that undertakes services, advocacy, and organizing relevant to the needs and interests of immigrant and migrant workers.
The IWC establishes its priorities based on who comes to the center, and the issues they face. In recent years, the center has prioritized two groups. The first is temporary agency workers and the second is temporary foreign workers who are brought in by employers through various government programs. These workers have helped organizers at the center understand the issues they face, including working conditions, the relationship between workers and their employers, and the relative risks of engaging in fighting back. Further, in our analysis, it became clear that many immigrants, particularly those arriving here in the past 10 years, received their first jobs through placement agencies and many never left that relationship. As well, the employers were using temporary foreign workers to fill a wide range of jobs. It is also a sector which is not regulated under the labor standards.
As a means of building worker power and solidarity, the IWC decided to set up two worker-led associations—the Temporary Agency Workers Association (TAWA) and the Temporary Foreign Workers Association (TFWA). Working in different ways, these associations build worker leadership and campaign for justice. For the TAWA, the organizing is local, reaching workers in warehouses, the service sector, and though many through community, religious and cultural organizations. Agency workers face a triangular employment relationship which circumvents standard employment relations between the employer and the worker. Placement agency work creates a non-standard employment relationship between the temporary agency, the worker, and the client enterprise. Technically, the worker is employed by the employment agency, but the temporary agency's client employer supervises the worker in the temporary workplace. The worker, in effect, has two bosses, both of which can drop the worker or "run out of work" if the employee causes trouble. This triangular relationship allows both employers and temporary agencies to bypass basic labor rights, and it impedes the ability of workers to organize by creating confusion as to who is the real employer under the Quebec Labour code. Many placement agency workers who have come to the IWC work at warehouses for major corporations, food processing plants, hotels, and large-scale farms, and in manufacturing. IWC worker-leaders have been active in campaigns and in providing information on labor rights and health and safety issues, as well as speaking in many settings to explain the situations faced by agency workers.
TAWA has led several campaigns over the past eight years, for example, focusing on the demand for joint responsibility for labour conditions by both employers and agencies, and demands for employers and agencies to provide safety equipment. Small victories were forthcoming such as some employers agreeing to provide compensation for safety boots when workers demanded it.
With reform of the labour code on the horizon, in May 2017 the IWC and TAWA launched a campaign called "Stability and Dignity". The campaign resulted from the analysis that TAWA members developed in order to synthesize their most important demands with the overall goal of reining in the relatively unregulated practices of placement agencies and the contracted employers. These demands promoted an offensive stance, with a wider vision of limiting the power of placement agencies. The demands were first, that all temporary agency workers be given permanent employment status after three months of continuous service for the same employer; secondly, that temporary placement agency workers be given the same salary as permanent workers for the same work. The demands included that all workers, regardless of their migrant status, have full access to Quebec services and be able to file complaints to the Commission of labor standards, equity and health, and safety. We also demanded that Quebec grant undocumented workers the right to work and that temporary placement agencies, and employers be considered jointly responsible for respecting the labor standards and health and safety of workers.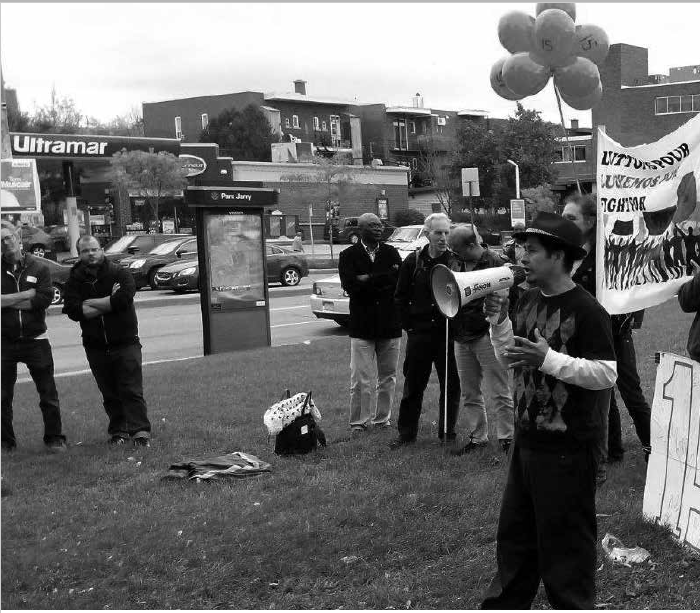 Bill 176
On March 20, 2018, Bill 176, "An Act to amend the Act respecting labour standards and other legislative provisions mainly to facilitate family-work balance", was released by the government. The IWC and the TAWA immediately organized a press conference to continue highlighting the problem of agencies and to push government to give priority to this issue. The Bill included some regulations for agencies–some of this content came from a meeting between workers of TAWA and the staff of the Minister of Labour, on June 4, 2017. In this meeting, workers provided specific information about employer operating patterns and the abusive practices faced by immigrant labor, including workers who are undocumented. We continued, through actions and press conferences, to keep the pressure on the government and keep the issue of agency work in the public eye during 2017 until the launch of the Bill.
The new regulations for agencies included providing equal salaries to the employees of the client enterprise; a prohibition against operating a placement agency without holding a license issued by Labour Standards Commission; a prohibition against client companies retaining the services of an agency that does not hold a license, and a requirement that a client company and agency share responsibility for financial obligations to agency workers. Another gain was the right of temporary and casual workers to refuse to work when there was no notice from the employer about the work schedule. On May 14 the TAWA, the IWC and the Coalition Against Precarious Work submitted a brief to the National Assembly and mobilized workers to keep up the pressure. Some of their members were invited to speak before the parliamentary commission discussing the bill. Bill 176 was finally approved on June 12, 2018. Although IWC and TAWA members received this news well and viewed as a victory several modifications (including specific articles and regulations for temporary agencies), they saw that the Bill did not satisfy major demands of the "stability and dignity" campaign. Still, considering the highly refractory response to changes to labor standards in Quebec, it is considered an enormous gain overall and an opportunity to open new paths for organizing immigrant workers.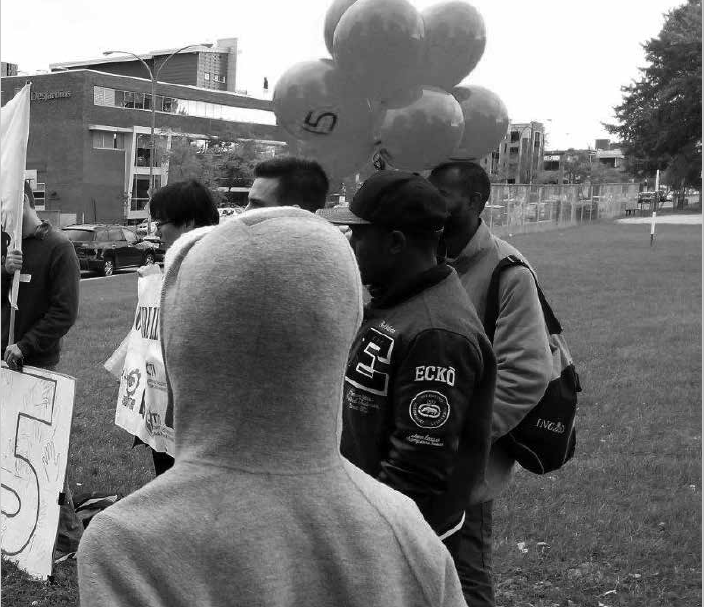 Organizing Process
This reform contains some improvements in law and may lead to related amelioration of working conditions, and more importantly, and perhaps, as an unintended consequence shifts in a small way the balance of power between workers and their agency and employer. We see the reform as a limited victory. Limited because it does not address several key issues and it maintains the relationship of agency-employer-worker that creates a flexible labor force and therefore cheap, non-unionized workers. Below are the highlights of the organizing that contributed to the campaigns and the eventual gains made in this reform.
The first step was creating an organization in which leadership and membership is composed of agency and former agency workers. This has been an uneven process. The process of recruitment begins with meeting workers at subway stations after work, explaining the organization and inviting them to a meeting. It is a labor-intensive process. With those who come to meetings, the necessary first steps include rights education, accompanying workers through grievance processes on either labor standards or health and safety issues and building relations are all necessary first steps. Many workers, who have come through this process leave the organization, because of the temporary nature of their work and some move out of Montreal to pursue other opportunities. The organization has evolved with a relatively stable group at the core and a much larger number of irregular participants who can be mobilized or who bring in people with grievances or work-related problems.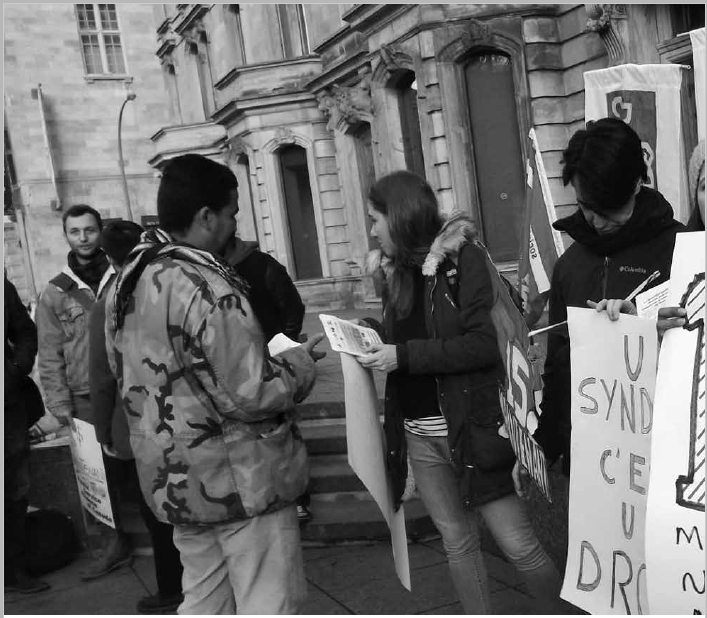 The second step is leadership development. Those workers with a commitment to the organization receive formal training with workshops on labor rights, health and safety and organizing. One project involved the recruitment of nine women placement-agency workers, who participated in a series of workshop over an eight-month period. Organizational leaders have become articulate spokespeople on the issue of placement agency workers and have made presentation to unions, public meetings and rallies, university classes and to other allied groups. Spokespeople for TAWA have been effective in convincing allies to support worker demands and support their campaigns.
The third step is alliance building. TAWA is a member of a Coalition Against Precarious Work, which has been at the center of the $15 an hour minimum wage campaign. There is a relationship of mutual support and demands of the member groups have been shared. For the recent legislation, five key allies emerged and contributed their support in different ways. There were several university-based research projects that documented the working conditions of agency workers. These projects added legitimacy to the demands, and researchers collaborated in public events with TAWA leaders. Several journalists did in-depth reporting on the conditions of agency work, and presented their programs and articles in mainstream outlets. The combination of academic and journalist presentation legitimized worker claims and gave them greater visibility. Other community groups working on issues of the non-unionized and a broad provincial-wide coalition supported the demands of TAWA and had lobbied over the past several years for reform in labor standards to better protect agency workers.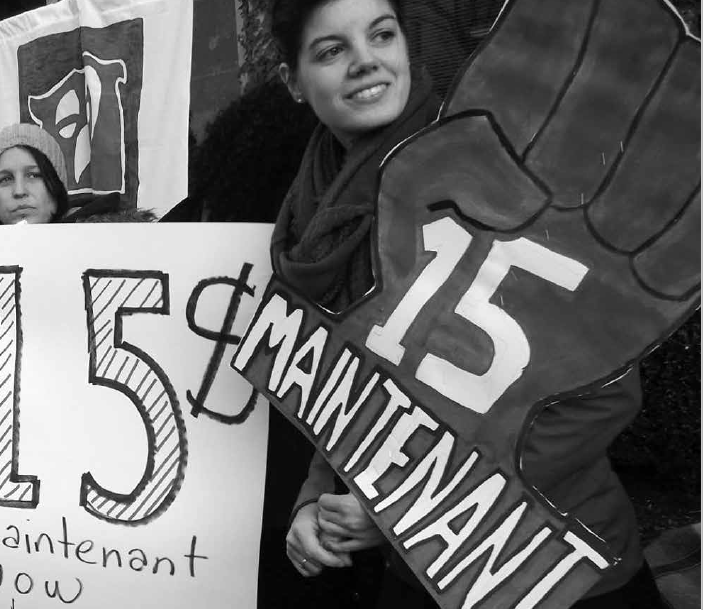 Over the past eight years, TAWA representatives have made many presentations to unions. Many union leaders began to understand the impact that agencies were having on their ability to recruit new members and build locals and some specific union groups supported and collaborated with TAWA, including sending an organizer to work with our group. Finally, the Department of Public Health of Montreal declared agency work to be a public health issue, and worked with TAWA to produce a report and video testimonials of TAWA members on agency work. The combination of these factors had put agency work on the public agenda in Quebec and created a favorable context for the delegation from TAWA when it met with the "Chef du Cabinet" of the minister of labor to present demands and experiences on June 4, 2017.
The campaign developed a systematic approach, naming the campaign Stability and Dignity and outlining the demands. From May until September, workers and organizers met to design the materials and utilized postcards that were sent to the Minister of Labour by agency workers and allies, naming the campaign and supporting the demands. In November TAWA organized a press conference and intensified the signing of cards, including at the offices of the Labour Ministry. Several rallies followed with workers and allies culminating with a demonstration in May at the National Assembly in Quebec City. The specific actions of the campaign were part of longer-term building process led by agency workers. The campaign established TAWA as the leading organization on agency work and the public voice on the issue.
In closing, in Quebec, which experienced many years of neo-liberal policies, and a community sector that has become, with some exceptions, a service sector attached to the provincial government, both organizing processes and victories have been exceptional. TAWA, supported by the IWC, can be credited with keeping the issue in the public eye, building the necessary alliances and public awareness to get the reform. With these changes, the level of conflict and demands can be augmented and the reforms can be used by agency workers to contest violations in the work place. TAWA has grown as a significant organization with experienced leadership and is ready to build more strength and explore new ways to organize and mobilize placement agency workers.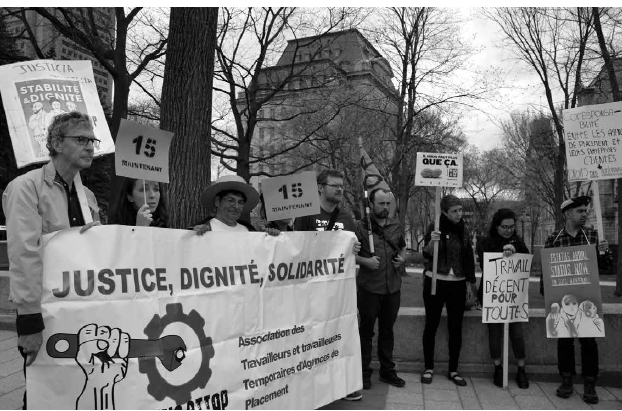 Manuel Salamanca Cardona is a PhD candidate at McGill University and volunteer and board member of the Immigrant Workers Centre (IWC). Mostafa Henaway is an organizer, with IWC, Eric Shragge is a volunteer and board member at IWC.
Details

Written by Drummond Pike
The IRS's decision in 1991 to grant charity status to Fidelity's donor-advised fund was a highly damaging mistake that has undermined the entire nonprofit world. With that move, the IRS sanctioned the creation of "captive" charities — created by, and contractually tied to, banks and financial-management companies — that are now associated with nearly every major financial-services company across the United States. It should be clear to even the most cursory reader that these "commercial" funds — tied contractually to the likes of Fidelity, Vanguard, Schwab, Goldman Sachs, JPMorgan, and every bank you can think of — are essentially an asset-accumulation strategy dressed up as charities.
Anyone who thinks any of these institutions decided to start offering donor-advised funds purely from a desire to prompt more giving to nonprofits needs a lesson in altruism.
I'll never know for sure, but I think my colleagues and I at the Tides Foundation should share some of the blame. We helped invent the idea of a charity solely intended to support donor-advised funds. (DAF).
Rapid Growth
In 1976, I formed the Tides Foundation as the first DAF-centric, mission-driven charity in the United States. We borrowed a sleepy device deployed by community foundations to attract donors. Instead of focusing on geography as such funds do, we sought to channel money to groups with progressive values nationally and internationally.
The IRS, perhaps confused by our effort, ended up conducting a field audit before it issued permanent public charity status to Tides.
This status, of course, bestows many benefits over private foundations. Most important: When donors make gifts of appreciated stock, they can deduct a bigger percentage of their adjusted gross income than they would be eligible for if they gave to a private foundation. Even sweeter, if they exceed the limit in the gift year, they can carry over excess and deduct it for up to four more years until it's used up.
And, unlike with gifts to private foundations, most donors can remain anonymous.
Throughout the 1980s, donor-advised funds gained acceptance as a tool that encouraged more giving. Tides grew rapidly at times, and many community foundations added emphasis to donor-advised-funds development as well as bequests. Then in the early '90s, Fidelity arrived on the scene.
I couldn't understand why the IRS decided the Fidelity Gift Fund was providing charitable benefits at the same level as that of a community foundation or other active charities. I served on the Legislation and Regulations Committee of the Council on Foundations during this period. As Fidelity sought membership, I strenuously objected to letting an organization become a member unless there was an arms-length relationship between a charity and the manager of its money. Fidelity made no bones about the fact that funds parked in its gift fund could only be invested in Fidelity products — and a limited number of those.
From a crass point of view, this looked to me like an asset-accumulation strategy with a thin veneer of charitable purpose neatly laid on top. And it has worked marvelously not just for Fidelity but for Schwab, Vanguard, and other commercial sponsors of donor-advised funds that have jumped into the fray. For the most part, these commercial funds are now eating the lunch of community foundations and other charities that offer donor-advised funds to advance a mission.
Booming Business
Looking back, I suspect the reason community foundations and their primary trade association, the Council on Foundations, acquiesced to Fidelity was because community foundations had for years used sole trusteeships and other sweetheart deals with local banks and trust departments. Though few knew about these arrangements, perhaps community foundations were concerned that scrutiny of Fidelity could lead to a law or regulation that would jeopardize that status quo.
We depend on the IRS and various state attorneys general to enforce the idea that a charity's assets should be prudently managed and reflect the highest fiduciary standards. How can this coexist with contractual, joined-at-the-hip arrangements where even the commercial name is shared? Can the Schwab Charitable board really decide, based on risk and return analysis, that another company's financial product is a better investment for funds they oversee? I don't think so, but for a charity, that is what fiduciary obligations should lead to.
But now, it turns out it's not just financial institutions that are benefiting. Some donors are also reaping far more substantial benefits from gifts to advised finds that they would with gifts to private foundations.
People with large amounts of highly valued stock available to founders and others ahead of an initial public offering have been able to dump them into donor-advised funds. Donors can then take deductions for the full value of the stock at the time of their donation and can spread the tax break over five years, even if during that time the stock drops substantially in value, as often happens in the months and years after an IPO. Blend in the opportunity for anonymity, easier ways of granting money to foreign charities, and generally looser regulation of grant making, and opting for a donor-advised fund becomes more and more attractive.
Taken together, these observations explain why donor-advised funds have become a booming business — outstripping traditional private foundations as the dominant way wealthy Americans give.
Mini-Private Foundations
Truth be told, donor-advised funds function essentially as mini-private foundations. No grant is made that doesn't start with the initiative or support of the donor; the idea that the donor is simply giving advice isn't the reality. Private foundations also make grants at the behest of a donor or for the purposes he or she set out in starting the fund. Yet private foundations do this out in the open with appropriate disclosure and accountability, as required under federal tax law. What is the additional public benefit provided by DAFs that justifies their enhanced tax deductibility, anonymity, and flexible rules? Simply put: There is none.
Sponsors do not report on DAFs at the individual-fund level. When they do disclose information, groups like Fidelity or community foundations aggregate the numbers. One donor-advised fund that distributes a big sum in a year masks the many that give away little or nothing. Why is this OK?
One reason commercial funds and large DAF sponsors resist change is because many define success not on the basis of annual grants made but rather the total assets under management — the same marker of success used throughout the financial world. A charity should be judged by what it does, the programs it supports, and the grants it makes, not by how much it manages.
It is long past time for reform to corral these practices, however unlikely Washington gridlock makes such an action. DAFs should be treated with rules mirroring those applied to private foundations: donor disclosure, the same limits on deductions for gifts of stock, and minimum annual payouts calculated on a fund-by-fund basis.
Perhaps even more crucial, financial management of donor-advised-fund assets should meet the highest fiduciary standards. The law should prohibit contractual, self-serving, or profit-based arrangements. No charity should be tied to the provider of a financial or asset-management
service. Instead, charities should be expected to use objective, transparent standards and commitment to the public good in the management of their assets.
Greed should be relegated to its more familiar environs exclusively within the financial world. It has no place in philanthropy.

Drummond Pike is the founder and former chief executive of the Tides Foundation. He is also a member of the board of the parent organization that publishes Social Policy. This article is reprinted with permission from the Chronicle of Philanthropy – August 22, 2018
Details

Written by Moshe ben Asher and Khulda bat Sarah
More than 40 years ago, Professor Warren Haggstrom assigned The Revolutionary Tradition and Its Lost Treasure as required reading for his community organizing class, in which I (ben Asher) was a student. It was eye-opening and inspiring for a would-be organizer to explore the political philosophy, history and potential for grassroots empowerment by direct democracy.
Not long afterwards, my reading of The New State was another mind-bending encounter with direct democracy. But then, in the late 1970s, Lawrence Goodwyn published his history of the populist movement in the United States, which caused me to dial down my optimism about direct democracy. Before the end of the nineteenth century, Goodwyn posited, political reformers had reached a silent consensus that ". . . reform politics need not concern itself with structural alteration of the economic customs of the society [emphasis added]. The reform tradition of the twentieth century unconsciously defined itself within the framework of inherited power relationships."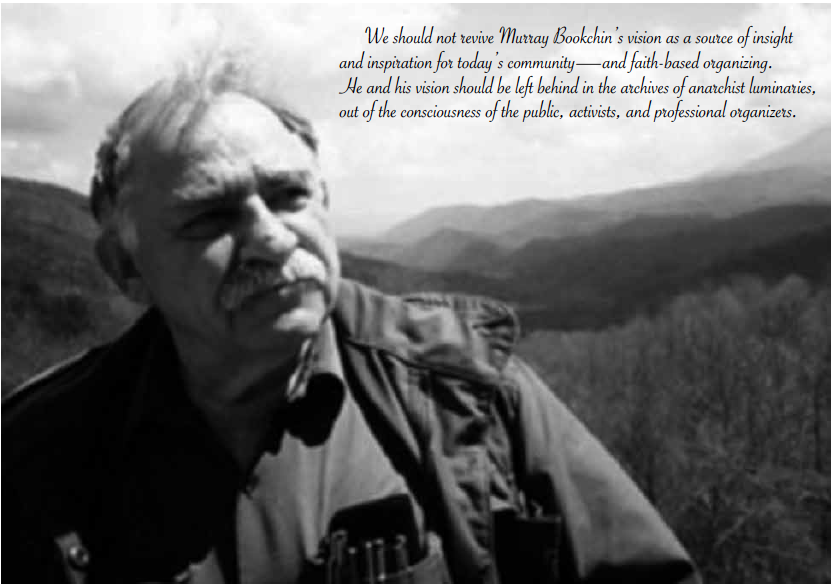 What, then, was a newly minted organizer to do with his cognitive dissonance? Seeing the pressing need and possibilities for a new directly democratic state, while simultaneously confronting the deeply held bias among reformers against changing the structure of our existing national state, was disheartening.
Searching for an answer, I began reading the writings of the better-known anarchists. They too favored structural change. But they also wanted to eliminate the national state. Among them was Murray Bookchin, described as "an American anarchist and libertarian socialist author, orator, historian and political theorist." At his death, he was also viewed as a visionary, teacher and activist in the field of ecology. Could anarchistic thinking, his or that of others, given its nihilistic character, produce a strategic organizing vision to create a new state with a directly democratic foundation?
Advocating Direct Democracy
Recently, we encountered Bookchin's writing again and, surprisingly, learned of his reputed relevance to the present-day Kurdistan Workers Party (PKK). We asked ourselves, is it possible he could become a source of intellectual insight and inspiration for progressive community- and faith-based organizing in the United States?
Reading Bookchin's more recent writing—an updated critique of capitalism focused on its march to environmental destruction—we thought perhaps he had abandoned anarchism. We learned that in his later years he had become an advocate of decentralization and direct democracy.
We appreciate Bookchin's views that favor grassroots empowerment. We wholeheartedly agree with him that politics and policy are inadequate to deal with the country's pronounced structural inequality of power, which is the root of its economic, political and social inequality. And we concur that achieving counterbalancing reform requires a change in the structure of our national state.
We can understand why Bookchin's vision would have been attractive to the leader of the PKK, who according to some reports has adopted Bookchin's model of confederated direct democracy. The PKK has claimed at times to have abandoned terrorist violence and armed rebellion against the state—which have not been particularly successful for them—in favor of promoting directly democratic municipalities. Kurdish freedom in this incarnation no longer requires overthrowing the state. With the advent of municipal confederations, the PKK expects the nation state will simply wither away. Whatever their expectations, the typical short and medium-term effects should offer more practical benefits than did the prior violent methods.
Caveat Emptor
But we can't swallow Bookchin's notion of replacing the nation-state with a "confederation of free municipalities." He would have us assume that the United States of America will cease to exist in the foreseeable future. We're not seers, but we can distinguish between (a) revolutionary change in the form of a nation's government, which is certainly possible, and (b) the end of a nation as an identifiable state. It's not that nation states never end—of course they do. But when they do, it's the result of historical forces or military conquest by a foreign power, not an organized internal political or social movement, although such movements may be present to pick up the pieces.
Is it conceivable that conditions in the U.S. will bring about an incremental disintegration of the country as a nation-state, creating a void eventually to be filled by bottom-up institutions of libertarian municipalism? Neither we, nor we imagine, the billionaire class, are holding our collective breaths in anticipation of that possibility. It's beyond far-fetched.
When it comes to accepting municipal confederations as the antidote to all government nonfeasance and malfeasance, caveat emptor. Eliminating representative metropolitan-wide government (not to mention state and national governments) would at best introduce mind-boggling economic spillovers and political swings between chaos and rigidity, particularly in industrialized states and their urban centers. The tripartite economic and political interests of metropolitan areas, districts within the metropolitan areas, and neighborhoods within the districts, are not the same, and they cannot be represented politically as if they are the same.
This deals a knockout blow to a basic principle of Bookchin's libertarian municipalism.
Ex-officio legislators or administrators serving at the pleasure of neighborhood assemblies, as proposed by Bookchin, are not likely to manage the demands of metropolitan government, let alone the demands of regional, statewide, and national governance. We would expect them instead, naturally enough, to represent disproportionately the narrower interests of their neighborhood constituencies at the expense of essential district and metropolitan missions.
Bookchin argues in Libertarian Municipalism that "In the case of libertarian municipalism, parochialism can thus be checked not only by the compelling realities of economic interdependence but by the commitment of municipal minorities to defer to the majority wishes of participating communities." It has a hopeful ring to it, but we don't see any convincing evidence that it's likely to turn out as he imagined.
Moreover, whatever future we anticipate, we ought to base our expectations on what we know historically about urban civic behavior. That nearby neighbors may at times see their common interests and decide to cooperate for their common good, we may reasonably expect. But because each neighborhood has its own cultural, class, and historical identity, each is far less likely to form political alliances at the district or metropolitan level with other, notably different, non-contiguous neighborhoods. Try to imagine, for example, agreement on urban renewal (which we know as "urban removal" for its effects on low-income neighborhoods) by the residents of the demographically disparate South Central and Westside districts of Los Angeles. Likewise, the neighborhoods of Pacoima and Larchmont have vastly different interests in regard to routing metropolitan rapid-transit.
Regarding the behavior of urban citizens in neighborhood jurisdictions small enough for direct democracy, Bookchin assumed that, ". . . the special interests that divide people today into workers, professionals, managers, and the like would be melded into a general interest in which people see themselves as citizens guided strictly by the needs of their community and region rather than by personal proclivities and vocational concerns."
But Bookchin's assumption simply has no foundation in urban history or social science. Another anarchist, John P. Clark, concludes in his book Beyond the Limits of the City, that "Bookchin's programmatic formulations sometimes seem to presuppose that such a citizenry has already been formed and merely awaits the opportunity to take power."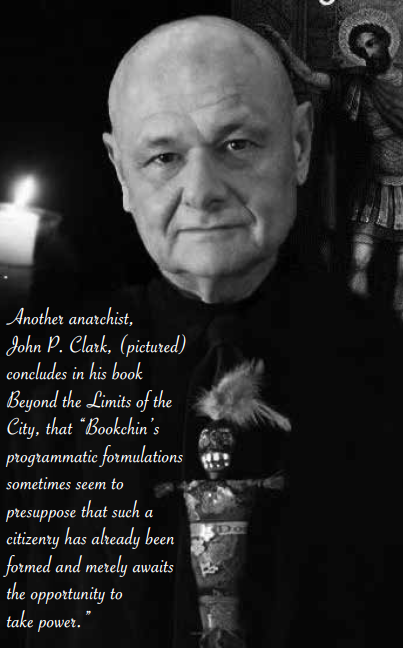 Polycentric Public Powers
Resolving the conundrum of the competing and conflicting interests of the three urban arenas and constituencies—neighborhood, district, and metropolitan—requires separating and balancing their powers. We should not assume that the culture and interests of the neighborhood (which at times can be acutely inward-looking) can adequately govern the whole metropolitan area. Nor should we assume, as is assumed now virtually everywhere, that metropolitan-level officials' ideologies and interests should exclusively govern the application of public powers in the neighborhoods. Resolution can largely be achieved electorally in a polycentric metropolitan government structure, one in which constituencies based on districts (rather than neighborhood assemblies) elect both district and metropolitan officials.
The destructive effects of imposing metropolitan or statewide legislative schemes on powerless neighborhoods can be seen in the City of Los Angeles. Land developers have been allowed to run amok. The City has given priority to their profit-seeking over environmental, esthetic, and ethnic-cultural considerations raised in the public interest. Similarly, by the introduction of Senate Bill 827 in 2018, which would have compelled cities to allow more dense housing near public transit hubs, the State of California threatened to undermine the integrity of powerless neighborhoods. Although the bill died in its first committee hearing, its sponsors intend to resurrect it in the 2019 legislative session, promising that "the battle to increase California's housing supply has just begun."
The legislation created vociferous factions among municipal residents and various other interested parties. As one L.A. resident noted: "SB 827 . . . could have a dramatic impact on L.A.'s Jewish community [along with African- American, Armenian, Chicano, Chinese, Ethiopian, Filipino, Japanese, Korean, Persian, Thai, and Vietnamese communities] by altering the neighborhoods where many of us live." The State of California should not compel the same development in vastly different neighborhoods; but instead, neighborhoods should have sufficient institutionalized public powers to choose the extent to which they adopt development policies and practices, based on legislation that offers them options.
What's called for is a polycentric model, which is reflected in our system of national, state, and local governments. Polycentricity can produce an intergovernmental balancing of power between the different levels of government, which is as vital to healthy democracy as the more commonly recognized intra-governmental separation of powers we see within all three levels of government. The balancing of power between governments ensures that the powers of the federal government are somewhat balanced (read, narrowed) by the powers of state governments, and the powers of state governments are somewhat balanced by the powers of local governments. This model enables a strategic organizing vision of directly democratic urban government in which neighborhoods, districts, and metropolitan jurisdictions share the public powers.
Then, too, if we're going to have directly democratic metropolitan government, it is not enough to have models that are theoretically
coherent. They must also fit within the cultural experience of our diverse urban citizenry. Tellingly, Bookchin's vision does not go beyond the vague ideological conviction that we need directly democratic municipalities, which in turn will name deputies to be responsible for metropolitan governance.
What, in Bookchin's scenario then, would serve as a system of local law? Should we assume that he imagined the populations of directly democratic assemblies operating without laws, or with laws that each assembly would devise for itself, or that the assemblies would evolve a "common law" that would be binding on all? If there is to be law, assuming that humankind will not have reached the kind of perfection that precludes conflicts and crimes, will each municipality have its own civil and criminal courts to adjudge every legal matter, from causing a nuisance to mass murder? And if, on the other hand, all the libertarian municipalities within a region share a common law in the absence of any higher authority, who will be responsible for legislating and enforcing the common laws and procedures governing civil conflicts and alleged criminality? To what judicial authority would appeals be directed? And if there is no common law, how would commerce and social integration among the various municipalities be possible? The anarchist vision, for all its ideological purity, turns out to be institutional nonsense and a harbinger of social chaos.
By way of contrast, we proposed in "Public Powers for the Commonweal: A Challenge to Faith-based Organizing" (Social Policy, 2015) open, directly democratic New England town government as the ideal model for urban neighborhood governance. We have also proposed two-tier metropolitan government as the model for overall metropolitan governance. Our expectation that these models will be acceptable to the citizenry reflects their well-tested functionality, their historical and widespread adoption in this country, and their suitability for institutional integration in a polycentric structure of governance.
On the subject of economics, Bookchin proposed "municipalizing" the economy, which is attractive in some respects. But it loses credibility when proposed as a replacement for virtually all private industry. Consider his proposal from an organizer's perspective. How might we expect it to play at the door in an organizing drive or campaign? Should we expect that citizens will understand and support confiscating all private industry and placing it under the authority of a confederation of municipalities? Then, too, we wonder if Bookchin seriously considered how the major stockholders and managers of private industries would respond to the idea that their enterprises would be commandeered by libertarian municipalities.
Bookchin paid a great deal of attention to the hoped-for future, including how the progressive grassroots forces should transform themselves to attain it. But he mostly ignored what the billionaires and their enablers would do to prevent that, the limitless resources they would devote to maintain the status quo or even to widen the existing inequality of power. Insofar as we can tell, his writing ignores one of the guiding principles of social strategy—to wit: carefully assess the opposition, especially vis-à-vis the resources of your own organization or movement.
Ideological & Utopian Bias
We are not surprised by this strategic insufficiency, because Bookchin was much more devoted to ideological insight than to its institutional counterpart. He seemingly didn't understand that knowing what people do institutionally is at least as important as what they think ideologically. Our experience is that action leads to understanding much more often than understanding leads to action.
While Bookchin had a populist streak a mile wide, he also had utopian inclinations a mile deep. They led him to promote direct democracy without a practical organizing strategy to bring it to life within the framework of metropolitan, state, and national governments.
Bookchin recognized that changing the structure of the state requires a popular movement. He claimed readiness to wage war against the "cosmic forces of capitalism." But he had virtually nothing to say practically about the funding needed to sustain professional movement-organizing; so, his war against capitalism sounds like "pie in the sky in the by and by".
Similarly, he failed to address how the newly emerging municipalities would acquire public powers. Is it possible he believed that every aspect of political, economic, and social life should be entirely voluntary? Clark's thoughtful critique of Bookchin notes that libertarian municipalism is ". . . distant . . . from any actual exercise of public power." In our view, he simply didn't address the subject of acquiring municipal public powers, which are indispensable to organized society. Notably, public powers are under the ultimate control of state legislatures which are much more conservative (read, beholden to the donor class) than urban governments. What, then, should we assume about how libertarian municipalism would overcome those conservative forces to become more than voluntary associations of individuals with various shared interests?
Given Bookchin's preoccupation with vision and ideology, we're not optimistic about the prospects for empowered libertarian municipalism. We doubt that his knowledge and experience of movement-building is of the kind that can survive the four or five decades needed to achieve its objectives; or that it can master the challenges of funding, recruiting, educating, and training a corps of dedicated professional organizers. A grassroots vision of direct citizen-empowerment that fails to carefully assess and strategically respond to institutional forces that will do all in their power to undermine decentralization and direct democracy, deserves the name "utopian."
Bottom Line
Bookchin's writing leaves us with insurmountable doubts. Seemingly, he was indifferent to balanced social-change thinking, writing, and action, elements of which include: (a) social criticism, which typically spotlights the shortcomings of existing culture and institutions; (b) social futurism, which uses language that draws detailed images of the desired future; (c) social strategy, which describes how to get to the future; (d) social (action) methodology, which describes the tactics and tools of strategy; and (e) social morality, which defines the moral vision and moral action essential for social progress and change.
Bookchin's failure to rigorously address these elements led him to unsupportable assumptions and unjustified expectations. He produced an excess of criticism, a tendency toward futurism unconnected to long-range strategy, an absence of proven methodology, a strategy without specific morally driven conviction or constituency, and a morality exclusive to the anarchist ideological cognoscente rather than inclusive of the general citizenry. The best we can say is that Bookchin was an incisive social critic.
Most problematic in Bookchin's vision is his apparent abhorrence of state or public powers. He implicitly rejected the idea of citizens voluntarily combining their personal power in collective, institutionalized forms that exceed the power of the individual; and which, in turn, can compel individual behavior. To recognize the folly of extending this viewpoint beyond municipalities, one need only imagine modern life without institutions that enable state-legislated motor vehicle codes, federal food and drug regulations, and international aviation flight-rules. We can also imagine—given the current threats to the planet from climate change and global warming—the pressing need for coastal cities to use the best engineering and architectural practices against rising sea levels, which can only be met when those practices are legislated into national, state, and local codes. Bookchin's vision of a future without higher levels of institutional powers, beyond municipalities, is more aptly characterized not as a utopian dream but a dystopian nightmare.
So, the obvious answer to our earlier question is "No". We should not revive Murray Bookchin's vision as a source of insight and inspiration for today's community—and faith-based organizing. He and his vision should be left behind in the archives of anarchist luminaries, out of the consciousness of the public, activists, and professional organizers.
Institutions of Democracy
The heart of Bookchin's vision is anarchist antipathy to state institutions per se, as if they are inherently, inevitably, irredeemably malevolent and not necessary. Bookchin seemingly overlooked or dismissed the indispensable role of such institutions in constructing positive social meanings and socialization, which serve to weave the fabric of society.
One of the dangers of wholesale rejection of higher levels of institutional power is that, as Aristotle understood thousands of years ago, but which has not been acknowledged by anarchists in general or Bookchin in particular: nature abhors a vacuum. The collapse of institutionalized state power creates a void, which is often filled by the emergence of malevolent power-seekers, whether the Bolsheviks in Russia or ISIS in Iraq. Ironically, ISIS recognized the value of local institutions for administration, revenue generation, and political rule. In the absence of democratic institutions, city hall and provincial government may become the bailiwick of players hostile to democracy.
Democracy in its origins and its continuation relies upon the enduring behavior of citizens seeking collectively to meet their common challenges and to realize their hopes and dreams for a better life for themselves and their children—which is true even when our institutions are not yet perfected.
Our hope lies not in our rejection of imperfect democratic institutions but in our willingness to challenge them and to support their improvement. It is our sacred obligation as citizens of a democracy, our exclusive responsibility, to hold our institutions to the highest democratic ideals of accountability, equality, equity, efficiency, and economy. The obligation is sacred because the survival of our nation as a freedom-loving democracy depends upon it.
We cannot escape that obligation by promoting an ideologically pure, sweeping rejection of institutional life beyond municipalities. As Milton Mayer put it in a 1953 article in The Progressive :
"I am sovereign here. I hold the highest office of the land, the office of citizen, with responsibilities to my country heavier, by virtue of my office, than those of any other officer, including the president. And I do not hold my office by election but by inalienable right. If I try to abdicate it to the general will, or to my representatives or to my ministers, I am guilty of betraying not only democracy but my nature as a person endowed with certain inalienable rights."
Moshe ben Asher and Khulda bat Sarah are the founders and Co-Directors of Gather the People (www.gatherthepeople.org), which provides resources for congregational and community organizing and development, Moshe has organized for ACORN, Citizens Action League of California, and one of the PICO projects (OCCCO); he was Assistant Director for Organize Training Center; and he teaches sociology and social work at California State University, Northridge. Khulda has organized for the North County Community Project and the Marin Congregational Organizing Project.
Details

Written by David Clohessy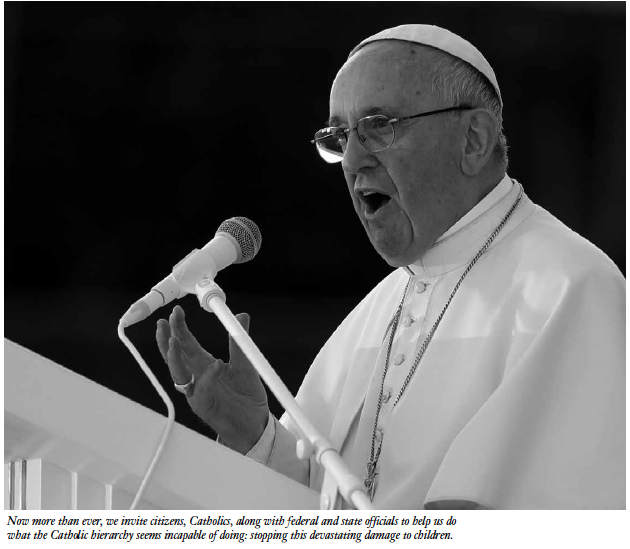 Politicians in the US don't insist on being called Your Eminence or Your Grace. They don't ask citizens to kneel before them or kiss their rings. That's because we live in a democracy. There is, however, a different kind of government. It's called a monarchy when using polite language, or more bluntly, a dictatorship. In it, those at the top hold virtually all the power and are accountable to no one.
The oldest and biggest example of this system is the Vatican. And in a nutshell, this is why clergy sex crimes and cover-ups continue in the Catholic church. This is relevant now of course because of last week's scathing grand jury report into six Pennsylvania dioceses. It's sending shockwaves across the church and beyond.
The report cites more than 300 predator priests, 1,000 identified victims and estimates of "thousands more." It concluded that church officials followed a "playbook for concealing the truth," and were "minimizing the abuse by using words like 'inappropriate contact' instead of 'rape,' assigning priests untrained in sexual abuse cases to investigate their colleagues; and not informing the community of the real reasons behind removing an accused priest," according the New York Times. "Church officials who protected (predators) remained in office or even got promotions."
According to one news account, the report included stunning revelations: a priest molested a 7-year-old girl during a visit to a hospital where she had her tonsils removed; priests shared naked photos of abuse victims; a priest arranged an abortion after impregnating a girl he had raped; a priest got a reference letter for a Disney World job after years of complaints about his abusive behavior.
"How could this happen?" many are asking. Based on the 30 years of experience of our organization, the Survivors' Network of those Abused by Priests (SNAP), we submit there are some very simple, even obvious, explanations. Consider again the monarchy. Bishops ignore, hide and enable child sex crimes because, as monarchs, they can. Technically, they answer to the pope. But in reality, they answer to no one. (How can one pontiff really supervise 5,000 bishops across the planet?)
Thirty years ago, a Louisiana serial predator priest generated national headlines in the US. In recent years, church officials acknowledged that 6,721 clerics are accused molesters and estimated that 100,000 US kids have been hurt.
But only two US bishops have resigned because of their complicity. None have been demoted, defrocked or disciplined. Only two members of the US hierarchy have ever been criminally charged for covering up. If you have a lifetime gig as "Your Eminence," and there's virtually no chance of being punished for shunning victims, hiding crimes, transferring predators, deceiving parishioners and stiff-arming police, why wouldn't you keep doing what bishops have done for ages? Why risk breaking ranks?
Other factors contribute to this crisis too. One is archaic, predator-friendly criminal statutes of limitations that prevent law enforcement from prosecuting those who commit and conceal heinous child sex crimes. Civil statutes are equally outdated and overly-restrictive, denying victims the chance to expose wrongdoing in court.
Excessive deference to church figures by secular officials also plays a role. For far too long, police, prosecutors and politicians have been reluctant to cross their bishops or embarrass their friends or fellow parishioners. Time and time again they've pretended to be powerless, refusing to investigate cases through grand juries. They've ignored our pleas to aggressively seek out victims, witnesses or whistleblowers using their bully pulpits and other mechanisms.
But at its root, the church scandal stems from the nearly limitless power of popes and prelates to handle crimes unilaterally, secretively and in-house, with virtually none of the oversight or checks and balances we're so accustomed to in our democracy. This inherent structural problem in the church is why we push hard to get secular institutions acts. We're convinced that such institutions are the only real way to protect the vulnerable, heal the wounded, expose the truth and deter more wrongdoing. Only external pressure will bring real change.
Specifically, here's what we're doing. We're calling on state attorneys general across the US to launch grand jury probes like the ones in Pennsylvania, Massachusetts and New Hampshire. Notably, former Illinois State Supreme Court Justice Anne Burke, a devout Catholic, supports this idea. For two years, from 2002 to 2004, she chaired the US bishops first abuse panel.
Along with the Center for Constitutional Rights, we're urging the US Justice Department to launch a thorough investigation into the crisis, like governments in Australia, Ireland and other countries have done.
In Pennsylvania, we're prodding local prosecutors to get more aggressive and creative in pursuing bad priests and bishops. With thousands of police, prosecutors and victims across the state, we find it very hard to believe that not a single complicit church official who concealed child sex crimes can be charged now with obstruction, fraud, perjury, destroying evidence, intimidating witnesses, endangering children, or similar offenses.
And we're urging Pennsylvania's attorney general to keep fighting to get still-hidden portions of the new report un-redacted. Because, remember, the church is a monarchy - rigid, secretive, all-male and global. Does anyone really believe that monarchs will voluntarily reduce or share their power or reverse centuries-old patterns of self-serving behavior? They've had decades to do so but made only token moves when forced to do so by outside pressures. That's why governmental agencies and actors must step up.
It saddens us that for so long, those who have been most hurt and are still hurting shoulder the burden of pushing for reforms: abuse victims. Now more than ever, we invite citizens, Catholics, along with federal and state officials to help us do what the Catholic hierarchy seems incapable of doing: stopping this devastating damage to children.
David Clohessy is the former director of SNAP, the Survivors Network of those Abused by Priests. He can be reached at This email address is being protected from spambots. You need JavaScript enabled to view it.
Details

Written by Stephen Crossley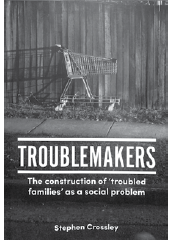 Michael Lipsky coined the phrase 'street-level bureaucracy' to highlight the central role of street-level practitioners, such as social workers, teachers, youth workers, housing officers, police officers, health workers, and so on, in implementing social and public policies. He argued that 'the actions of most public service workers actually constitute the services "delivered" by government' (Lipsky, 1980: 3) and that each encounter with street-level bureaucrats 'represents an instance of policy delivery'. Lipsky also highlighted the extent of discretion that frontline workers actually have, despite efforts to regulate their work more closely. He highlights that police officers 'cannot carry around instructions on how to intervene with citizens, particularly in potentially hostile encounters' (Lipsky, 1980: 15) and the same applies to a host of other roles. Teachers do not have a step-by-step guide on how to deal with each different situation that arises in the classroom, nor do social workers have a standard script that they must adhere to during home visits. Such discretion and autonomy is particularly important in the Families Program (TFP), as workers are expected to know when to be 'persistent, assertive and challenging' and when to be more supportive of families, or when and how to work on their behalf in dealings with other agencies. The coalition government's wider focus on localism and decentralisation ensured that no statutory duties or new legislation were enacted in respect of the TFP in its first phase. While the government identifies what constitutes a 'troubled family', albeit with varying degrees of local discretion, and also what outcomes are required of the families, how local authorities work, and indeed what individual practitioners do, with 'troubled families' is largely up to them. The programme remains voluntary, with no official sanction for families that refuse to engage with it, and workers thus often have to be persuasive and creative in how they 'sell' the programme to families they need to work with.
Lipsky is by no means the only person to identify the potential for policies to be delivered in ways that were not always consistent with their original aims. In a classic work called Implementation: How Great Expectations in Washington Are Dashed in Oakland, Pressman and Wildavsky (1984: xviii) suggest that problems in achieving policy goals are often 'of a prosaic and everyday character', noting that it should not be underestimated 'how difficult it can be to make the ordinary happen'. Drass and Spencer (1987: 278), in examining probation officers accounts of their exercise of discretion, proposed 'a theory of office … a "working ideology" which consists of typologies of deviant actors and appropriate processing outcomes, as well as rules which link the two'. Researchers in the UK in recent times have also noted the potential for a 'governmentality gap' (McNeill et al, 2009: 419) in social work and 'counter agency' (Prior 2009) among frontline workers. Researchers have also highlighted tensions that occur in the space between the design of a policy and its delivery. Bourdieu suggested that the social and welfare functions of the state constituted its left hand, with the more technocratic, fiscally minded functions forming its right hand. He argued that social workers and other 'base line judges' were 'agents of the state … shot through with the contradictions of the state' (Bourdieu et al, 1999: 184), but that these contradictions open up 'a margin of manoeuvre, initiative and freedom' (1999: 191).
Work by Pearson has noted the 'industrial deviance' performed by social workers in carrying out their jobs and achieving the desired ends. In The Deviant Imagination (1975), he explored the 'ambiguous politics of social work' and refers to social workers as 'social policemen', 'social tranquilisers' and 'professional Robin Hoods', who take part in 'moral hustling'. These 'ambiguous politics' include the dual (and sometimes competing) commitments to individual clients and to wider society, and negotiating the balance between care and control. The expansion and dispersal of discipline and a culture of control (Garland, 2001) means that social workers, often employed or funded by the state, are expected to carry out some controlling functions of the state. These functions sometimes conflict with the original aims and the wider ethics and values of social work, and has led to social workers being called 'reluctant policemen' (Burney, 2005: 115) and 'agents of social control, disguised stormtroopers of the state' (Cohen, 1985: 130).
The exercise of discretion among social workers, family workers and other street-level bureaucrats in the UK in recent times has been the subject of numerous research studies. For example, Del Roy Fletcher (2011), in work carried out in Jobcentre Plus offices highlighted the 'inconsistent and discriminatory' responses to Jobseeker Mandatory Activity pilots where local responses largely depended on the resources and time available to local staff. Sarah Alden (2015) interviewed workers in statutory homelessness services in 12 local authorities where an increase in service users occurred at the same time that resources were falling as a result of austerity measures and reforms. She 'found evidence of unlawful discretion', which she 'attributed to a complex mesh of individual, intersubjective, organisational and central-led factors.' Research examining the 'multi-agency' partnership approaches to tackling anti-social behaviour of the Labour governments in the 1990s and 2000s highlighted the difference that demography, geography, and history can play in localised approaches to ASB (Burney, 2005), while others have highlighted tensions between different partner organisations as a result of competing priorities and institutional attitudes (Matthews and Briggs, 2008; Edwards and Hughes, 2008).
A number of research articles have explored the work carried out by Family Intervention Project (FIP) workers and their efforts to 'modify the intended outcomes of national policy' (Parr and Nixon, 2009: 101). These authors go on to note that 'rich case study data serves to illustrate the ways in which local actors reinterpret formal policy agendas in order to create alternative discourses which both challenge and, in turn, influence national strategies' (Parr and Nixon, 2009: 102). In discussing FIPs as 'sites of subversion and resilience', Parr and Nixon highlight that local FIP workers 'drew attention to the underlying causes of disruptive and damaging behaviour' (Parr and Nixon, 2009: 108), and 'developed an alternative conceptualisation of "the problem" of ASB', seeking to locate the issue of ASB in wider discourses of social exclusion. Central government, on the other hand, took the symbolic step of establishing a distinct Anti-Social Behaviour Unit (ASBU) in 2002, promoting the issue of ASB from its previous home as a policy strand in the Social Exclusion Unit. Parr and Nixon also discuss the local characteristics – the project manager's professional background or local governance arrangements, for example – that influenced local practice and service delivery. In a reverse of the usual direction of subversion and negotiation, the authors note that, as the local projects, with ostensibly 'supportive' approaches, became seen as increasingly important in efforts to tackle ASB, 'a process of bargaining occurred' and they were re-positioned by central government as part of a 'tough approach' (Parr and Nixon, 2009: 114) to 'problem families'. This included the discursive shift from being Intensive Support projects to Intervention projects.
Elsewhere, the same authors have set out how local FIP workers saw themselves as 'plugging a gap' in local service provision rather than 'gripping' local agencies (Parr and Nixon, 2008: 170) and that there was a 'varied and contested way in which local stakeholders constructed the role of FIPs together with the anti-social subject'. They conclude that:
Paying attention to the localised development and operation of policies facilitates a more nuanced understanding of the manifestation of the FIP policy and reinforces the view that to properly debate antisocial behaviour policy, we need to look at the practices of those who implement policy, not just the policy text itself. (Parr and Nixon, 2008: 174)
The differences between FIP practice in Scotland and England and the process of policy transfer has also been discussed by researchers. They noted that 'in English FIPs families were routinely threatened with sanctions to secure their initial cooperation', with these 'overtly disciplining practices stand[ing] in stark contrast to the professional ethos evidenced in the Scottish projects' (Nixon et al, 2010: 318–19). FIPs have also been described as 'sites of social work practice' where the design of a local FIP had provided staff 'with an opportunity to engage in the kindof creative practice that proceduralization, bureaucracy and managerialism have made impossible to achieve in mainstream social work arenas' (Parr, 2009: 1257). Just as FIPs provided fertile ground for exploring the street-level negotiation of dominant discourses surrounding 'problem families', the TFP itself has also offered researchers an opportunity to examine how local practitioners have responded to a high-profile, and controversial, policy aimed at similar families.
Interviews from a range of research studies with workers and managers in local authorities involved in the delivery of the TFP highlight 'the complexity of interactions concealed beneath the apparent monotony of bureaucratic routine' (Bourdieu, 2005: 140). While it would be unhelpful and similarly simplistic to talk of a divide between national policy rhetoric and local practice, there were substantial differences – a 'governmentality gap' (McNeill et al, 2009) – between the approach promoted by central government and that which was carried out by workers employed by local authorities and their partners.
Where government rhetoric has promoted the idea of an ahistorical, highly individualised family worker, workers involved in the programme in Northton, Westingham and Southborough highlighted long backgrounds in either similar work or in similar institutions and explained the extent to which they relied on colleagues in their teams and in other services to help them with their work. In place of the 'can do' attitude and 'hands on work' carried out in family homes afforded primacy by the likes of Cameron and Casey, a more stereotypical bureaucratic approach was articulated by workers, which involved navigating rules and procedures and negotiating with fellow street-level bureaucrats. Where differences were articulated, they were framed in terms of greater freedom and flexibility offered by the programme, rather than any distinctive dispositions or capabilities possessed by family workers, or acquired by them upon entry to their role.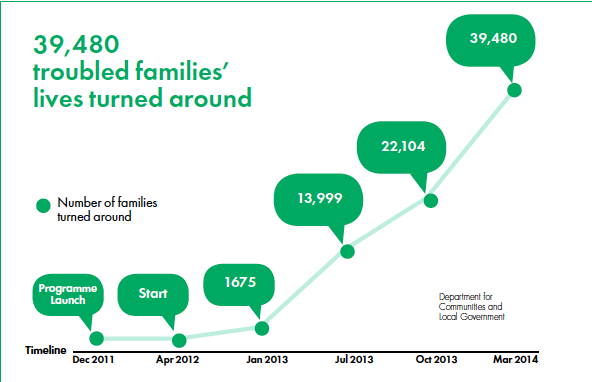 However, these subversions were all relatively minor alterations to policy that did little to trouble the national portrayal of the TFP (Crossley, 2016). They did not, as DuBois (2014: 39) has observed, 'contradict the rationales of official policy' and effectively ended up serving its goals. They were thus all examples of 'safe oppositions', occurring within the 'black box' of policy implementation, which enabled workers to exhibit autonomy and discretion within the boundaries allowed by the TFP. In Bourdieusian terms, these practices can be viewed as 'legitimated transgressions' (Bourdieu, 2005: 132) or:
partial revolutions which constantly occur in fields [and] do not call into question the very foundations of the game, its fundamental axioms, the bedrock of ultimate beliefs on which the whole game is based. (Bourdieu, 1993: 74, original emphasis)
Family workers that participated in the research discussed above believed in the value of their work and have not doubted the idea that family work of some description was necessary for the families that they were working with. They attempted to play the 'troubled families' game in the best way they could, given the environment in which they were operating. They lived with the ambiguity of their work and often resisted the politically charged elements of the TFP, such as the idea that they were 'turning around' the lives of the families they worked with. What was at stake, for them, then, was not the idea of family intervention or family work with marginalised or 'troubled families' per se, but the form that that work took.
There is no room, however, for such nuance or complexity in the 'troubled families' story told by the government. As such, the daily work with families, in whatever form it takes, unfortunately only serves to strengthen the popular view that it is only by intensive and direct work with families that their lives can be 'turned around'. The daily routines of family workers and colleagues in other service areas thus help to produce and reproduce 'the reality' of 'troubled families'. They are, unfortunately, part of the work of the production and reproduction of 'troubled families' that the state is engaged with. Their resistance to elements of the programme and their rejection of some of the more stigmatising aspects of it have not 'troubled' the bigger picture surrounding the TFP. The more successful workers are in subverting or resisting problematic elements of the programme, the more the government is able to claim that its 'persistent, assertive and challenging' approach is working.
Dr Stephen Crossley is a Senior Lecturer in Social Policy at Northumbria University. He completed his ESRC-funded PhD on 'troubled families' at the University of Durham. Prior to entering academia, he worked for local authorities and voluntary sector organisations in the North East of England in youth, community development and neighbourhood management roles. His book, Troublemakers: The Construction of "Troubled Families" as a Social Problem is now available from Policy Press of the University of Bristol (https://policy.bristoluniversitypress.co.uk).