Details

Written by Philip Mattera

The Trump Administration has left little doubt that one of its main missions is to roll back the regulatory initiatives of the Obama years, especially the Clean Power Plan and the Consumer Financial Protection Bureau. Although Trump has been less overt about it, his corporate-friendly approach also includes weakening rules that have been around for decades.
An important case in point concerns the Fair Labor Standards Act, the key federal wage and hour law that was signed into law 80 years ago by President Franklin Roosevelt. The culmination of decades of struggle over excessive workweeks, inadequate pay levels and child labor, the FLSA put the federal government in the business of combating wage theft and other forms of workplace exploitation. It accomplished that through an extensive system of workplace investigations and the imposition of financial penalties on employers large and small.
In a move that has received limited attention, the Trump Labor Department has been moving to replace rigorous enforcement with a system called Payroll Audit Independent Determination (or PAID) that puts employers on the honor system. Beginning with the dubious premise that wage and hour violations mainly derive from inadvertent mistakes made by managers, PAID will encourage employers to report irregularities on their own. When they do they will still have to pay back wages but will not be assessed damages or penalties.
Such a system makes a mockery of real enforcement. Employers will either report nothing or will disclose only a few minor infractions to give the impression they are fully complying with wage and hour standards.
What makes matters worse is that PAID, which is being billed as a pilot program for now, is being pursued right after the U.S. Supreme Court in the disastrous Epic Systems ruling. That decision affirmed the right of employers to compel workers to sign mandatory arbitration agreements that severely curtail their ability to bring collective action lawsuits.
As my colleagues and I at the Corporate Research Project and Jobs with Justice Education Fund showed in a recent report, these lawsuits have allowed workers to recover billions of dollars from large corporations. These employers include not only the usual suspects such as retailers and fast food operators but also banks, high-tech companies and pharmaceutical producers. In the wake of the Epic Systems decision, some federal judges began to dismiss pending cases against major companies.
After PAID was featured in an NBC News segment on how the Trump Administration is relaxing regulatory enforcement in numerous areas, a group of Democratic Senators wrote a letter to Labor Secretary Alexander Acosta expressing concern about the program. DOL responded that it was "premature" to comment on the program.
The controversy over PAID comes amid growing concern about the prevalence of wage theft. Some of those abuses apparently exist right inside the federal government. DOL, which has not yet left the investigation business, was reported to be examining the practices of a company called Seven Hills, which manages the food court at the Pentagon.
Faced with the prospect of diminished DOL enforcement and restrictions on federal collective action lawsuits, activists are looking to other solutions. There are some hopeful signs at the state level, especially in California. In June that state's Labor Commissioner fined the Cheesecake Factory restaurant chain and a contractor more than $4 million for wage theft involving janitorial workers. California's strong labor code also provides opportunities to take private legal action against abusive employers in spite of the Epic Systems ruling.
Some of the most encouraging work is happening at the local level. For example, Centro de Trabajadores Unidos en la Lucha (Center for Workers United in Struggle) has been pressing Minneapolis Mayor Jacob Frey and the City Council to pass an ordinance dealing with wage theft.
In some parts of the country, law enforcement officials are taking the term wage theft literally and treating it as a criminal offense. For example, after a joint investigation by the Washington State Attorney General's Office and the Department of Labor & Industries, a construction company and its owner pled guilty to a criminal charge of first-degree theft. Later, the New York Attorney General and the Inspector General of the Port Authority of New York and New Jersey announced the arrest of a contractor for failing to pay prevailing wages at a publicly-funded construction project at LaGuardia Airport.
While it would be terrible to see DOL's wage and hour
enforcement system dismantled, there are other ways rogue
employers can be brought to justice.
Philip Mattera heads the Corporate Research Project in Washington, DC, and writes the blog Dirt Diggers Digest.
Details

Written by John Anderson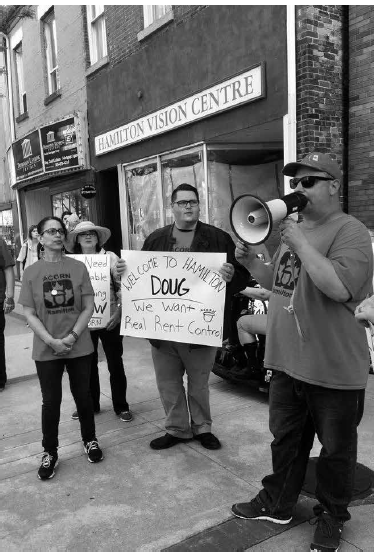 Doug Ford, brother of the late Toronto Mayor Rob Ford, was elected Premier of Ontario, as head of the Progressive Conservative party (PC) winning a majority of the seats in the election held this past June. Besides the sex scandal in the PC party that cleared the field for Doug Ford's sudden rise to the leadership—I'll let you Google that, but only if you want to—it was all a fairly predictable campaign result, despite a late surge by the NDP.
Ford's "For the People" campaign won despite itself, not unlike Trump in 2016. Campaigning on 'Buck a Beer' (one-dollar beer sold at the Beer Stores), getting rid of a modernized sex-ed curriculum at public schools, and cancelling a planned minimum wage hike from $14 to $15, Ford was able to win big despite not releasing a budget, a full platform, or answering journalists' questions on the campaign trail. He borrowed his late brother's playbook by going after the media and saying he was there for the little guy.
Like Trump, Ford also started moving rashly and wildly once in power.
He cut the size of the Toronto City Council from 47 to 25, just two and a half months before the municipal election, and a day before the cut-off to register as a council candidate. Even when the City of Toronto won its Hail Mary constitutional challenge to the cut (on the grounds it interferes with Torontonians' right to free expression) Ford still brazenly forced his way. Hours after the court decision Ford invoked the never-before-used-in-Ontario "notwithstanding clause" which allowed him to avoid the Canadian constitution. All this seemingly out of spite for his former council enemies from his days on Toronto council when his brother was our crack- smoking Mayor.
Ford has also axed the updated and respected sexed curriculum one month before classes were to start, reverting back to sex-ed curriculum designed in the 90's when the Conservatives were in power. Not only were teachers forced to learn outdated curriculum in a short time frame, Ford even set up a snitch line for parents to anonymously rat out teachers still teaching sex-ed from the modern curriculum to their children.
The fights to stop Ford are starting, and they are as noble fights as they are uphill. The focus of this year's Labor Day Parade in Toronto were the fights to stop Ford from rolling back the large wins from the Fight for $15 and Fairness, as well as the new fight to stop Ford's move to privatize public transit in Toronto.
Rob Ford won the mayor's seat in large part by committing to "subways, subways, subways", especially in Toronto's large eastern suburb of Scarborough. Toronto's left is against subways and in favor of surface-level trains. The Ford brothers found out they could win elections by promising subways and chiding the downtown elites and their second-class light rail trains.
Hot take: the only reason the Fords like subways is because it wins them elections. And Doug Ford has doubled down on it.
Ford is going to upload Toronto's public transit system from city to provincial control. This will give Ford full control to build his fantastical subway system. It is unclear where the subway lines will end up, but it has become clear to the Amalgamated Transit Union that privatization of the subway system is likely. With Toronto ACORN's track record of winning anti-privation campaigns to keep the electricity and waste collection systems public we are looking forward to this fight and see it as something that may just be stopped - the privatization at least.
The major labor law reforms that the Ontario Federation of Labour and the Workers Action Centre won are also clearly in line for a trip back in time, and that may be harder to stop. Ford is smart enough to understand that he couldn't roll back the minimum wage increase that was passed in 2015 and still be this fake For the People premier. That was clever on his part. The meat of the highly successful Fight for $15 and Fairness in Ontario was the so-called fairness part, which was the incredibly thorough labor law reform that was won last year. Paid sick days, regulations to clamp down on temporary employee agencies, and increased enforcement systems of labor laws were all won to some degree. A problem now may be that they were never that well-articulated to the broader public during the campaign (the focus was rightly on the fight for
$15). That could make it easier for the government to roll back those reforms because the public doesn't understand what they are. Even though the minimum wage has not gone up to $15 yet (only to $14), it's going to be a challenging campaign for labor and their talented friends to tie the fight together again and stop Ford.
Ontario is going to have a resistance against Ford, like our friends to the south do against their orange dictator. But, like in America, people may realize that the resistance isn't enough to stop the onslaught of destruction that is coming our way.
John Anderson is the Head Organizer of Toronto ACORN. Since 2004 John has helped to develop the ACORN Canada operations in Toronto, Ontario, and British Columbia. He is a graduate of the University of Winnipeg.
Details

Written by Wade Rathke

Jeff Bezos of Amazon, the Washington Post, and trips to the moon, is now the richest man on the planet. He and his wife this week announced that they were going to put $2 billion into a foundation to deal with homelessness and other issues. Bill Gates of Microsoft fame, who used to be the richest guy in the world, continually tells us how much good he is doing in trying to eradicate specific diseases in Africa and elsewhere. Mark Zuckerman and his wife pledged a gazillion dollars, but weirdly put a pile of money in a limited liability corporation so that they could make do-good "investments," although they styled it all as philanthropy.
Drummond Pike earlier in this issue illustrates how a lot of this "doing well by doing good" scam is really working as community foundations and financial mega-funds all become gigantic tax dodges for sudden tech riches. They are ostensibly operating in the guise of charity but controlling their funds supposedly less at arms' length than at the tip of their fingers in the dark maze of exploited IRS rulings and codependent fund and foundation executives.
Pike is exposing one piece of the puzzle, while Anand Giridharadas in Winners Take All: The Elite Charade of Changing the World unmasks the whole tribe from the inside out. Giridharadas minces no words. The "elite charade" is a shell game where we are supposed to look at what the rich are claiming to do with their patented "do no evil" change the world branding and mush-mouthed sloganeering so that we miss the fact that we are being diverted from fully engaging the issues of gross inequality. They talk change while resisting it at every turn. They know best, and part of what they know best is how much they want to keep their horde, even as the gap becomes enormous between rich and poor. Winners Take All hits the enablers as hard as the hoarders including the foundations, politicians, policy shops, and NGOs that are willing to mold themselves and their mission in the ways that the moneyed direct.
Does it matter?
In excruciating data-driven detail that the techsters would have trouble refuting, the scientists and researchers, Richard Wilkinson and Kate Pickett, in The Spirit Level: Why Greater Equality Makes Societies Stronger, argue that the inequality that the wealthy have wrought is literally killing us. Their title may be about stronger societies, but the book in chapter after chapter details their research establishing that in every measure (health, education, longevity, gender relations, etc, etc, etc) those countries that are more unequal, like the Unites States and the individual states in the union, are in worse shape that the countries that are more equal.
I read both of these books coming in and out of Paraguay, one of the poorest and most unequal countries in South America while meeting with
many who were striving mightily to do good while avoiding the issues of land distribution, tax unfairness, and devastating inequality. On landing
in the United States, I read without surprise that the Trump tax reform by, for, and about the rich had not increased workers' wages or repatriated company profits or led to more investment by company's in their businesses health and prospects but rather had led to more buybacks and investor payouts.
Inequality is the wolf at our door, everywhere we go, yet few anywhere are making this the issue, and many of the wolves are running in packs and roaming around in sheep's clothing in this "elite charade."
If we're going to deal with the ravages of inequality, sooner or later all of these paper moons and castles they are building in the sky for us have to be called pulled down and put in proper order.
We have to focus more clearly, if we are not to be fooled completely.
It can't be just about them. It has to be all about us.
Wade Rathke is the Chief Organizer of ACORN International, Founder and Chief Organizer of ACORN (1970-2008), and Founder and Chief Organizer of Local 100, United Labor Unions (ULU).