Details

Written by Lane Windham

Young and ambitious, Fran Cicchetti took a secretarial job at a Boston insurance company and soon pushed her boss to make good on his promise to train her as an underwriter. He instead groomed and promoted a male clerical worker for the coveted slot. Her dark, Italian eyes flashed with outrage beneath a sweep of thick bangs: "That was when I started thinking that, as a woman, I'd been lied to." In April 1974, she joined hundreds of other Boston women in publicly calling on the city's employers to honor a bill of rights for women office workers. "The companies do not see us in the mainstream of the workforce. We are working for pin money they think and aren't to be taken seriously. We've got to assert ourselves." As women like Cicchetti entered America's workplaces in record numbers during the 1970s, they carried new ideas about women's rights along with them. Cicchetti's words neatly capture how respect and pay were inextricably linked in a market-based society, and how mounting a challenge to gender norms on the job was both a social and economic task for the nation's low-paid, coffee-fetching "office wives."1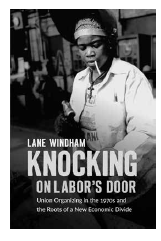 Cicchetti was an early activist in 9to5, one of the most well known of the employment-based women's organizations that burst on the scene in the 1970s. Organizations like 9to5 represented a potent feminist strain within that decade's working-class activism. The women office workers who founded 9to5 in 1973 built what they called an "organization for women office workers" in Boston—which was explicitly an association, not a union. Through a combination of public pressure, savvy media outreach, and strategic affirmative action suits, 9to5 helped upend workplace gender norms and challenge the terms under which millions of women entered the workplace in the 1970s. Cicchetti, for instance, went on to chair the group's finance committee, which lobbied the state's insurance commissioner to issue new standards on industry job postings and promotions. The women of 9to5, however, also wanted to harness the power of collective bargaining, and they built a bifurcated structure to do so. They maintained the association 9to5 while also launching their own union, Local 925 of the SEIU. They later replicated this dual structure at the national level, with a separate association and union.2
Like the retail clerks, shipbuilders, and textile workers we met earlier in this book, the women who founded 9to5 were among the wave of young women and people of color who poured into a broad range of the nation's workforces, making new demands about their rights. What is different about the women of 9to5, however, is that they expanded the range of possibilities open to workers by simultaneously using strategies based both on and also beyond NLRB union elections. The group's founders pioneered a new form of labor organizing, one built on New Deal traditions and legal structures, as well as the tactics and legal strategies of the contemporaneous women's movement. The union, SEIU Local 925, won a few NLRB elections, but it found that most of the private-sector employers it challenged were able to block workers' organizing efforts by manipulating and breaking labor law. The association had more success. Boston's clericals managed to force some of the city's largest banks and insurance companies to post jobs, offer training, and even give raises—all without having to go through arduous NLRB elections or ever securing a union contract. Instead, they used affirmative action suits to expand workers' rights, and learned to make creative use of public opinion.
The 9to5 founders were essentially the foremothers of what today is known as "alt-labor," the wave of workers' centers, associations, and campaigns that seek to build power for workers outside the collective bargaining paradigm in the early twenty-first century. For a time, these women labor activists were able to use the new organizing forms of the women's movement, in combination with community organizing tactics, to build an entirely new doorway into economic security and greater equality for America's workers.3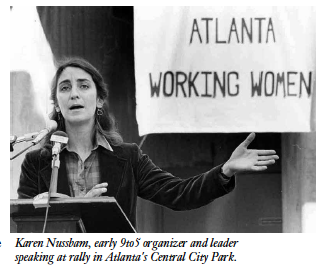 Women's Rights Comes to the Office
It was no coincidence that some of the most forward thinking labor organizing in the 1970s grew up among clerical workers. This group was primarily composed of women who found themselves at the epicenter of two major shifts: the mass entry of women into America's workforce and the cultural transformations rooted in the women's movement. By 1979 women made up a full 42 percent of all workers, up from 30 percent in 1960, and women were more likely to earn their paycheck in clerical work than in any other job. One in three women who worked for wages did so as an office worker.4
Meanwhile, secretarial work was undergoing a major shift of its own as technologies like photocopiers, memory typewriters, and, increasingly, computers furthered a century-long process of mechanizing office work.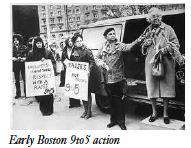 Women ran the new office machines, and they did it cheaply. Early twentieth century employers had learned that they could keep costs down by employing women as typists and stenographers, displacing the young aspiring businessmen who had once served as clerks. By the 1970s, a full 97 percent of typists were women. Yet female clericals earned less than men who worked as operatives, salesmen, or service workers—in fact, they earned less than all men except farm workers. "I replaced a man who was making $140 a week at $80," wrote one shipping clerk at A&P Tea Company in a 9to5 survey. "At my present raise rate, it will be eight years by the time I reach that pay."5
The office workers who organized wanted to upend unfair, gender-typed treatment in the office as much as they sought to address low pay, and the new ideologies of the women's movement gave their efforts momentum. The expectations that women clericals would get the coffee, buy the presents, and pamper their bosses collided with a growing sense of professionalism and entitlement. "My greatest gripe, besides the obvious problems of low pay and lack of respect, is that I am not a 'puss,' or a 'chick,' a 'broad' or a 'dear.' I am a woman and I have a name, a full name of my own," insisted one Boston office worker, writing in response to an early 9to5 newsletter in 1973.6
Some 9to5ers embraced the new ideas of women's equality, even if they chose not to embrace its language. Judith McCollough, an office worker at Travelers Insurance in Boston, was typical of such working-class women attracted to the group. "I'd been interested in the women's movement," but was "slightly intimidated by it," remembered McCollough. Though she identified with the idea that women should . . .. do all the things that they wanted to do . . . The National Organization for Women just didn't seem to connect to me." McCollough went on to join 9to5 staff and later became a national union organizer.7
From Knocking on Labor's Door: Union Organizing in the 1970s and the Roots of a New Economic Divide. Copyright ©2017 by Lane Windham. Used by permission of the University of North Carolina Press. www.uncpress.org
End Notes
1. Woman Alive!, Nine to Five; "9-to-5ers Press for Office Rights," Boston Globe, April 9, 1974; Nussbaum, "Working Women's Insurgent Consciousness"; ""; Cobble, Sex of Class; MacLean, "Hidden
History of Affirmative Action"; Deslippe, Rights, Not Roses; Gabin, Feminism in the Labor Movement; Fonow, Union Women; Evans, Tidal Wave, 86–88; Ruth Rosen, World Split Open, ";
2. Glick, "Bridging Feminism and Trade Unionism"; Tepperman, Not Servants, Not Machines; Nussbaum, "Working Women's Insurgent Consciousness"; Seifer and Wertheimer, "New Approaches to Collective Power"; Hoerr, We Can't Eat Prestige; Foner, Women and the American Labor Movement, 480–84.
3. For more on "alt-labor" see Eidelson, "Alt- Labor," and Windham, "Alt-Labor Groups."
4. BLS, Perspectives on Working Women, 1–3, 10–11.
5. Davies, Woman's Place Is at the Typewriter; Fine, Souls of the Skyscraper; Strom, Beyond the Typewriter; Turk, "Labor's Pink-Collar Aristocracy"; Tepper- man, Not Ser vants, Not Machines; Greenbaum, Windows on the Workplace; Cob- " 30–33; BLS, Perspectives on Working Women, 9, 49; MacLean, "Hidden History of Affirmative Action"; 9to5 Job Survey, n.d. [ca. 1975], folder 74, box 2, 1972–1980 Records, 9to5.
6. Joyce Weston to Dear Sisters, May 22, 1973, folder 87, box 3, 1972–1980 Rec- ords, 9to5.
7. Judith McCollough, interview by Ann Froines, November 4, 2005, Washing- ton, D.C., SEIU District 925 Legacy Project, Oral History Transcripts, WPR.
Details

Written by Mike Miller
The Context
For the past several months I have vicariously lived in "the ghetto"—reading and re-reading: Baldwin, Coates, King, Carmichael, DuBois, Malcolm and lesser known writers…and seeing the devastatingly effective movie Detroit (which left me in tears, and paralyzed me for the rest of the night). Empathy takes you just so far though; it can't take you all the way.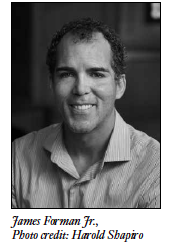 All that was prompted by an on-going conversation with people about "black-on-black" crime, individual behavior and choice, on the one hand, and environment/structural factors, on the other; police harassment and brutality, and frightened cops most of whom want to serve and protect, and more. The context was a review—this review—I promised to Wade Rathke for Social Policy of James Forman's Locking Up Our Own: Crime and Punishment in Black America. As I got more deeply into the material, I added other books: Black Silent Majority, by Michael Javen Fortner, Ghettoside: A True Story of Murder in America, by Jill Leovy, and Don't Shoot: One Man, A Street Fellowship, and The End of Violence in Inner- City America.
The larger context is Trump-Bannon-and now, as I write, Charlottesville.
My own experience helped, but it didn't take me all the way either. I was on the staff of the Student Nonviolent Coordinating Committee (SNCC) for almost five years, directed a Saul Alinsky project in Kansas City, MO's black community, fought the San Francisco urban renewal program that gutted the heart of the city's black community, and otherwise was engaged with Black America. I sobbed at the dinner that honored Kwame Ture shortly before his death. A few years earlier, he had written me:
Republique de
GUINEE
August 16, 93

Paysage du Fouta Djallon
Comrade Mike,

Received 28th July letter, thanks for your constant work for the oppressed. Don't skip a beat, till the heart stops. We are here doing the same thing and we getting better. Here we stand directly before state power, which will fall into the hands of the peoples power. Be strong—no sell out—just eternal struggle – Kwame.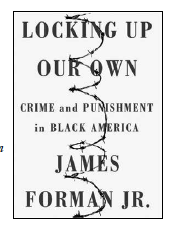 We disagreed as well. From an article I wrote in Social Policy honoring him and his life:
Black Power emerged as SNCC's slogan in 1966, but since its shift in 1962 from direct action to voter registration and community organizing, SNCC had been about black power. I thought it was better to walk softly with a big stick than to talk loudly with almost no stick at all…

In the mid-'60s, Stokely talked about an organizing campaign to "Free DC." Home rule was to be its goal; under that umbrella racism in all its manifestations would be challenged. When he wasn't the public agitator, he was a careful organizer. He could have done something significant in DC. I wish he had taken that course; his call was to a different drummer. He left the US 30 years ago and took residence in Africa.

In May, 1988, he wrote me after attending a SNCC reunion, "(I)t was interesting to see them/us together. Many you know have already accepted their laurels and do not even pretend to see the need for further reforms. For them the '60s put everything in place and they did it. Well I still see Revolution and continue to work for it. So communicating with you at least lets me know there are still some crazy ones, even if not as crazy as I."

I responded, "As to revolution versus reform, I'm taken with a couple of new formulations: 'revorm' or 'refolution'. Both imply there needs to be a basic change in the relations of power and property, but I don't want to throw everything out. Pol Pot and Shining Path leave me cold…
For all my adult life, the issues we faced then have persisted. Their shape has taken different forms. Sometimes things looked better; other times they looked worse. In fact, when I now look back, they are essentially the same. They were summed up more than 100 years ago by W.E.B. DuBois: "the problem of the twentieth century is the problem of the color-line." In this country, that problem has a deeply complicating context that includes several factors:
• there is not sufficient black working class and poor people power to negotiate with grassroots "white power";
• the white power at the grassroots that now exists is captured by racist ideas and Trump-Bannon forces;
• there is little interest in an alliance either on the part of working class/poor whites or middle-class blacks; those who are interested aren't very powerful, and; those who call for such an alliance lack a strategy to make it happen. Without such an alliance, I do not think progress will be made on either economic or police justice.

Police-Community Relations
The cops present a sub-set of the complications. How do we wrap our minds around, and come up with a strategy in relation to, these contradictory views:
• The police are an invading army whose function is to keep the lid on the black community.
• Police harassment and brutality are widespread, and are supported by most cops—even including cops "of color" who suffer from self-hatred.
• Large numbers, if not a majority, of people living in African-American inner-city (and suburban for that matter) communities want increased police presence and enforcement of the law.
• The black community is out of control. It is the responsibility of black leadership to bring it under control. The charge of "racism", while in some
instances true, is used to rationalize unacceptable behavior.
• Black inner-city youth are in inadequate schools, have few if any job prospects, live in slum condition housing, are themselves in fear for their lives, often lack adequate food for a healthy diet, and are constantly harassed and often brutalized by the cops.
• Most cops want to "protect and serve", and they want to do this for all people. In most police departments, only a small percent (some studies say two percent) of the cops are racists and engage in disrespectful, harassing or brutalizing activity in minority neighborhoods.
• To blame anti-social behavior on "external forces" is to deny individual responsibility and choice. Those Black youth who are in gangs, sell drugs, steal, engage in violence, and are otherwise breaking the law choose to do so, are responsible for their acts, and should be held accountable for them.
• Random assassinations and killings of cops by blacks have made cops afraid of black people.
• Condemning the "thin blue line" fails to understand a necessary element of police culture: cops rely on each other for their lives. They won't "rat" on fellow officers for the same reason that Communists, during the days of the Soviet Union, wouldn't publicly criticize Stalin; that Catholics, during the Inquisition, wouldn't stand up for fellow believers who were excommunicated and burned at the stake; that Americans remain deliberately ignorant of the machinations of the CIA to topple democratically elected governments throughout the world.

The Contradictions
In the Harlem of the 1960s and 1970s described by Michael Javen Fortner, and the Washington, D.C. described by James Forman, Jr, it is African-American middle- and working-class crime victims and their friends, families, fellow congregants and neighbors who demand police protection and incarceration of drug users and dealers—who they believe are responsible for the crime. These concerns are expressed by black community leaders
and translated into policy by black politicians who support tougher crime laws.
In the South-Central Los Angeles described by Jill Loevy, there is no law enforcement, leaving black youth who are in gangs captured in a culture of tit-for-tat in which violence from one side requires retribution from the other. Gangs provide meaning and membership, making them attractive propositions for young men looking for these things. Alternatives to them are limited-to-nonexistent.
Fortner describes a mostly-white liberal/social work/health professionals world that wants education, prevention, treatment and education-recreation-employment alternatives to tough enforcement and incarceration. He doesn't give enough weight to black community sentiment that supports this approach, but the result is the same: the alliance of these professionals with the black community falls apart when its program is defeated. The professionals don't have to live with the consequences, so they persist in their approach. But fearful community residents support tough law enforcement because the quality of their lives, and even life itself, is at stake.
Forman captures the dilemma: "…African Americans wanted more law enforcement, but they didn't want only law enforcement. Many adopted what we might think of as an all-of-the-above strategy…[Because they] are a minority nationally, they needed help to win national action against poverty, joblessness, segregation, and other root causes of crime. The help never arrived. [All they got was] tough-on-crime laws."
Here's Forman's view of the problem: "Racism shaped the political, economic and legal context in which the black community and its elected representatives made their choices. From felon disenfranchisement laws that suppress black votes, to exploitative housing practices that strip black wealth, to schools that refuse to educate black children, to win-at-all-costs prosecutors who strike blacks from jury pools, to craven politicians who earn votes by preying on racial anxieties, to the unconscious and implicit biases that infect us all, it is impossible to understand American crime policy without appreciating racism's enduring role."
He's right. But I found no politically feasible solution to the crime problem in his deeply moving book. Despair seemed to be the only realistic option: there wasn't the power to transform society; in its absence the black community faced the horrible dilemma of criminals on the street versus a criminal criminal justice system.

A Program That Actually Seems To Work: There are Interim Victories Possible.
Then I read David M. Kennedy's Don't Shoot: One Man, A Street Fellowship, and The End of Violence in Inner-City America. It describes his program—"Ceasefire". (Unfortunately, there were two "Ceasefire" programs—this is the Boston one that has spread across the country.)
Here's how Kennedy sees things: there's a relatively small number of gang members who are responsible for the majority of ghetto violence, and they are known by the cops. Given a way to back off from violence, they will. They are rational people, contrary to their image as irrational purveyors of violence. But the way out has to be real, not simply rhetorical. It has to offer opportunities for jobs, education, training and whatever else might improve the quality of life for these young men. When the opportunities are present, they provide a carrot. But the carrot has to be accompanied by a stick—the threat of imprisonment.
Ceasefire systematically lines up the criminal justice system: cops, district attorney, probation/parole system, judges, et al; when they buy in, it lines up the service providers: counselors, treatment centers (for drug use), school and training program representatives, jobs programs and others. With them on board, parole officers pick up some of their parolees. "You're not in trouble. We want you to bring a message back to your gang." The parolees are taken to a meeting where they encounter "the system". "Here's the message: we can lock you up for a long time—we're talking about years in prison, not months in jail. And here's the evidence we have to do it": (The cops present accumulated documentation of criminal violations that can be used to put the gang members in state prison.) "Or, you can take advantage of the opportunities that are available here to take a different path with your life: (The welfare system presents the alternatives it has to offer.)
At the full meeting, "the community" is also present: mothers cry as they say, "We don't want any more of our sons killed or wounded". "The community"— ministers, teachers, community organizations, NAACP representatives and others—is there as well. They say they want the youth to take advantage of the carrots. And, they say, if you don't, we support the stick.
Don't Shoot describes a program that radically—in some places Kennedy says 80%, and in most others more than 50%—reduces violent crime in the ghetto. I looked high and low for radical critics who might argue otherwise. I scoured Google, and called a left-wing criminologist acquaintance to see if the book was, at best, an exaggeration, and, at worst, a lie. I couldn't find anything.

Here's what Kennedy says to his critics (pp. 271-272):
Not everybody gets it, and not everybody who gets it likes it. One problem is that it's too simple, seems too good to be true. It's too far away from how we think about these issues, the old conviction that they're huge, massive, tectonic, need huge, massive responses. It strains credulity that one-hour meetings can cut homicide in the worst places in Chicago, that five years after the meeting it's still changing the lives of gun criminals…It doesn't change anything else—or so it seems—doesn't fix the economy or the criminal justice system. The facts help here. There are too many data points now, too many evaluations, all the cities where it's worked, the drug markets that aren't any longer. It's getting harder to say, on principle, That can't work. The evolving logic helps, too, our growing understanding of what's driving the violence, what needs to be changed, what the work does change. It's true that the Chicago meetings don't change the economy. It's also true that the crisis of legitimacy [cops viewed as the enemy] is as much behind the violence as anything else and that the Chicago meetings are designed to change that. Resetting community standards, undoing toxic norms and narratives, fixing legitimacy, is real, very real, change. The more that understanding spreads, the more the work makes sense.
It's still not welcome in some quarters. It's too soft for some, too hard for others. This is a variation on the theme of enforcement vs. social services, but with philosophical roots. There's the camp that believes in individual accountability, thinks crime is about bad character and bad choices, society has to take a stand about right and wrong. There's that in what we do—We'll stop you if you make us—but it's not just that. It means that it doesn't work to say, any longer, Those are terrible people, hold them accountable, lock them up. There's the camp that believes in social accountability, thinks crime is about history and neglect and oppression, society has to take a stand about what it has done to troubled communities. There's that in what we do—We'll help you if you let us—but it's not just that. It means it doesn't work to say, any longer, Those people are victims, they're not responsible, they need programs, support.
The old duality is simple, and it may be comforting, but it's wrong. We need to find a new, more complicated logic, and we have. It's a logic that says no amount of law enforcement will ever work, that law enforcement as we've been practicing it is part of the problem. It's a logic that says no amount of traditional social investment will ever work, that the programs don't help very much, that treating people doing terrible things as "clients" is part of the problem. It's a logic that says, someone can be doing terrible things and still be a victim; someone can have done wrong and still deserve help; someone can have been the victim of history and neglect and it's still right to demand that they stop hurting people. Not even remotely radical ideas: a good parent says, all the time, You've broken the rules, and I'm going to do something about it, and I love you and of course I will continue to care for you and hold you close. But radical when it comes to talking about crime, where commitment to accountability seems to crowd out room for caring, and commitment to caring seems to crowd out room for accountability.
Ceasefire is a fragile program. If a new police chief comes to town and wants "his program", not that of his predecessor, Ceasefire may go — whether it is working or not. (That happened in Chicago.) Ditto for other system representatives. There are many spokes required in this wheel to keep it rolling.
Here are my nagging doubts about Ceasefire:
The welfare establishment can't find enough jobs, training slots, education programs, counselors, beds for addicts and other services to meet the need. Too many programs have been under- or de-funded. Further, the jobs don't pay very much, and they are generally of low-status.
"Services" don't deliver meaning, voice and membership. The gang offers those. A meaningful social movement or community organization can offer them as well. The Black Panthers, at their best, offered that but the offer was wrapped up in an organization that had a suicide instinct, and was, itself, corrupted by drugs and violence.
The individual responsibility/tough on crime people who demand accountability are partially right: "treating people doing terrible things as 'clients' is part of the problem", but their get-them-off-the streets/lock them up solution is wrong. The missing piece is remedied only by organizing, by creating alternative ways for young people to have membership, meaning and effective voice.
Richmond, California
Here's what happened in Richmond, California where newly-hired police chief Chris Magnus implemented many Ceasefire principles and practices. The story is told by Robert Rogers, September, 2014, in the East Bay Times; I quote here at some length:
…In Richmond, historically one of the most violent cities in the Bay Area, the Police Department has averaged fewer than one officer-involved shooting per year since 2008…no one has been killed by a cop since 2007… [and] the four people shot by Richmond police since 2008 were hit with a total of five bullets, and all survived.

…Many observers and police officials attribute Richmond's relatively low rate of deadly force to reforms initiated under Chief Chris Magnus, who…implemented a variety of programs to reduce the use of lethal force, including special training courses, improved staffing deployments to crisis situations, thorough reviews of all uses of force and equipping officers with nonlethal weapons such as Tasers and pepper spray.

"Our officers are used to dealing with individuals who are dangerous and, often, armed," Magnus said. "It's not an aberration — the scary and challenging is routine — and I think that gives them the familiarity to know what level of force to apply."

[Law enforcement expert Tom Nolan attributes the change to] "the culture within a department. If a chief has sent a clear message that instances of deadly force will be scrutinized, you can expect more officers to think twice before firing a weapon, or employ less-lethal means when apprehending a suspect…The chief is key in setting policy and tone,"...

…The difference in Richmond includes the rigor of training, the emphasis on communication with armed suspects, the thorough review of all force used and the philosophy that force must only be a last resort.

Richmond officers undergo firearm training monthly and role-playing scenarios for disarming suspects four times a year, a higher average than many other departments… The role-playing exercises, in which officers bark commands while holding their guns and make split-second decisions when confronted by armed residents, began in 2008, the same time that officer-involved shootings in the department plummeted.

[Chief Magnus]: "We use a case study approach to different incidents that happen in different places. When there is a questionable use-of-force incident somewhere else, we study it and have a lot of dialogue…It's a model that is used in a range of other professions, but in some police circles, it's seen as judging in hindsight and frowned on. In my mind, that attitude is counterproductive."…

Richmond police Lt. Shawn Pickett says Magnus changed the department from one that focused on "impact teams" of officers who roamed rough neighborhoods looking to make arrests to one that required all officers to adopt a "community policing" model, which emphasizes relationship building. "We had generations of families raised to hate and fear the Richmond police, and a lot of that was the result of our style of policing in the past," Pickett said. "It took us a long time to turn that around, and we're seeing the fruits of that now. There is a mutual respect now, and some mutual compassion."
The political climate in Richmond is now set by the Richmond Progressive Alliance (RPA). It is a local expression of the strategy missing in most places. That strategy should include both direct negotiations and, where required, confrontation with police departments to adopt Ceasefire and implement it with integrity. It should also include youth—including street youth—organizing. More broadly, it should include majority constituency, multi-issue, community organizing—in Richmond, both PICO and ACCE (heir to ACORN and formerly ACORN California) are present—and the creation of local equivalents to RPA. With thousands of RPA equivalents in local communities across the country (there are more than half a million local elected officials in the United States), a meaningful national convention can take place to decide whether to take over one of the major political parties, to form a new one, to run candidates in both parties (see the story of the Non-Partisan League), or to be a partisan-nonpartisan force that makes its issues decisive in electoral contestation but doesn't itself endorse candidates.
Mike Miller was a leader in the pre-1960s birth of the student movement at UC Berkeley, a Student Nonviolent Coordinating Committee field secretary, and director of a Saul Alinsky community organizing project. He taught community organizing at UC Berkeley, Stanford, Notre Dame, Lone Mountain, San Francisco State, University of Wisconsin/Milwaukee, and Hayward State, and has written extensively in the field, including the recent People Power: The Community Organizing Tradition of Saul Alinsky. He now directs ORGANIZE Training Center: www.organizetrainingcenter.org
Details

Written by Moshe ben Asher, Ph.D. & Khulda bat Sarah
Why would a faith-based or turf-based organizing project (already engaged in demanding campaigns) want to get involved in the business of transforming their metropolitan government? Why would they want to create a lower tier of directly democratic neighborhood governments with public powers? The effort could take years, even decades to accomplish, and only the most compelling arguments could justify such a commitment of resources, time, energy, and spirit.
We have presented many of those arguments in four previous articles published in Social Policy. We won't review them here, except to say: The moment is now. The need to build institutional power wielded directly by the grassroots citizenry is pressing relentlessly. Without countervailing institutional power vested in the demos, it's virtually certain the imbalance of power at the heart of the country's devastating economic, political, and social inequality will go unchecked and worsen. The reason is not complicated: corporate and billionaire money corrupts every level of representative government. But money doesn't have the same effect on directly democratic governments because there are no representatives—just the people acting directly in their own self-defined interest.
Previously, we explored in detail the political and economic feasibility of directly democratic metropolitan government through the creation of a lower tier of neighborhood governments, popular assemblies based on the New England model of "open" town government. We suggested the vanguard role of faith-based organizing in such a movement. We also believe turf-based organizing can fill an essential role.
We focus here on the inestimable value of directly democratic public powers in dealing with local and regional problems and issues. The need to expand opportunities to address them is assuming drastically greater importance in the Trump era. The problems and issues we have in mind include: police malpractice and lack of accountability, unsustainable energy-generation, oppressive immigration policies and practices, environmental exploitation, absence of local control of commercial and industrial development, voter-suppression, delegitimization of the Fourth Estate, absence of low-cost entry-portal health services, obstacles to small-scale public enterprise, unaffordable cable and Wi-Fi, and more. We have selected a limited number of examples to suggest the relevance of public powers to some of the most significant problems and issues.
A neighborhood government has the unique potential to sustain citizen action permanently in its own self-defined interest. Its acquisition of public powers to legislate, tax, appropriate public funds, take by eminent domain, police, market tax-free bonds, and more, even given limited scope, when exercised by a directly democratic assembly, can significantly enhance the persistence and effectiveness of any grassroots solution strategy or campaign. Neighborhood governments that represent most of the metropolitan population may carry on campaigns to promote state-level action, such as adopting tax policies that can reduce economic inequality. Problems and issues will change over time, but the benefits of directly democratic exercise of public powers are timeless.
While the practical means for neighborhoods to acquire limited grants of public powers and become authentic governments vary from state to state, city charter amendment via popular ballot initiative is a commonly available method. And initiative campaigns are certainly not beyond the potential power of a coalition of faith-based and neighborhood-based organizations, even in a city the size of Los Angeles.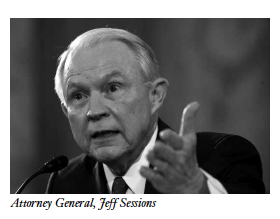 Policing
The failures of urban policing are well-documented, including hundreds of deaths of unarmed citizens of color by police patrols assigned to inner-city neighborhoods and to cities in which minorities comprise the majority. Usually, the officers assigned to these activities are not minorities themselves and reside elsewhere, mostly in suburbs. Evidence of noteworthy racist attitudes, policies, and practices has been forthcoming for decades from a variety of commissions, academic studies, citizen testimony, and video recordings. Chicago is a recent and egregious example in a long history of police malpractice extending from coast to coast and border to border, and to many cities in between, including Los Angeles, Pittsburgh, Seattle, Miami, Baltimore, Cleveland, Detroit, and of course Ferguson, Missouri.
The prospects for remedying police malpractice have diminished significantly with the appointment of Jeff Sessions as U.S. Attorney General. Mr. Sessions has made it clear that the Department of Justice will avoid actions that "vilify the police" and have a "demoralizing" effect on them. The predictable effect will be the "undermining and obstruction" of achieving police reform through consent decrees. More frightening, however, is Mr. Sessions support for resuming militarization of local police forces. Although it's unclear at the time of this writing whether Mr. Sessions will remain as AG for the duration of the Trump administration, we imagine that his replacement would continue to promote retrograde and regressive police practices.
Much of police malpractice and unaccountability reflects patrol activities directed by centrally run, bureaucratic departments, which do not respond to the needs of politically powerless minorities. However, there is a "public powers" strategy to deal with this problem. It has been studied and developed in academic and professional planning circles for several decades, although it has not been implemented because it has not been acceptable to most city councils. Well-documented studies have confirmed that in several respects, policing on a smaller scale "can provide higher levels of service than larger departments." Functions such as maintenance of public order, including traffic control, mediation of disputes, suppression of low-level street crime, and responding to juvenile delinquency can be managed effectively by police employed by neighborhood jurisdictions of 5,000 to 10,000 residents, with operational links to higher levels of policing.
This vision of neighborhood-based, directly democratic exercise of public powers in urban policing offers progressive possibilities for policies and practices that reflect the diversity of urban cultures and constituencies, as well as specific organizational objectives, such as those promoted by Black Lives Matter.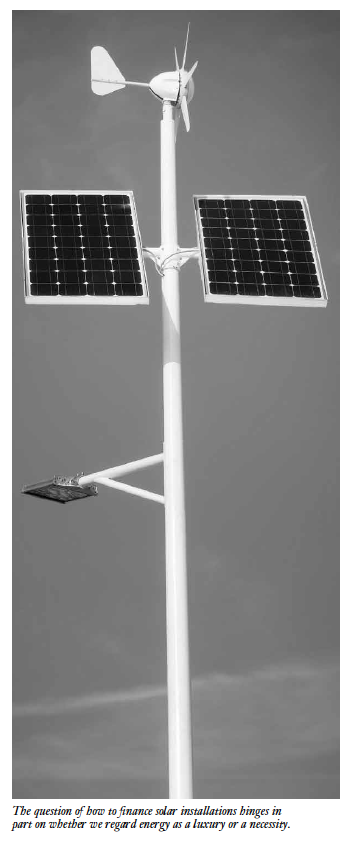 Energy
It's hardly news that progressive forces have been fighting against a highly resourced, rear-guard action waged by the carbon-based energy industries. These industries have taken every political, policy, and media opportunity to undermine the development of renewable energy sources and distribution systems. An outrageous example was the attempt to tax homeowners for leased solar panels in Arizona.
The question of how to finance solar installations hinges in part on whether we regard energy as a luxury or a necessity, and thus whether we should treat it as a private "profit center" or as a government-regulated essential service, much as we do with other utilities, such as electricity, gas, and telephone. The ideological bias against government-operated enterprise does not extend to public utilities generally. The City of Los Angeles, for example, operates the Department of Water & Power. But public operation of utilities, when they entail a monopoly, are not necessarily the most efficient or economical. Moreover, their vertical integration requires that one size fits all consumers, whatever the single source of power may be, and regardless of whether it accommodates the varied preferences of diverse urban neighborhoods.
Neighborhood-based solar utilities are an alternative. Such an approach to solar power generation would allow residents to save on electricity bills, reduce coal burning which would help curtail asthma epidemics, and reduce CO2 emissions. Of course, it would also give citizens directly democratic control of their own energy utility.
We can enhance the potential for successfully implementing and sustaining neighborhood-based solar power generation by the directly democratic exercise of the public powers to tax, to exercise eminent domain, and to market tax-free bonds.
There is yet another potential benefit of bringing solar energy generation under directly democratic neighborhood control. The public management of what often is a matter of private enterprise creates the possibility of a directly democratic neighborhood assembly hiring and training its own residents for the technical and managerial positions needed to operate the utility.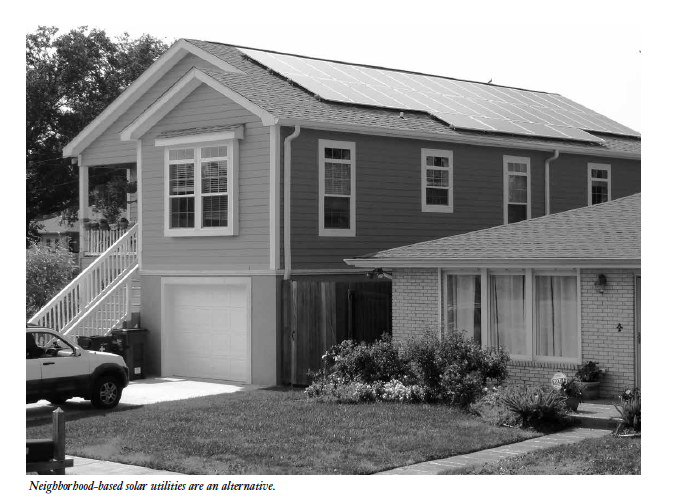 Immigration
One of the most troubling aspects of the Trump administration is its immigration initiatives. We need not review them here, except to acknowledge that they bring catastrophic consequences into the lives of millions of law-abiding and productive immigrants. The responses of many public and private organizations to minimize the potential harm of reactionary immigration policies and practices are encouraging, but we are also aware that these responses are not likely to stop the Trump onslaught. The tensions associated with immigration are not peculiar to any specific era. In effect, they remain unresolved or "uncured." They repeatedly emerge in the political life of the nation.
Our question is, what more might metropolitan government do to ameliorate the threat to undocumented immigrants? There are at least two possibilities: (1) an upper-tier or metropolitan governing body, responding to the demands of neighborhood assemblies, might take more progressive action, as is already happening in several cities and counties, including the City of Los Angeles and Los Angeles County; and (2) neighborhood governments themselves, using their public powers, might well respond more effectively with enlightened policing, entry-level health services, and other supports.
Unlike centrally directed patrol police who function at best as an enlightened occupying force, the positioning of indigenous police, who are well-grounded in face-to-face relationships (both with citizens and service-organization staff), allows them to divert individuals away from the criminal justice system when there is no necessity for criminal justice involvement. They are in a much better position to act as gatekeepers to neighborhood-based human services, private enterprise employment, and social supports. And, of course, this approach offers a far better prospect of keeping immigrant families intact, healthy, and economically productive.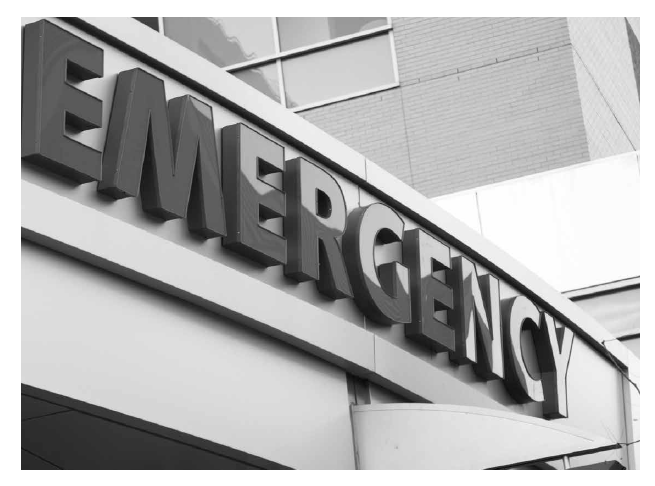 Health Care
At the time of this writing, the Affordable Care Act (ACA—Obamacare) is significantly less threatened by President Trump and the Republican majorities in the House and Senate. By the time of this article's publication, complications in replacing the ACA may have permanently derailed its repeal, forced its redesign, or (most unlikely) repeal-legislation may have passed in Congress and become law by Trump's signature.
Whichever of these scenarios, or some other, eventuates, millions of undocumented immigrants and economically marginal citizens will continue to be without preventative and diagnostic health care. Two of the main obstacles are geography and economics. For many, access to non-emergency health care is nonexistent because it requires lengthy trips by public transportation or high out-of-pocket fees.
What's most shocking about the deficiencies of the U.S. health care system is their durability; very little will have changed for most low-income citizens over the last 40 years if Congress repeals the ACA or it's otherwise undermined. Withal, the roots of the U.S. health care crisis, now a half-century old, are largely unchanged. Entrenched structural interests—notably insurance companies, the pharmaceutical industry, the medical equipment and appliance manufacturers, major hospital systems, and organized physicians—pose the main barriers to single-payer reform. They promote their interests by high-powered lobbying, by securing key appointments on government panels and commissions, and by dominating the sponsorship of hospital and medical school professionals that serve as consultants and media experts.
The upshot of profit-driven health care is that the most vulnerable populations rely disproportionately on one of the highest cost-centers of the system—the emergency room, leaving all lesser maladies and injuries to fester until they reach a crisis stage and require high-cost intervention. We estimate that approximately 20 percent of low-income citizens rely on emergency rooms for regular medical care.
Unfortunately, the strategic visions and plans to date for introducing neighborhood-based health care have invariably been top-down schemes, imposed on the low-income citizenry, although occasionally with their "advisory input." The idea that those same citizens could act through their own neighborhood assemblies, directly wielding public powers to finance and administer entry-level health care services, is entirely beyond the imagining of institutional health care planners. Their proposals, while well-intentioned and progressive in some respects, are nonetheless unrealistic. They are not going to attract the public and private support, including from health-care insurers, necessary to scale up sufficiently to meet the overall need.
Fixing this systemic malfunction can be achieved by operating neighborhood-based health care centers staffed by nurse practitioners. There is no doubt that neighborhood-based outpatient and outreach health care services can have a substantial positive effect on delivering health care. Local neighborhood centers can serve approximately three-quarters of all day-to-day health complaints and needs for prevention and education services, while simultaneously operating as economical screening and entry-portals into more sophisticated and costly testing and treatment. There is no insurmountable medical or legal obstacle to neighborhood jurisdictions with public powers operating such decentralized health care centers.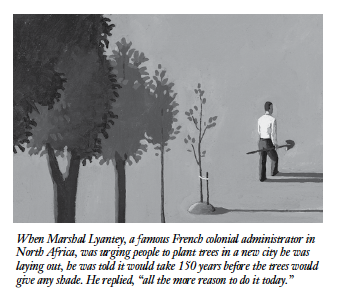 Conclusion
It's not surprising if experienced organizers and network consultants view as speculative the advantages we have enumerated here for neighborhood-based, directly democratic public powers. In effect, they might well believe we are proposing that progressive faith-based and neighborhood-based organizing projects make extraordinary investments in this strategic vision without any guarantee of the ultimate payoff. It's true, there are no guarantees.
We note, however, that in its early days much the same must have been true about investing in the incipient labor movement and the organizing of union locals. Much the same must have been true about the Basque investment in the cooperative structure as a means of grassroots empowerment. Much the same must have been true when sowing the first seeds of the civil rights movement.
Nothing short of an historic grassroots movement can begin to bring the citizenry into full, directly democratic participation in its own governance, which is imperative to rectify the imbalance of power that is poisoning American life. While the road to achieve such an extraordinary transformation will undoubtedly be long and demanding, we recognize the wisdom that, "anything worth doing is worth doing now." When Marshal Lyantey, a famous French colonial administrator in North Africa, was urging people to plant trees in a new city he was laying out, he was told it would take 150 years before the trees would give any shade. He replied, "all the more reason to do it today."
What is our calling now? The time has surely come to give up our exclusive dedication to winning endless campaigns in a never-ending war. It's time to begin investing in a strategic vision for winning the half-century war for grassroots empowerment.
Professor Moshe ben Asher is a lecturer in the sociology department at California State University.
End Notes
i See "Directly Democratic Metropolitan Government: Envisioning Beyond Oppression, Rebellion, and Reform," Social Policy (Spring 2016); "Public Powers for the Commonweal: A Challenge to Faith-Based Organizing," Social Policy (Winter 2015); "Refocusing Our Strategic Organizing Vision," Social Policy (Winter 2016); and "The Blinding Rapture of Mobilization vs. the Deep State," Social Policy (Spring 2017).
ii To assess how far the United States has come from what in other times was the range of "normality," see Henry A. Giroux, "Normalizing Trump's Authoritarianism is Not an Option," Tikkun (January 19, 2017) (accessed at http://www.tikkun.org/nextgen/ normalizing-trumps-authoritarianism-is-notan- option?print=yes).
iii In a national poll, 72 percent of the officers said that "poorly performing officers are not held accountable" for bad behavior. See Rich Morin et al., "Behind the Badge," Pew Research Center (January 11, 2017) (accessed at http://assets.pewresearch.org/wp-content/uploads/sites/3/2017/01/06171402/Police-Report_FINAL_web.pdf).
iv The need for greater local control of energy resource development exists currently in Los Angeles, which has more than one thousand oil wells, many of which are in "proximity . . . to homes, playgrounds, and schools," especially in lower-income neighborhoods of the city. The "city has permitted drilling without performing required environmental reviews. . . ," which the oil companies actively oppose. See: The Editorial Board, "Drilling and Dirty Air in Los Angeles," New York Times (January 30, 2017).
v See Elizabeth McNichol, "How State Tax Policies Can Stop Increasing Inequality and Start Reducing It," Economic Policy Institute, Center on Budget and Policy Priorities (Washington, DC: December 15, 2016) (accessed at http://www.cbpp.org/sites/default/files/atoms/files/12-15-16sfp.pdf).
vi See Hannah Arendt, "The RevolutionaryTradition and its Lost Treasure," in On Revolution (New York: Viking Press, 1963, 1965), pp. 217-85.
vii For an illustrative state approach, see State of New York, Division of Local Government Services, "Revising City Charters in New York State" (1998), James A. Coon Local Government Technical Series (accessed at https://www.dos.ny.gov/lg/publications/Revising_City_Charters.pdf).
viii See "Unarmed black people were killed by police at 5x the rate of unarmed whites in 2015," from Mapping Police Violence (accessed at https://mappingpoliceviolence.org/unarmed/); for a current review of the data related to police violence and racial bias, see Kia Makarechi, "What the Data Really Says [sic] About Police and Racial Bias," Vanity Fair (July 14, 2016) (accessed at www.vanityfair.com/news/2016/07/data-police-racial-bias); and for what purports to be a complete listing of all deaths caused by police for the years 2013-2016, see "Killed By Police" (accessed at
www.killedbypolice.net).
ix Julie Bosman and Mitch Smith, "Chicago Police Routinely Trampled on Civil Rights, Justice Dept. Says," New York Times (January 13, 2017).
x Enumerated in Shaila Dewan and Richard A. Oppel Jr., "Efforts to Curb Police Abuses Have Mixed Record, and Uncertain Future," New York Times (January 14, 2017).
xi Sheryl Gay Stolberg and Eric Lightblau, "Sweeping Federal Review Could Affect Consent Decrees Nationwide," New York Times (April 3, 2017) [accessed at https://www.nytimes.com/2017/04/03/us/justicedepartment-jeff-sessions-baltimore-police.html].
xii City councils are loath to antagonize their police department brass by reassigning major police functions, such as patrolling, to neighborhood control. Such an initiative might predictably start a "revolt" in the police ranks, from top to bottom, which would be anathema to the council.
xiii For a seminal study on this question, see Elinor Ostrom et al., "Do We Really Want to Consolidate Urban Police Forces? A Reappraisal of Some Old Assertions," Public Administration Review, 33(5):423-432 (September-October 1973), which concludes: "(1) small police departments can provide higher levels of service than larger departments, and (2) high degrees of specialization and professionalization are not required for effective police services. On the basis of this, we believe more serious attention should be paid to proposals for creating small jurisdictions within large cities to provide generalized patrol services while enhancing opportunities for community control. At the same time, a large-scale police jurisdiction in the same city may be needed to provide the more technical services which require specialization of personnel and equipment. Conceptualization [of] reform as either total consolidation or total decentralization may not lead to better police services in metropolitan areas. Conscious use of overlapping jurisdictions of varying sizes may be necessary to combine the advantages of both small and large scale" (p.430).
xiv See Useful Community Development, "Neighborhood Solar Solutions Could Be Cost Effective" (2017) (accessed at www.usefulcommunity-development.org/neighborhoodsolar.html); and for additional perspective, see U.S. Department of Energy, "A Guide to Community Solar: Utility, Private, and Nonprofit Project Development" (2010), (accessed at www.nrel.gov/docs/fy11osti/49930.pdf).
xv Arthur Waskow (This email address is being protected from spambots. You need JavaScript enabled to view it.) proposed the latter two advantages as benefits of neighborhood-based cooperatives in his Shalom Center email broadcast, "From Solar Neighborhood Coops to a Sustainable Planet" (February 26, 2016).
xvi See Melissa MacBride, "Measure Approved to Protect Los Angeles County Immigrants from Deportation," ABC Eyewitness News (accessed at http://abc7.com/news/measureapproved-
to-protect-la-county-immigrantsfrom-deportation/1643329/; and Dakota Smith and Cindy Carcamo, "Responding to Trump, L.A. proposes $10-million legal defense fund for immigrants facing deportation," Los Angeles Times (December 19, 2016) (accessed at http://www.latimes.com/local/lanow/la-me-ln-lafund-20161219-story.html).
xvii Robert R. Alford, in Health Care Politics: Ideological and Interest Group Barriers to Reform (Chicago: University of Chicago Press, 1975), p. 129, conveys strikingly the situation as it existed decades ago.
xviii For an example, see A. Feinberg et al., "Launching a Neighborhood-Based Community Health Worker Initiative, Harlem Health Advocacy Partners (HHAP) Community Needs Assessment" (December
2015), A joint report by the NYU-CUNY Prevention Research Center, New York City Department of Health and Mental Hygiene, New York City Housing Authority, and Community Service Society (accessed at https://www.med.nyu.edu/prevention-research/sites/default/files/prevention-research2/finalmay-2016-hhap-neighborhood-based-commreport.pdf).
xiv For an example in this vein, see Jennifer E. DeVoe and Rachel Gold, "Community of Solution for the U.S. Health Care System: Lessons from the U.S. Educational System," Journal of the American Board of Family Medicine, 26(3):323-26 (May-June 2013).
xx See Andrea Kline Tilford et al., "A Description of Nurse Practitioner Practice," Journal of Pediatric Health Care, 26(1):69- 74 (2012) [accessed at www.medscape.com/viewarticle/757506_2] and Nan Liu et al., "A new model for nurse practitioner utilization in primary care: Increased efficiency and implications," Health Care Management Review (January-March 2014) [accessed at www.columbia.edu/~n12320/doc/A new Model.pdf].
xxi C.M. Brown et al., "A neighborhood-based approach to population health in the pediatric medical home," Journal of Community Health, 40(1):1-11 (February 2015).
xxii See Medical Group Management Association, "NPP utilization in the future of US healthcare," MGMA Research & Analysis Report (March 2014) [accessed at https://www.mgma,com/Libraries/Assets/PracticeResources/NPPsFutureHealthcare-final.pdf]. The report cites David Gans (MSHA, FACMPE senior fellow) to note: "In primary care practices, they [NPPs] can provide 80 percent or more of services with equal or better patient satisfaction at a lower cost than a physician" (p. 15).
xxiii See Maria Schiff, "The Role of Nurse Practitioners in Meeting Increasing Demand for Primary Care," NGA Paper, National Governors Association (December 2012) [ accessed at www.aacn.nche.edu/governmentaffairs/NGA-Nurse-Practitioners-Paper.pdf].
xxiv From Joseph Telushkin, Rebbe (New York: Harper Wave, 2014), p. 145.
xxv Paraphrase of remarks by John F. Kennedy in his address at UC Berkeley, March 23, 1962.
Details

Written by Bruce T. Boccardy

Agency Fee
The time is approaching when the agency fee law, essential to the existence of labor unions, will be overturned by the United States Supreme Court. The agency fee law was established in 1977 in Abood v. Detroit Board of Education. For nearly forty years, the agency fee has been fair and settled law.
The agency fee allows employees who do not want to join a union to opt out by only paying a portion of the dues that members pay. These "free riders" cannot be required to pay for a union's political activities. If a union spends 98 percent of its dues on contract negotiations and enforcement and 2 percent on politics, an employee could object and not be charged for 2 percent of his or her dues. That appears eminently fair considering what the "free rider" receives in representation.
Unions have a legal obligation to represent all members of a local when granted "exclusive" recognition under the NLRA and many state laws covering public sector workers. This is called a "duty of fair representation." If a local does not present an effective defense of a member for a contract issue, it can be liable for considerable financial penalties. Without the agency fee, unions will be burdened with considerable financial obstacles to defend all members including the "free riders."
Unions are obligated to represent all members whether the member pays dues or not. Parenthetically, the overwhelming costs paid by unions go to contract negotiations, and grievances that protect their members from the caprices of management.
Agency fee payments cost tax payers or employees nothing. It is only the union that must accommodate "free riders."
To be sure, agency fee employees are restricted in some union activities, but enjoy the benefits and protections of the collective bargaining agreement. Union members' dues allow unions to carry out their programs of protecting employees' interests at the bargaining table and the work
location as well as other programmatic activities enjoyed by members.
Legal Path
The Supreme Court could hear the latest iteration of attacking the agency fee this October. If not then, it will most likely hear the case in January 2018. Cases go before district and circuit courts of appeal and may be heard by the Supreme Court if selected by the justices.
Attorneys for plaintiffs in these anti-agency fee cases know that lower courts do not have the authority to overturn existing Supreme Court precedents. Their strategy has been to "lose" their case at each jurisdiction to expedite a hearing if granted, before the Supreme Court. The case that opened the way for direct challenges to the agency fee was Knox et al v. Service Employees International Union Local 1000. It was decided on June 21, 2012 by a five to four vote. The Court questioned the larger issue of political spending by unions and by implication, the collection of dues. This provided an opening for further legal attacks. The corporate sector is not asleep when it sees an opportunity to cripple the last organized obstacle that protects the rights of working people.
Next came the Harris v. Quinn, Governor of Illinois case. It was the first successful indirect attack on the agency fee law. It was decided on June 20, 2014. Again by a five to four vote, the Court ruled that home health care workers in Illinois could not be compelled to financially support a union they did not want to join. The judges ruled that home healthcare employees were paid only in part by Medicaid; thus they were not "full fledged public employees." Since they were not full time public employees, the justices ruled that these employees were not required to pay union dues. This was a pyrrhic victory for unions. While the agency fee statute remained, the foundation of it was shaken and ready to be overturned.
That first case heard by the Court to directly challenge the agency fee law was Friedlichs v. California Teachers Association. The consensus of legal scholars was that the Supreme Court was prepared to overturn Abood. Then in February 2015, Justice Antonin G. Scalia passed away. This changed the composition of the Court's vote on the Friedlichs case. On June 20, 2016, with the vote four to four, the Court issued a ruling that affirmed the previous ruling by the Ninth Circuit Court of Appeals in California. That ruling preserved at least temporarily, the integrity of agency fees for unions. Agency fees were collected as usual. However, the forces representing corporate hegemony continued their schemes to overturn Aboud.
New Test
Several cases were also winding their way to the Supreme Court. One has reached the Court. That case is Janus v. AFSCME. AFSCME is the American Federation of State, County and Municipal Workers. It is a highly respected public sector union representing about 1.6 million employees. The governor of Illinois, Bruce V. Rauner filed a direct challenge to the agency fee law with the Northern District Court District of Illinois. The case was dismissed for lack of standing. The Governor attempted to bankrupt his state's public sector unions by depositing agency fee payments in escrow until the Court could rule on it. The Court unsurprisingly ruled that Governor Rauner had no standing to take those funds.
However, the Court allowed the National Right to Work Legal Defense Fund and other anti-union groups including the Liberty Justice Center to intervene on behalf of Mark J. Janus and the two other Illinois state employees at the next court level. The National Right to Work Legal Defense Fund is heavily bankrolled by corporate money particularly the notorious Koch brothers. The Liberty Justice Center refuses to disclose its donors. No surprise there.
Mr. Janus is listed as a child support specialist I in the Illinois Department of Healthcare and Family Services. In 2017, is salary is $70,956. The secondary plaintiffs are Marie A. Quigley and Brian K. Trygg. Ms. Quigley is listed in the Illinois Department of Public Health as an executive II. Her salary is $80,412. Mr. Trygg is a civil engineer V with the Illinois Department of Transportation. His salary in 2017 is $81,362.03. These "free riders" receive considerable salaries that were negotiated by their AFSCME Local 31.
It is remarkable to observe the profound hypocrisy occurring here. The economic damage that will ensue to other members of AFSCME Local 31 will affect all of its members including the plaintiffs' colleagues. The loss of the salaries listed above will most certainly be wistful reminders of the importance of a strong, committed union. When the agency fee is rescinded many unions will simply disappear or at least be reduced to mendicants at the bargaining table.
The Janus case then went to the Illinois Seventh Circuit Court of Appeals and was dismissed at the request of the plaintiffs on March 21, 2016. However, the Court ruled that the Abood v. Detroit Board of Education precedent applied to Janus v. AFSCME. That decision by the Seventh Circuit Court allowed the attorneys to file a petition with the Supreme Court which was granted. The Supreme Court could announce soon after its September 25 conference that it will hear the case. The case could be heard as soon as this October.
There are a number of precedent cases that clearly predict the Court is heavily predisposed to the corporate viewpoint. The door is now wide open to strike down the 1977 ruling of Abood v. Detroit Board of Education.

Free Speech
Mark A. Mix, president of the Right to Work Legal Defense Fund and Jacob H. Huebert of the Liberty Justice Center assert that Mr. Janus is being unfairly compelled to relinquish his first amendment rights by paying union dues. "Free speech" to the plaintiffs is isolated from any economic structural context. Unions represent working folks in the public and private sector. Unions allow working people to achieve a modicum of economic fairness for their families.
In skewed logic, the free speech argument against agency fees is quite simple. The "free speech" rights of the private rich or powerful government officials must supersede the rights of those who fight for fair wages, salaries, benefits and protections for working families. Union members are encouraged to speak out on any issue. Any perceived damage to members' "free speech is secondary according to preceding Supreme Court rulings that unions are the exclusive representative of a group of employees.
We Americans are often compelled to pay for things that we do not "agree" with on a daily basis. Much of one's personal finances will go from one's pocket into the hands of people, including many government people, who will spend it on things one disagrees with. The collection of agency fees does not violate the First Amendment rights of nonmembers any more than paying taxes or into pensions or health insurance. If one belongs to a condominium association, for example, owners stay in the group despite pronounced differences in policies. This is the nature of democratic institutions. To now cry foul is the summit of hypocrisy masking a not so hidden corporate agenda wrapped in Constitutional malarkey.

Justice Stephen G. Breyer opined 10 years ago on the Abood case reported in the Kentucky Law Journal in May 2017: "The First Amendment permits the government to require both public sector and private sector employees who do not wish to join a union designated as the exclusive collective-bargaining representative at their unit of employment to pay that union a service fee as a condition of their continued employment. . . . The court has determined that the First Amendment burdens accompanying the payment requirement are justified by the government's interest in preventing free riding by nonmembers who benefit from the union's collective bargaining activities and in maintaining peaceful labor relations."
Compelled Membership
The Janus lawsuit claims state "agency shop" laws, which require public employees to pay union dues as a condition of employment, violate well-settled principles of freedom of speech and association. They claim that the state cannot constitutionally compel an individual to join and financially support an organization with which he or she disagrees.
Mr. Janus asserted his reasoning for his case in the Chicago Tribune in January 2016: "I went into this line of work because I care about kids. But just because I care about kids doesn't mean I also want to support a government union. Unfortunately, I have no choice. To keep my job at the state, I have to pay monthly fees to the American Federation of State, County and Municipal Employees, a public employee union that claims to 'represent' me."
What is absent from Mr. Janus jeremiad and the other "free riders" is that they had an option. There are a number of private companies that he could have worked for rather than a public sector union. Mr. Janus' local had been established well before Mr. Janus began his employment there. The union leadership was democratically elected and the contract agreements included agency fee requirements as part of the collective bargaining agreement that were ratified by members. Mr. Janus signed on to that.

Joseph E. Slater is the Eugene N. Balk Professor of Law and Values at the University of the Toledo College of Law. He addressed the issue of American labor law and democracy in April 2013. "…objections really go to the principle of majority, exclusive representation, a rule central to American labor law. The rule is based on democracy: a majority of employees can vote in a union, vote for different union leaders, vote to change unions, and vote for no union. If a majority selects a union, the union must incur the costs of representing all employees. Just as citizens must pay taxes even when their preferred candidate loses, it should be legal to charge employees for the costs of representing them when a majority of their co-workers choose representation."
Federal, state and municipal governments wishing to undertake collective bargaining with a single entity must allow that entity to represent all employees impartially including "free riders." The "free riders" have no prerogative to destroy a union because it doesn't comport to their personal predisposition. If a union member objects to a particular policy of their local, then make a better argument and per force, other members will follow. That is fundamental to our democratic institutions.
The United States was ostensibly founded by "We the People" not "We the managers."

New Judge
The Trump administration nominee to replace Justice Scalia was Judge Neil M. Gorsuch.
Judge Gorsuch's record with regard to the agency fee was dismal. In February 2010, he offered his opinion on a lower court ruling by the National Labor Relations Board. The Board ruled that the Laborers' International Local 578 had engaged in unfair labor practices when it persuaded an employer to terminate an employee who refused to pay his fair share with the agency fee. Judge Gorsuch affirmed that decision.
Remedy
Since the 1940s, open shops have ruled the Southern states, creating low-wages and low benefits for most employees in that region. Open shops have spread to the north driven by corporate think tanks. The Janus proponents seek to use the case to deal a death sentence to the union movement. The" Right to Work's" anthem is that unions deny employees "their right to bargain for themselves." This is laughable with regard to the nature of who wields power at the bargaining table. Any historical economic gains made by working people arose from collective action, not some chimerical notion of "individual power." Additionally, it is well known that Janus' corporate supporters are in favor of abolishing minimum and prevailing wage laws, privatizing public education, eliminating pensions, eviscerating Medicare, Medicaid and Social Security. In other words any public program that benefits middle and low income folks must be destroyed.
Our nation is often flummoxed by the chaotic and deceptive behavior of the Trump administration. Yet, these distractions disguise an economic agenda. That agenda is unapologetically determined to benefit corporate financial interests against the interests of all working people. It's time to dispense with any extant expectations of fairness and justice, let alone a moral trajectory from the Trump administration.
It's past time for timid and bland campaigns against the tide of anti-union and anti-employee propaganda based only on "fairness." It's just not enough. Fanciful strategies like "labor-management partnerships" yielded little for union members in the past. If union history is to be considered, "cautious engagement" with Republicans is questionable as well.
Unions' backs are not just against the wall, but already a few inches into the wall that is about to collapse on them. We need campaigns to educate members and offer programs of member power based on more than token participation. The campaigns must include distributing credible and comprehensive information about who is really winning and who is losing in this economy and how that happens. Education is what unions must be about.
Lastly, unions have been successfully mischaracterized by the corporate media as "special interest groups." This misrepresentation comports nicely with the fact that unions have lost their collective identity. An identity is built on a vision for the country and the place for all working people. Alliances and coalitions are essential to maintain that identity.
The courage and tenacity of the historic private and public union movement has benefited tens of millions of employees and their families in our nation. It must not be disrespected and tossed in the garbage bins provided by the "one percent" and their political pretenders.
Bruce is the former president, Massachusetts Service Employees International Local 888, Public Sector Division and former labor representative, Massachusetts Joint Labor-Management Committee, former consultant for National Association of Government Employees.
Details

Written by Jessica Early and Shay Totten

In August of 1970, after ten days on the run, Kevin Kirkpatrick was arrested by the Federal Bureau of Investigation for avoiding the draft. He spent a night in jail and was put before a judge the following day, and then inducted into the Army ten days later. His act of civil disobedience coming to a swift halt, Kevin served out his term in the Army and then went on living life and building a career as a civilian. He largely stayed out of politics and never again engaged in any acts of civil disobedience.
That was until the summer of 2017 when Congressional Republicans proposed legislation that would throw millions of people off health care, cut Medicaid, and further privatize Medicare—a health care program Kirkpatrick, like millions of Americans, relies upon for health care.
After years of little to no political activity beyond voting regularly on election days, in mid-July 2017, Kirkpatrick found himself traveling to Washington, DC to engage in non-violent protest with members of Rights & Democracy, a grassroots social, economic, health care, and environmental justice group based in Vermont and New Hampshire. While aware that he was risking arrest, Kirkpatrick had a hard time imagining that in less than 24 hours he would be sitting in plastic zip tie handcuffs awaiting processing by Capitol Police for speaking out against disastrous health care cuts to millions of Americans.
Despite a forty-seven year time lapse, Kirkpatrick was once again detained for civil disobedience. But, this time around, Kirkpatrick was not alone. Instead, he was demonstrating alongside numerous Americans from every corner of the country who were recruited and trained by the Center for Popular Democracy and Housing Works to stage coordinated direct actions in DC Congressional offices as part of a national resistance against the GOP efforts to repeal and replace the ACA and make massive cuts to Medicaid.
"This act of civil disobedience has re-inspired me," said Kirkpatrick. "Joining with my fellow RAD members to travel to DC, to speak up and to engage in civil disobedience has been a breath of fresh air."
While Kirkpatrick's jump into activism in a very high stakes way (getting arrested for non-violent civil disobedience) may seem like an extraordinary example of rapid politicization, in Vermont and across the country in recent months mobilization of previously unengaged or even apolitical people has been the rule not the exception.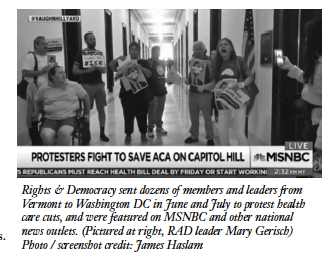 Nearly a dozen Vermonters made trips to participate in direct action in DC this summer, with some going multiple times and getting arrested more than once. They joined hundreds of others descending on our nation's capital, including those on the front lines of our broken health care system, such as nurses, doctors and social workers as well as people with chronic diseases or disabilities and their caregivers and family members. Similarly, in every state, health care rallies and national days of action also led by those individuals most impacted by the GOP agenda has attracted unprecedented numbers.
This outpouring of everyday Americans who would be seriously harmed by Republican health plans worked to stop every iteration of Republican reform—ACA repeal and replace, just repeal, and then "skinny" repeal.
Victory in the Health Care Battle in DC: A Recipe for Winning the Whole Health Care War
RAD's mobilization of Kirkpatrick and other Vermonters for direct action delegations to DC illustrates how even state-based, rural, grassroots organizations can help engage people in national legislative fights and make a profound impact on federal policy. Health care, especially, has brought together patients and their families, people with disabilities, health care professionals, unions, workers, as well as racial justice, women's rights, and LGBTQ activists. This diverse constituency has channeled their energy into a proactive political strategy to move beyond rallies to defend the status quo. They are now united in offering an alternative vision of how our health care system can and should be, and they are committed to winning universal health care at both the state and national level.
In Vermont, Mari Cordes, a nurse and former president of Vermont's largest nurses union, is a leader of this growing coalition demanding health care for all. In 2016, she ran for political office for the first time as a Bernie "down-ballot revolution" inspired candidate for Vermont's House of Representatives. Despite a very hard-fought campaign, she lost in a race against popular incumbents in her two-seat district. However, her campaign defeat did not deter her political activity but rather galvanized her to even greater levels of leadership. In the past few months she has spent her days off from full-time work as an RN, to lead van loads of RAD members from Vermont to DC, where she was arrested twice.
"What I've learned from years of activism and organizing is that every single person matters. Every single person is an essential part of creating lasting change, not just the leaders we see or hear in the media. That's why it is imperative that everyone brings their voice—in any way possible—to build a lasting movement for public good, and brings that voice into political leadership," said Cordes.
"This is why I am a founding board member of Rights and Democracy. I believe strongly in the RAD mission that those that we elect into public office must come out of a well-organized community. A community built upon relationships; relationships that deeply represent the people to whom they are committed, and relationships that, in turn, justly hold those elected leaders accountable for the commitments they've made to the community," added Cordes.
The GOP's failed push for cutting health care provides an enormous opportunity for grassroots movements to push for state universal health care programs as the first dominos as part of building a movement in the US. "We at Rights & Democracy believe that now more there ever we have an opportunity to make health care a political mandate in 2018 and 2020 for the right the health care and a universal Medicare For All program," said James Haslam, RAD's executive director.
This Republican and Trump agenda failure was a huge testament to the power of grassroots organizing. More importantly, however, it provides us with a key lesson for how we can move forward to not only defend against Republican attacks on health care as well as the environment, public education, and the rights of workers, immigrants, women, communities of color and LGBTQ individuals but also offer an alternative political, economic, and social vision. Just like the personal experiences of patients, family members, or health care providers motivated people in the health care fight to take action, we need to again tap into the deeply felt concerns and hopes of poor, working, and middle class Americans—of all races, in both urban and rural parts of the country—to organize them around a unifying platform for progressive change.
Our Revolution, the national network that formed out of Senator Bernie Sanders' presidential campaign, is best articulating this platform. Our Revolution recently laid out its People's Platform. In July, Nina Turner the president of Our Revolution announced: "Our goal is to have the majority of the U.S. House Democratic Caucus signed on to cosponsor the following bills when they return in September."
Those bills include:
1. Health Care for All: H.R. 676 Medicare for All Act
2. Education for All: H.R. 1880 College for All Act of 2017
3. Workers' Rights: H.R. 15 Raise the Wage Act
4. Women's Rights: H.R. 771 Equal Access to Abortion Coverage in Health Insurance (EACH Woman) Act of 2017
5. Voting Rights: H.R. 2840 Automatic Voter Registration Act
6. Environmental Justice: Climate Change Bill (yet to be introduced)
7. Criminal Justice and Immigrant Rights: H.R.3543 Justice Is Not for Sale Act of 2017
8. Tax on Wall Street: H.R. 1144 Inclusive Prosperity Act
Given the current makeup of Congress and the White House, this national People's Platform must be replicated at the state level as many efforts, including the struggle for universal, publicly financed health care and addressing climate change, are likely to first gain traction at the state level versus federally. In Vermont and New Hampshire, the grassroots organization Rights and Democracy is pioneering this model with a statewide campaign to recruit people to be People's Revolution Voters in support of a multi-issue state level agenda.
In Vermont and New Hampshire, Rights & Democracy is pioneering this model of state-based campaigns to build grassroots movements around issues of economic, environmental, health care, social, and racial justice. From the historic Women's March in Montpelier, Vt, (which attracted a record-breaking protest crowd of 20,000, making it the highest per capita protest participation of any state in the US) to the Climate March Solidarity Rally (5000 people), RAD has worked with other grassroots groups to unite Vermonters in resistance to the Trump agenda, and turn that energy into building a common sense, progressive agenda in Vermont.
This summer RAD held events throughout the state to promote a people's agenda that legislators can get behind when they return to Montpelier in January. Resistance isn't enough, there is a need to urge state elected officials to take bold steps to put legislation on Vermont Gov. Phil Scott's desk to either veto, or join with Vermonters and support:
• Creating a universal health care system in Vermont, with a first step being Universal Primary Care
• Raising the minimum wage to $15 an hour
• Enacting paid family and medical leave insurance
• Improving worker protections, including stronger enforcement against worker misclassification
• Investing in the infrastructure and protections necessary to ensure clean water, clean air, and clean soils for all
• Empowering communities to move toward a 100 percent renewable energy economy while maintaining local autonomy and democratic participation in shaping a just transition away from fossil fuels.
"To make this happen, relying on our current elected officials isn't enough. We must build the necessary power to make our values reflected in our policies, and we do that through Movement Politics," said Haslam. "If we are serious about building power and affecting change we must have an electoral strategy, at all levels, building and training people to run for office."
The strategy of developing a "people's platform" is a way to unify different grassroots movements.
"We must weave together the organized struggles for economic justice, environmental justice, racial justice, health care justice, gender justice and social justice with an overarching narrative that folks can relate to and inspires them to act," Haslam said. "On a local level we must build a vision forward that centers healthy communities. This does not just mean addressing the opiate crisis in a silo, but by pushing for comprehensive universal health care that does expand treatment but also is connected to a movement to move resources to providing free college education instead of incarcerating people."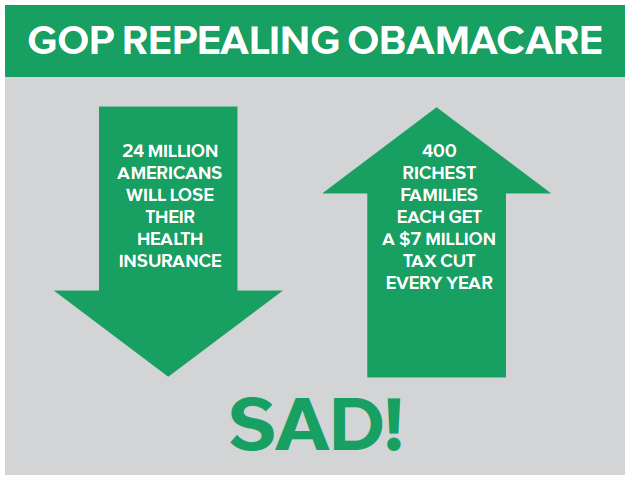 Filling the Leadership Void from the Grassroots
It shouldn't be surprising that Vermonters are playing an important role in standing up for health care, as there has been a 30-year struggle for universal health care that has come very close to winning on multiple occasions. Since the 1990's several grassroots efforts came close to winning universal health care in Vermont. The most recent attempt, and its failure, helped to fuel the new approach to grassroots organizing in Vermont.
In 2010 Governor Peter Shumlin was elected running on a universal health care platform. Some questioned if his support for a single-payer health care system was opportunistic rather than being fully committed to stand up to powerful health care profiteers and those who benefit from the current systems.
In 2011, Act 48 was passed in Vermont. It's a groundbreaking law that declared health care must be treated as public good and laid out a plan to move to a publicly financed system called Green Mountain Care.
While the system was being built, Shumlin delayed developing the core components of what would be included as "benefits" and how it would be publicly financed. Then after he was elected in 2014, he held a sudden press conference to announce he was pulling the plug on Green Mountain Care. Protestors disrupted his State of the State address and later delivered him a platter of burnt bread, declaring that his political future was "toast." It was.
This defeat was a major blow to the large grassroots efforts that had been fighting to win this struggle, most notably the Vermont Workers' Center's Healthcare Is A Human Right Campaign and Vermonters For Single Payer. While the Democrats held a strong majority in the House and Senate, Shumlin was only one of many of the elected Democratic leadership who had dropped their support of universal health care because of lack of will to raise taxes on the wealthy and take on corporate interests.
In the autopsy in this defeat, in 2015 a group of those who had led this struggle formed Rights & Democracy to help fill the void that was identified in maintaining a political mandate from election to election, and having movement leaders elected to stand strong for those issues while in the Legislature. In just two years' time, Rights & Democracy has built a new form of people-powered politics that starts in local communities with small organizing teams, which, when joined together across Vermont and New Hampshire, represent a powerful grassroots network.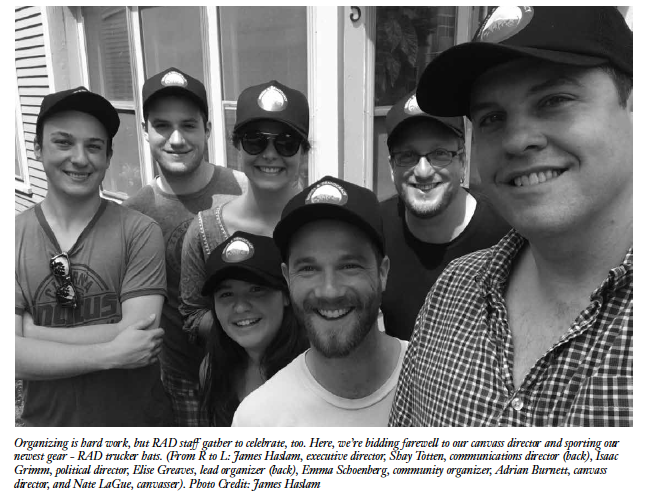 The Energy of Democracy
One such example of how that grassroots network is tackling new challenges is RAD's Energy Democracy campaign.
In recent years, Vermont – like many parts of the country – has seen its communities split apart over the development of renewable energy projects, especially wind and solar.
Energy Democracy aims to flip the age-old, top-down regulatory and developer-driven model and put people at the center of determining the transition to a renewable energy future and economy. This model encourages both democratic participation in all aspects of siting and building renewable energy projects, and most importantly democratic ownership. Community, cooperative, and municipal ownership models are given preference under this model as a way for residents to more directly benefit – economically and ecologically – from the projects that are built in their communities.
One of those Vermont communities is Bennington, where neighbors have been divided over two solar projects in a part of town that had not been specifically designated for development. Bennington residents were sharply divided over the need for more renewable energy versus the loss of habitat.
RAD leaders in Bennington decided to host a forum on the topic of Energy Democracy. Vickie Lampron, a home health nurse and active RAD member in Bennington, asked her neighbors the following in a widely read opinion piece in the local paper, The Bennington Banner. It read, in part:
"I'm thinking that it is time that we examine ourselves. We need to figure out why the solar projects —Apple Hill and Chelsea Hill — are dividing us. Are we for, or against, renewable energy at any cost? Are we willing to work together to get green energy into our community to benefit not a few of us, but all of us? Are we going to allow a solar panel array to divide us, or are we going to work together? Do we want to preserve the deep beauty of Bennington that we all love? I believe that we can't allow a solar array to divide us and forget about what we love so much. I think I know how we would all answer these questions," she wrote.
The event drew nearly two dozen people to a meeting on rainy, summer Friday night; half of whom had never attended a Bennington RAD meeting.
"As we began to talk about Energy Democracy," said Lampron after the event. "I saw folks in the audience begin to smile and relax their body posture. Everyone there was on board with renewable energy and when they heard that we have the power to choose where these arrays are installed the discussion became animated, friendly, and turned into a wonderful brain storming session."
Rick Carroll, an opponent of the solar projects and a resident of Apple Hill, was skeptical going into the forum that Energy Democracy was anything more than another way to approve energy projects without input from residents. He was pleasantly surprised to find that not to be true.
"I'd never been to a Rights & Democracy meeting before, and I'd never heard of Energy Democracy," said Carroll, who was impressed with how the process of envisioning a self-sufficient Bennington could bring people together. "I do think the community should pursue energy democracy," said Carroll. He then followed up with the question, "When is the next meeting?"
After the forum when people understood that there is true power in numbers they were excited and determined to become involved, Lampron added. That means more people turning out to RAD meetings in Bennington, and a special subcommittee to focus on just Energy Democracy.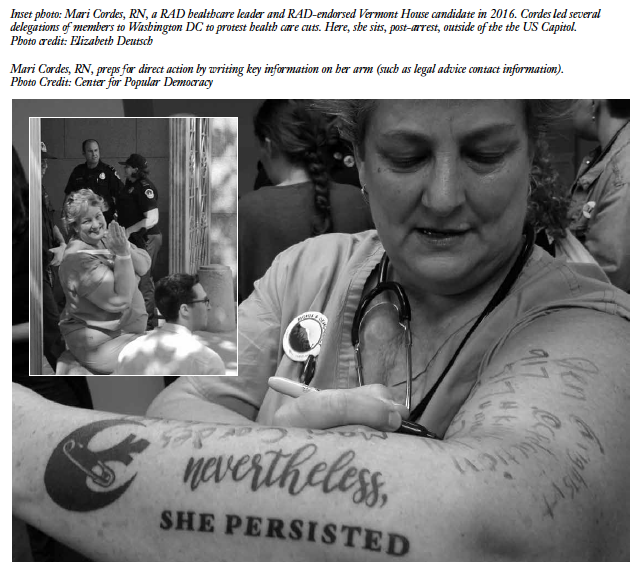 "Whole Movement" Organizing
Energy Democracy taps into what Rights & Democracy calls "whole movement" organizing.
Rights & Democracy was founded as a multi-issue and multi-tactical grassroots organizing and movement-building project in Vermont and New Hampshire. It has since been using as many tools the grassroots organizing toolbox to build a people-powered movement for political and economic transformation.
"Obviously, this is a tall order with major capacity needs and will not be built overnight, said Haslam. "In two years time, we have made remarkable progress in these areas and have the beginning of an extraordinary team of staff and member leadership. We also have learned many lessons from our own efforts, and those of our allies like Indivisible, Our Revolution, People's Action and Center For Popular Democracy."
Energy Democracy aims to disrupt the capitalist hegemony that is now strangling communities confronting dire environmental, economic, social, and political issues driven by climate change and runway inequality.
Movements throughout our country have yet to figure out a strategy for the successful transformation of our political and economic system. But, a primary goal of RAD is providing a contribution to the broader movement of a new transformative model that has succeeded—particularly in small rural states.
"The idea of 'whole movement organizing' is to suggest we are working in an exciting historical period where we can draw from the wisdom of established organizing models and take valuable lessons of successful tactics from new emerging models," adds Haslam.
Jessica is a nurse who has organized on public health, healthcare reform, and patient advocacy issues for more than seven years. She has worked as a primary care provider for the Veterans Health Administration and has specialty training in geriatric care. She continues to work as a nurse in the Burlington, Vermont area while leading Rights & Democracy's healthcare organizing work.
Shay grew up in the Northeast Kingdom of Vermont and worked for more than two decades as a journalist, giving voice to people organizing on a variety of issues, from labor, LGBTQ and disability rights to the environmental justice and anti-war movements, and more. He was a founding board member of RAD and is now their communications director.