Written by John Anderson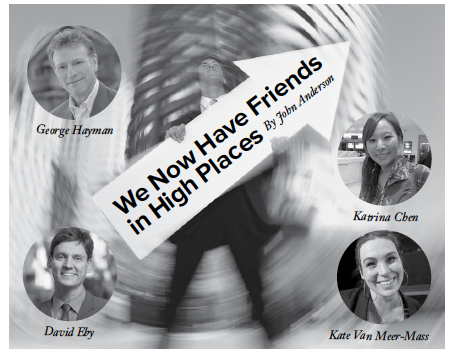 New Democrats have won in British Columbia. After 16 years of BC Liberal rule, a worker friendly party is leading Canada's third largest province, albeit a minority government propped up by two Green Party MLA's.
We now have friends in high places.
George Hayman, the former president of BCGEU, is the Minister of Environment. After years of Government green-washing, Hayman can now ensure that the resource-dependent province does its part to stave off the impending environmental catastrophe that the world faces. Already something he showed leadership on as president of BC's largest public sector union.
Longtime ACORN ally David Eby is now the Minister of Justice and the Attorney General of the province. The former head of the BC Civil Liberty Association, Eby has a very solid track record on housing justice, police accountability, and drug law reform. Politically he is in a very powerful position in the party, and now has a chance to change the laws he has long fought to reform. After working with him over the years I can only hope that his power continues to grow.
Even some former ACORN organizers are now powerful people in BC.
Katrina Chen did a solid organizing drive for ACORN in Surrey, BC in 2006. Soon after she was scooped up by Burnaby NDP MP Peter Julian and served as his constituency assistant for several years. She then got the nod to run for the Burnaby Citizens Association (BCA) as School Board Trustee. Low and behold Chen is now is the Minister of State for Child Care, hopefully a position created to do something real for hardworking parents in BC.
There is a bit more to the BCA connection for Chen. BCA pushed through a redevelopment that displaced 1000s of low to moderate income tenants from the Metrotown neighbourhood. Burnaby Mayor Derik Corrigan, whose wife was a long time NDP MLA, led the charge on what ACORN and our allies called 'renovictions'. While the campaign ACORN and our allies ran against the BCA redevelopments plans had flaws, this was an egregiously horrendous policy. Early on in the campaign we had then NDP MLA David Eby come out against the policy, but once the tight provincial election campaign started all opposition to BCA's plan was muted.
More connections though Burnaby: Mayor Corrigan, the dominant leader of the BCA, is good friends with the NDP leader, and now BC Premier, John Horgan. A special advisor to Mayor Corrigan was actually the person who took me out door-knocking on my 'obs day' applying as an organizer for Toronto ACORN In 2004. Kate Van Meer-Mass was briefly an ACORN organizer when we were fledgling in Canada, and moved on her own accord to work with COPE Vancouver, and then for the Burnaby Mayor, and she is now Chief of Staff to the BC Premier. She mentioned to me in 2013, when I was Head Organizer at BC ACORN, that she indicated disagreement with the Mayor's plan for Metrotown and any notion that Burnaby did not have an affordable housing problem.
The debacle in Burnaby is something that should temper one's aspirations of what a BC NDP Government will be, especially for our low to moderate income constituency. The job for ACORN and other organizations representing poor people is to take advantage of this opportunity to see if our friends in high places can deliver for all the people, including our members.
John Anderson is the Head Organizer of Toronto ACORN. Since 2004 John has helped to develop the ACORN Canada operations in Toronto, Ontario, and British Columbia. He is a graduate of the University of Winnipeg.