Written by Patrick Foster
"I don't know what the president believes in. Maybe he doesn't believe in anything".
Republican Richard Nixon, won the White House in 1968 and would serve in that office through 1974, when he became the first and only U.S. President forced to resign office in disgrace. Romney later held a grudge against Nixon, but at the time, just after the election, Romney made no negative public statements about him. The President-elect held out a sop for Romney - the offer of a cabinet position in Nixon's first Administration. The job was Secretary of Housing and Urban Development (HUD), and was a natural position for a caring, compassionate man like Romney.
Nixon made the announcement in a national broadcast presenting his new cabinet on December 11, 1968. He praised Romney for his "missionary zeal" and said his job at HUD would be to mobilize volunteer organizations to fight poverty throughout the United States. However, inwardly Nixon disliked Romney and was suspicious of his motives, and appointed him to the low-profile federal agency partly to appease Republican moderates and partly to reduce Romney's potential as a challenger for the presidency in 1972.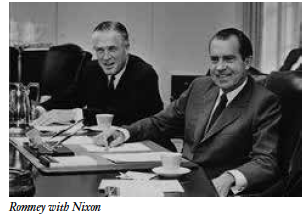 The Senate confirmed Romney as Secretary of HUD on January 20, 1969, the same day as Nixon's inauguration. There was no opposition to Romney's appointment and he was sworn into office on January 22. He resigned as Governor of Michigan the same day and was succeeded by Lieutenant Governor William G. Milliken. Romney tackled the job at HUD with his usual vigor. Upon taking office he conducted a reorganization of the department. By November 1969, he brought together programs with similar functions and created two new assistant secretary positions. At the same time, he made it easier for local officials to enact his programs by increasing the number of regional, and area offices and then decentralizing program operations so that local problems could be addressed by local officials.
There was a very severe shortage of affordable housing in the U.S. at the time with the result that many people paid exorbitant rates for apartments, and many were living in substandard housing or slums. A big part of the problem, Romney insisted, was that the construction trade unions had too much power, causing excessive labor costs, while restrictive work rules wasted time during the construction process. All of this drove up the cost of building new housing. As Romney attacked the problems, he made numerous enemies in the trade unions and among the builders themselves. He didn't care. He saw excessive power being used to the detriment of society and he wanted things changed. Despite his growing unpopularity, he refused to back down.
The Fair Housing Act of 1968 mandated that the federal government commit itself to solving the problem of housing segregation. As part of the law, HUD was to orient its programs towards ending housing discrimination. Romney, filled with moral compassion, decided that the best way to end segregation and address the economic and geographic gulf between whites and blacks was to create low-cost housing in the suburbs and move inner-city blacks out of the ghettos and into the previously restricted suburbs. He proposed a plan dubbed "Open Communities" as a way to desegregate America. His agency worked on plans for months without informing Nixon.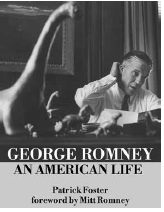 When Romney's open housing proposal was made public, there was an outcry of hostility against it in many towns and cities, including Warren, Michigan, a blue-collar suburb of Detroit where many blacks worked but could not live owing to zoning practices and discriminatory actions by whites. Romney decided to make Warren a prime target for Open Communities enforcement and threatened to halt all federal assistance to the town unless it took a series of actions to end racial discrimination. Romney claimed that all he was asking for was affirmative action, but town officials argued that integration was being forced on them unnecessarily. Romney declared that, "The youth of this nation, the minorities of this nation, and the discriminated of this nation are not going to wait for 'nature to take its course'. What is really at issue here is responsibility –moral responsibility." Romney visited Warren in July 1970 where he was jeered by townspeople.
When Nixon saw the response from Warren, he came to the conclusion that America was not ready for forced integration. He compelled Romney to back down on Warren and release the federal funds without preconditions. When the town of Black Jack, Missouri also resisted Romney's HUD-sponsored plans for desegregated lower and middle-income housing, Romney appealed to U.S. Attorney General John Mitchell for help. But Mitchell, no doubt with Nixon's blessing, refused to get involved and the plan came to nothing.
Regardless of the lack of White House support, Romney accomplished much good while at HUD including stricter racial guidelines regarding new public housing projects. However, overall Administration support for the implementation of the Fair Housing Act was simply not there. Nixon had little use for it and knew it would anger his Southern constituents. Romney himself failed to drum up political support for his efforts, feeling that his programs were so obviously right that most would agree to implement them. In this regard he was showing a surprising naiveté.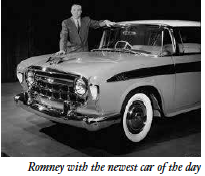 In Washington Romney continued to try to make a difference at HUD. His most ambitious initiative was a bold idea he dubbed "Operation Breakthrough". Begun in 1969, it was intended to increase the amount of housing available to the poor by utilizing the skills of private sector builders to develop new, inexpensive methods of building housing in large quantities. With his automotive industry experience in mass production techniques Romney thought that the cost of housing could be significantly reduced if in-factory modular construction was tried, and with more liberal work rules at job sites. He looked to private industry to come up with building techniques designed to lower the cost of housing. He saw it as a way to put an end to the massive and ugly apartment complexes that were the hallmark of low-income housing. If America could provide low-cost attractive and easy to build housing HUD would be able to spearhead desegregation by moving blacks out of ghettos and into the suburbs. "We've got to put an end to the idea of moving to suburban areas and living only among people of the same economic and social class."
His idea smacked of forced integration, which it was, and this again brought strong opposition at the local level while losing support in the White House. Romney spent over half of HUD's research funds on Operation Breakthrough, and it was modestly successful, though nowhere near the revolution Romney hoped for. But its greatest benefit was that it triggered a transformation in home construction in private industry as builders adopted many of the better ideas for low-cost construction, and many more houses began to be built.
Operation Breakthrough was the country's first large-scale systematic housing demonstration program, featuring a public demonstration of innovative house designs and site plans. It put advanced ideas on trial, in prototype form, at nine locations. HUD chose the sites from among many nominated by local and state governments to represent a variety of market conditions. Urban, peripheral, suburban, and semi-rural neighborhoods became the settings for nearly 3,000 housing units built between 1971 and 1973. Developers brought to the job an unusual array of capabilities and many of the management techniques in Operation Breakthrough were completely new to the housing industry. Construction began on the prototype units in 1970 and most were occupied by families within two years.
But Operation Breakthrough was unpopular with Nixon and was phased out once Romney left HUD. The program did instigate useful changes in the housing industry by exposing builders to new construction methods and materials, encouraging significant changes in building code requirements and supporting the idea of statewide building codes.
Throughout his four years at HUD Romney remained outside Nixon's insular inner circle. Nixon neither liked nor trusted Romney and looked for an excuse to have him removed from office. Besides fearing he might have to run against him some day, Nixon also had little interest in Romney's liberal ideals. Also working against Romney was his own intense, often bombastic style of talking about his favorite programs, which irritated Nixon. In addition, Romney failed to understand or circumvent Nixon's use of presidential assistant John Ehrlichman and White House Chief of Staff Bob Haldeman as gatekeepers.
Romney, used to being the boss and having people listen to him annoyed Nixon by interrupting him at meetings, and talking over him; Nixon told Haldeman, "Keep Romney away from me". In 1970, Nixon tried on two occasions to remove Romney but was unsuccessful. He did manage to pressure Romney into backing off on some of his favorite positions and got grim satisfaction from that. He gleefully boasted to an aide "Romney talks tough but folds under pressure". For his part, Romney was puzzled by Nixon's inconsistency in regards to policies, and told a friend, "I don't know what the president believes in. Maybe he doesn't believe in anything." Romney could never understand someone who believed only in raw power and its uses.
The spring of 1972 brought a new problem; a major scandal struck the Federal Housing Administration (FHA), the agency responsible for helping the poor buy homes in inner-city areas via government-backed mortgages. The homes were financed by mortgage-backed securities, the first issues of which Romney announced in 1970 to great fanfare. Certain FHA employees, along with a number of real estate firms and lawyers, had come up with a scheme in which the value of low-priced inner-city homes was inflated and sold to black buyers who couldn't afford them, all using the government-backed mortgages.
When payments stopped and the mortgages went into default, the government was stuck for the bad loans. The FHA was under Romney's purview, and in the end, he had to admit the mistakes made under his watch. He conceded that HUD had been unprepared to deal with speculators and wasn't alert to early signs of illegal activities. Sadly, the FHA scandal gave Nixon the ability to shut down HUD's remaining desegregation efforts with little political risk. By January 1973, all federal housing funds were frozen and the program suspended.
Romney left the Nixon White House at the end of Nixon's first term. Although he had been in many meetings with the president, he expressed surprise later when the expletive-ridden White House tapes were released to the public. He claimed Nixon never used locker-room language in front of him. Perhaps that was another reason why Nixon felt uncomfortable around Romney - he was too moral and honest for Nixon. In any event, Romney was looking forward to a return to private life. The Boston Globe later dubbed Romney's conflicts with Nixon a matter that "played out with Shakespearean drama".
Despite all the frustrations and setbacks at HUD, University of Buffalo political scientist Charles M. Lamb concluded that Romney tried harder to achieve suburban integration than any prominent federal official from the 1970s through the 1990s, a testament to Romney's good heart and determination. And Lehman College sociology professor Christopher Bonastia said that the Romney-era HUD came "surprisingly close to implementing unpopular anti-discrimination policies" but in the end was unable to bring about meaningful alterations in American segregation. Both are fitting judgments on George Romney.
Overall, Romney's HUD record was good. Although he didn't meet his personal goals, HUD was able to set records for the amount of construction of assisted housing for low-and-moderate-income families. Near the end of his term, Romney oversaw demolition of some of the more infamous low-income slum projects including the notorious Pruitt–Igoe housing project in St. Louis, Missouri, one of the worst slum projects in America. Perhaps the best reflection on his legacy at HUD was penned by a columnist, who noted years later that Romney's HUD programs had "helped thousands of families- and fewer Americans were homeless on George Romney's watch".