Written by Lane Windham

Young and ambitious, Fran Cicchetti took a secretarial job at a Boston insurance company and soon pushed her boss to make good on his promise to train her as an underwriter. He instead groomed and promoted a male clerical worker for the coveted slot. Her dark, Italian eyes flashed with outrage beneath a sweep of thick bangs: "That was when I started thinking that, as a woman, I'd been lied to." In April 1974, she joined hundreds of other Boston women in publicly calling on the city's employers to honor a bill of rights for women office workers. "The companies do not see us in the mainstream of the workforce. We are working for pin money they think and aren't to be taken seriously. We've got to assert ourselves." As women like Cicchetti entered America's workplaces in record numbers during the 1970s, they carried new ideas about women's rights along with them. Cicchetti's words neatly capture how respect and pay were inextricably linked in a market-based society, and how mounting a challenge to gender norms on the job was both a social and economic task for the nation's low-paid, coffee-fetching "office wives."1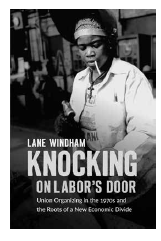 Cicchetti was an early activist in 9to5, one of the most well known of the employment-based women's organizations that burst on the scene in the 1970s. Organizations like 9to5 represented a potent feminist strain within that decade's working-class activism. The women office workers who founded 9to5 in 1973 built what they called an "organization for women office workers" in Boston—which was explicitly an association, not a union. Through a combination of public pressure, savvy media outreach, and strategic affirmative action suits, 9to5 helped upend workplace gender norms and challenge the terms under which millions of women entered the workplace in the 1970s. Cicchetti, for instance, went on to chair the group's finance committee, which lobbied the state's insurance commissioner to issue new standards on industry job postings and promotions. The women of 9to5, however, also wanted to harness the power of collective bargaining, and they built a bifurcated structure to do so. They maintained the association 9to5 while also launching their own union, Local 925 of the SEIU. They later replicated this dual structure at the national level, with a separate association and union.2
Like the retail clerks, shipbuilders, and textile workers we met earlier in this book, the women who founded 9to5 were among the wave of young women and people of color who poured into a broad range of the nation's workforces, making new demands about their rights. What is different about the women of 9to5, however, is that they expanded the range of possibilities open to workers by simultaneously using strategies based both on and also beyond NLRB union elections. The group's founders pioneered a new form of labor organizing, one built on New Deal traditions and legal structures, as well as the tactics and legal strategies of the contemporaneous women's movement. The union, SEIU Local 925, won a few NLRB elections, but it found that most of the private-sector employers it challenged were able to block workers' organizing efforts by manipulating and breaking labor law. The association had more success. Boston's clericals managed to force some of the city's largest banks and insurance companies to post jobs, offer training, and even give raises—all without having to go through arduous NLRB elections or ever securing a union contract. Instead, they used affirmative action suits to expand workers' rights, and learned to make creative use of public opinion.
The 9to5 founders were essentially the foremothers of what today is known as "alt-labor," the wave of workers' centers, associations, and campaigns that seek to build power for workers outside the collective bargaining paradigm in the early twenty-first century. For a time, these women labor activists were able to use the new organizing forms of the women's movement, in combination with community organizing tactics, to build an entirely new doorway into economic security and greater equality for America's workers.3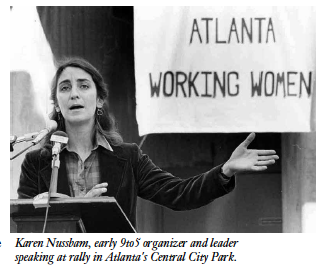 Women's Rights Comes to the Office
It was no coincidence that some of the most forward thinking labor organizing in the 1970s grew up among clerical workers. This group was primarily composed of women who found themselves at the epicenter of two major shifts: the mass entry of women into America's workforce and the cultural transformations rooted in the women's movement. By 1979 women made up a full 42 percent of all workers, up from 30 percent in 1960, and women were more likely to earn their paycheck in clerical work than in any other job. One in three women who worked for wages did so as an office worker.4
Meanwhile, secretarial work was undergoing a major shift of its own as technologies like photocopiers, memory typewriters, and, increasingly, computers furthered a century-long process of mechanizing office work.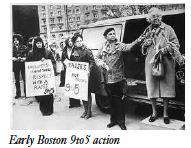 Women ran the new office machines, and they did it cheaply. Early twentieth century employers had learned that they could keep costs down by employing women as typists and stenographers, displacing the young aspiring businessmen who had once served as clerks. By the 1970s, a full 97 percent of typists were women. Yet female clericals earned less than men who worked as operatives, salesmen, or service workers—in fact, they earned less than all men except farm workers. "I replaced a man who was making $140 a week at $80," wrote one shipping clerk at A&P Tea Company in a 9to5 survey. "At my present raise rate, it will be eight years by the time I reach that pay."5
The office workers who organized wanted to upend unfair, gender-typed treatment in the office as much as they sought to address low pay, and the new ideologies of the women's movement gave their efforts momentum. The expectations that women clericals would get the coffee, buy the presents, and pamper their bosses collided with a growing sense of professionalism and entitlement. "My greatest gripe, besides the obvious problems of low pay and lack of respect, is that I am not a 'puss,' or a 'chick,' a 'broad' or a 'dear.' I am a woman and I have a name, a full name of my own," insisted one Boston office worker, writing in response to an early 9to5 newsletter in 1973.6
Some 9to5ers embraced the new ideas of women's equality, even if they chose not to embrace its language. Judith McCollough, an office worker at Travelers Insurance in Boston, was typical of such working-class women attracted to the group. "I'd been interested in the women's movement," but was "slightly intimidated by it," remembered McCollough. Though she identified with the idea that women should . . .. do all the things that they wanted to do . . . The National Organization for Women just didn't seem to connect to me." McCollough went on to join 9to5 staff and later became a national union organizer.7
From Knocking on Labor's Door: Union Organizing in the 1970s and the Roots of a New Economic Divide. Copyright ©2017 by Lane Windham. Used by permission of the University of North Carolina Press. www.uncpress.org
End Notes
1. Woman Alive!, Nine to Five; "9-to-5ers Press for Office Rights," Boston Globe, April 9, 1974; Nussbaum, "Working Women's Insurgent Consciousness"; ""; Cobble, Sex of Class; MacLean, "Hidden
History of Affirmative Action"; Deslippe, Rights, Not Roses; Gabin, Feminism in the Labor Movement; Fonow, Union Women; Evans, Tidal Wave, 86–88; Ruth Rosen, World Split Open, ";
2. Glick, "Bridging Feminism and Trade Unionism"; Tepperman, Not Servants, Not Machines; Nussbaum, "Working Women's Insurgent Consciousness"; Seifer and Wertheimer, "New Approaches to Collective Power"; Hoerr, We Can't Eat Prestige; Foner, Women and the American Labor Movement, 480–84.
3. For more on "alt-labor" see Eidelson, "Alt- Labor," and Windham, "Alt-Labor Groups."
4. BLS, Perspectives on Working Women, 1–3, 10–11.
5. Davies, Woman's Place Is at the Typewriter; Fine, Souls of the Skyscraper; Strom, Beyond the Typewriter; Turk, "Labor's Pink-Collar Aristocracy"; Tepper- man, Not Ser vants, Not Machines; Greenbaum, Windows on the Workplace; Cob- " 30–33; BLS, Perspectives on Working Women, 9, 49; MacLean, "Hidden History of Affirmative Action"; 9to5 Job Survey, n.d. [ca. 1975], folder 74, box 2, 1972–1980 Records, 9to5.
6. Joyce Weston to Dear Sisters, May 22, 1973, folder 87, box 3, 1972–1980 Rec- ords, 9to5.
7. Judith McCollough, interview by Ann Froines, November 4, 2005, Washing- ton, D.C., SEIU District 925 Legacy Project, Oral History Transcripts, WPR.