Written by Jessica Early and Shay Totten

In August of 1970, after ten days on the run, Kevin Kirkpatrick was arrested by the Federal Bureau of Investigation for avoiding the draft. He spent a night in jail and was put before a judge the following day, and then inducted into the Army ten days later. His act of civil disobedience coming to a swift halt, Kevin served out his term in the Army and then went on living life and building a career as a civilian. He largely stayed out of politics and never again engaged in any acts of civil disobedience.
That was until the summer of 2017 when Congressional Republicans proposed legislation that would throw millions of people off health care, cut Medicaid, and further privatize Medicare—a health care program Kirkpatrick, like millions of Americans, relies upon for health care.
After years of little to no political activity beyond voting regularly on election days, in mid-July 2017, Kirkpatrick found himself traveling to Washington, DC to engage in non-violent protest with members of Rights & Democracy, a grassroots social, economic, health care, and environmental justice group based in Vermont and New Hampshire. While aware that he was risking arrest, Kirkpatrick had a hard time imagining that in less than 24 hours he would be sitting in plastic zip tie handcuffs awaiting processing by Capitol Police for speaking out against disastrous health care cuts to millions of Americans.
Despite a forty-seven year time lapse, Kirkpatrick was once again detained for civil disobedience. But, this time around, Kirkpatrick was not alone. Instead, he was demonstrating alongside numerous Americans from every corner of the country who were recruited and trained by the Center for Popular Democracy and Housing Works to stage coordinated direct actions in DC Congressional offices as part of a national resistance against the GOP efforts to repeal and replace the ACA and make massive cuts to Medicaid.
"This act of civil disobedience has re-inspired me," said Kirkpatrick. "Joining with my fellow RAD members to travel to DC, to speak up and to engage in civil disobedience has been a breath of fresh air."
While Kirkpatrick's jump into activism in a very high stakes way (getting arrested for non-violent civil disobedience) may seem like an extraordinary example of rapid politicization, in Vermont and across the country in recent months mobilization of previously unengaged or even apolitical people has been the rule not the exception.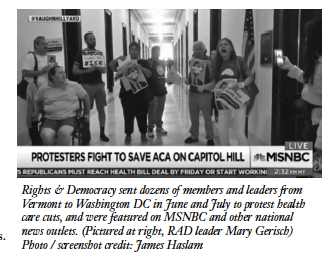 Nearly a dozen Vermonters made trips to participate in direct action in DC this summer, with some going multiple times and getting arrested more than once. They joined hundreds of others descending on our nation's capital, including those on the front lines of our broken health care system, such as nurses, doctors and social workers as well as people with chronic diseases or disabilities and their caregivers and family members. Similarly, in every state, health care rallies and national days of action also led by those individuals most impacted by the GOP agenda has attracted unprecedented numbers.
This outpouring of everyday Americans who would be seriously harmed by Republican health plans worked to stop every iteration of Republican reform—ACA repeal and replace, just repeal, and then "skinny" repeal.
Victory in the Health Care Battle in DC: A Recipe for Winning the Whole Health Care War
RAD's mobilization of Kirkpatrick and other Vermonters for direct action delegations to DC illustrates how even state-based, rural, grassroots organizations can help engage people in national legislative fights and make a profound impact on federal policy. Health care, especially, has brought together patients and their families, people with disabilities, health care professionals, unions, workers, as well as racial justice, women's rights, and LGBTQ activists. This diverse constituency has channeled their energy into a proactive political strategy to move beyond rallies to defend the status quo. They are now united in offering an alternative vision of how our health care system can and should be, and they are committed to winning universal health care at both the state and national level.
In Vermont, Mari Cordes, a nurse and former president of Vermont's largest nurses union, is a leader of this growing coalition demanding health care for all. In 2016, she ran for political office for the first time as a Bernie "down-ballot revolution" inspired candidate for Vermont's House of Representatives. Despite a very hard-fought campaign, she lost in a race against popular incumbents in her two-seat district. However, her campaign defeat did not deter her political activity but rather galvanized her to even greater levels of leadership. In the past few months she has spent her days off from full-time work as an RN, to lead van loads of RAD members from Vermont to DC, where she was arrested twice.
"What I've learned from years of activism and organizing is that every single person matters. Every single person is an essential part of creating lasting change, not just the leaders we see or hear in the media. That's why it is imperative that everyone brings their voice—in any way possible—to build a lasting movement for public good, and brings that voice into political leadership," said Cordes.
"This is why I am a founding board member of Rights and Democracy. I believe strongly in the RAD mission that those that we elect into public office must come out of a well-organized community. A community built upon relationships; relationships that deeply represent the people to whom they are committed, and relationships that, in turn, justly hold those elected leaders accountable for the commitments they've made to the community," added Cordes.
The GOP's failed push for cutting health care provides an enormous opportunity for grassroots movements to push for state universal health care programs as the first dominos as part of building a movement in the US. "We at Rights & Democracy believe that now more there ever we have an opportunity to make health care a political mandate in 2018 and 2020 for the right the health care and a universal Medicare For All program," said James Haslam, RAD's executive director.
This Republican and Trump agenda failure was a huge testament to the power of grassroots organizing. More importantly, however, it provides us with a key lesson for how we can move forward to not only defend against Republican attacks on health care as well as the environment, public education, and the rights of workers, immigrants, women, communities of color and LGBTQ individuals but also offer an alternative political, economic, and social vision. Just like the personal experiences of patients, family members, or health care providers motivated people in the health care fight to take action, we need to again tap into the deeply felt concerns and hopes of poor, working, and middle class Americans—of all races, in both urban and rural parts of the country—to organize them around a unifying platform for progressive change.
Our Revolution, the national network that formed out of Senator Bernie Sanders' presidential campaign, is best articulating this platform. Our Revolution recently laid out its People's Platform. In July, Nina Turner the president of Our Revolution announced: "Our goal is to have the majority of the U.S. House Democratic Caucus signed on to cosponsor the following bills when they return in September."
Those bills include:
1. Health Care for All: H.R. 676 Medicare for All Act
2. Education for All: H.R. 1880 College for All Act of 2017
3. Workers' Rights: H.R. 15 Raise the Wage Act
4. Women's Rights: H.R. 771 Equal Access to Abortion Coverage in Health Insurance (EACH Woman) Act of 2017
5. Voting Rights: H.R. 2840 Automatic Voter Registration Act
6. Environmental Justice: Climate Change Bill (yet to be introduced)
7. Criminal Justice and Immigrant Rights: H.R.3543 Justice Is Not for Sale Act of 2017
8. Tax on Wall Street: H.R. 1144 Inclusive Prosperity Act
Given the current makeup of Congress and the White House, this national People's Platform must be replicated at the state level as many efforts, including the struggle for universal, publicly financed health care and addressing climate change, are likely to first gain traction at the state level versus federally. In Vermont and New Hampshire, the grassroots organization Rights and Democracy is pioneering this model with a statewide campaign to recruit people to be People's Revolution Voters in support of a multi-issue state level agenda.
In Vermont and New Hampshire, Rights & Democracy is pioneering this model of state-based campaigns to build grassroots movements around issues of economic, environmental, health care, social, and racial justice. From the historic Women's March in Montpelier, Vt, (which attracted a record-breaking protest crowd of 20,000, making it the highest per capita protest participation of any state in the US) to the Climate March Solidarity Rally (5000 people), RAD has worked with other grassroots groups to unite Vermonters in resistance to the Trump agenda, and turn that energy into building a common sense, progressive agenda in Vermont.
This summer RAD held events throughout the state to promote a people's agenda that legislators can get behind when they return to Montpelier in January. Resistance isn't enough, there is a need to urge state elected officials to take bold steps to put legislation on Vermont Gov. Phil Scott's desk to either veto, or join with Vermonters and support:
• Creating a universal health care system in Vermont, with a first step being Universal Primary Care
• Raising the minimum wage to $15 an hour
• Enacting paid family and medical leave insurance
• Improving worker protections, including stronger enforcement against worker misclassification
• Investing in the infrastructure and protections necessary to ensure clean water, clean air, and clean soils for all
• Empowering communities to move toward a 100 percent renewable energy economy while maintaining local autonomy and democratic participation in shaping a just transition away from fossil fuels.
"To make this happen, relying on our current elected officials isn't enough. We must build the necessary power to make our values reflected in our policies, and we do that through Movement Politics," said Haslam. "If we are serious about building power and affecting change we must have an electoral strategy, at all levels, building and training people to run for office."
The strategy of developing a "people's platform" is a way to unify different grassroots movements.
"We must weave together the organized struggles for economic justice, environmental justice, racial justice, health care justice, gender justice and social justice with an overarching narrative that folks can relate to and inspires them to act," Haslam said. "On a local level we must build a vision forward that centers healthy communities. This does not just mean addressing the opiate crisis in a silo, but by pushing for comprehensive universal health care that does expand treatment but also is connected to a movement to move resources to providing free college education instead of incarcerating people."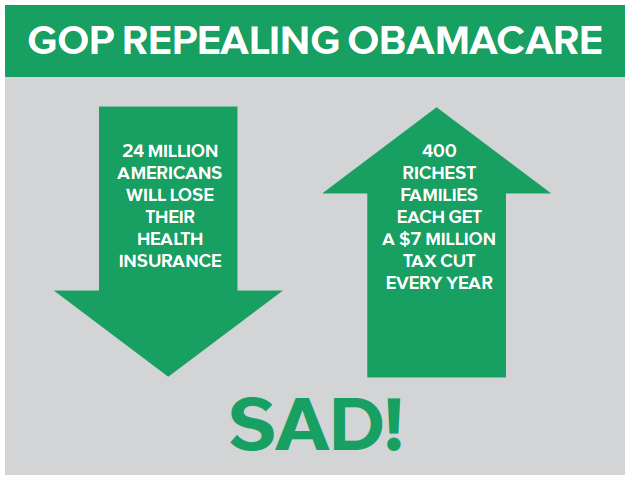 Filling the Leadership Void from the Grassroots
It shouldn't be surprising that Vermonters are playing an important role in standing up for health care, as there has been a 30-year struggle for universal health care that has come very close to winning on multiple occasions. Since the 1990's several grassroots efforts came close to winning universal health care in Vermont. The most recent attempt, and its failure, helped to fuel the new approach to grassroots organizing in Vermont.
In 2010 Governor Peter Shumlin was elected running on a universal health care platform. Some questioned if his support for a single-payer health care system was opportunistic rather than being fully committed to stand up to powerful health care profiteers and those who benefit from the current systems.
In 2011, Act 48 was passed in Vermont. It's a groundbreaking law that declared health care must be treated as public good and laid out a plan to move to a publicly financed system called Green Mountain Care.
While the system was being built, Shumlin delayed developing the core components of what would be included as "benefits" and how it would be publicly financed. Then after he was elected in 2014, he held a sudden press conference to announce he was pulling the plug on Green Mountain Care. Protestors disrupted his State of the State address and later delivered him a platter of burnt bread, declaring that his political future was "toast." It was.
This defeat was a major blow to the large grassroots efforts that had been fighting to win this struggle, most notably the Vermont Workers' Center's Healthcare Is A Human Right Campaign and Vermonters For Single Payer. While the Democrats held a strong majority in the House and Senate, Shumlin was only one of many of the elected Democratic leadership who had dropped their support of universal health care because of lack of will to raise taxes on the wealthy and take on corporate interests.
In the autopsy in this defeat, in 2015 a group of those who had led this struggle formed Rights & Democracy to help fill the void that was identified in maintaining a political mandate from election to election, and having movement leaders elected to stand strong for those issues while in the Legislature. In just two years' time, Rights & Democracy has built a new form of people-powered politics that starts in local communities with small organizing teams, which, when joined together across Vermont and New Hampshire, represent a powerful grassroots network.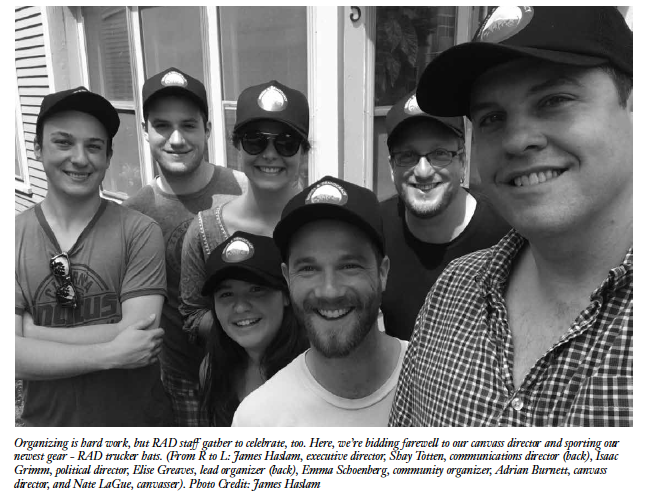 The Energy of Democracy
One such example of how that grassroots network is tackling new challenges is RAD's Energy Democracy campaign.
In recent years, Vermont – like many parts of the country – has seen its communities split apart over the development of renewable energy projects, especially wind and solar.
Energy Democracy aims to flip the age-old, top-down regulatory and developer-driven model and put people at the center of determining the transition to a renewable energy future and economy. This model encourages both democratic participation in all aspects of siting and building renewable energy projects, and most importantly democratic ownership. Community, cooperative, and municipal ownership models are given preference under this model as a way for residents to more directly benefit – economically and ecologically – from the projects that are built in their communities.
One of those Vermont communities is Bennington, where neighbors have been divided over two solar projects in a part of town that had not been specifically designated for development. Bennington residents were sharply divided over the need for more renewable energy versus the loss of habitat.
RAD leaders in Bennington decided to host a forum on the topic of Energy Democracy. Vickie Lampron, a home health nurse and active RAD member in Bennington, asked her neighbors the following in a widely read opinion piece in the local paper, The Bennington Banner. It read, in part:
"I'm thinking that it is time that we examine ourselves. We need to figure out why the solar projects —Apple Hill and Chelsea Hill — are dividing us. Are we for, or against, renewable energy at any cost? Are we willing to work together to get green energy into our community to benefit not a few of us, but all of us? Are we going to allow a solar panel array to divide us, or are we going to work together? Do we want to preserve the deep beauty of Bennington that we all love? I believe that we can't allow a solar array to divide us and forget about what we love so much. I think I know how we would all answer these questions," she wrote.
The event drew nearly two dozen people to a meeting on rainy, summer Friday night; half of whom had never attended a Bennington RAD meeting.
"As we began to talk about Energy Democracy," said Lampron after the event. "I saw folks in the audience begin to smile and relax their body posture. Everyone there was on board with renewable energy and when they heard that we have the power to choose where these arrays are installed the discussion became animated, friendly, and turned into a wonderful brain storming session."
Rick Carroll, an opponent of the solar projects and a resident of Apple Hill, was skeptical going into the forum that Energy Democracy was anything more than another way to approve energy projects without input from residents. He was pleasantly surprised to find that not to be true.
"I'd never been to a Rights & Democracy meeting before, and I'd never heard of Energy Democracy," said Carroll, who was impressed with how the process of envisioning a self-sufficient Bennington could bring people together. "I do think the community should pursue energy democracy," said Carroll. He then followed up with the question, "When is the next meeting?"
After the forum when people understood that there is true power in numbers they were excited and determined to become involved, Lampron added. That means more people turning out to RAD meetings in Bennington, and a special subcommittee to focus on just Energy Democracy.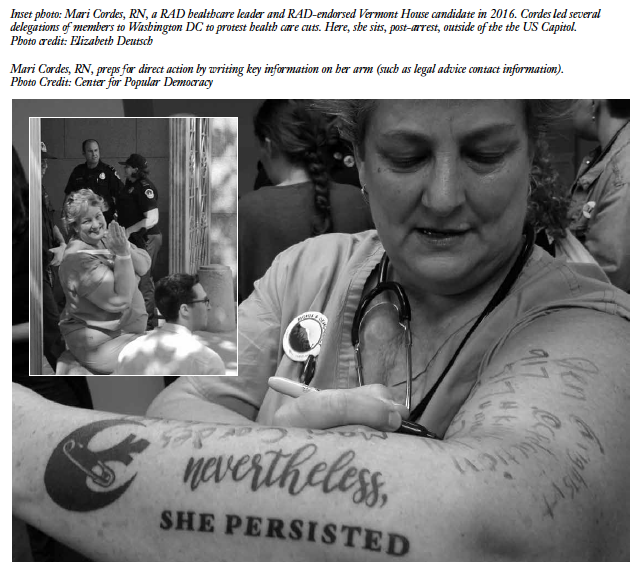 "Whole Movement" Organizing
Energy Democracy taps into what Rights & Democracy calls "whole movement" organizing.
Rights & Democracy was founded as a multi-issue and multi-tactical grassroots organizing and movement-building project in Vermont and New Hampshire. It has since been using as many tools the grassroots organizing toolbox to build a people-powered movement for political and economic transformation.
"Obviously, this is a tall order with major capacity needs and will not be built overnight, said Haslam. "In two years time, we have made remarkable progress in these areas and have the beginning of an extraordinary team of staff and member leadership. We also have learned many lessons from our own efforts, and those of our allies like Indivisible, Our Revolution, People's Action and Center For Popular Democracy."
Energy Democracy aims to disrupt the capitalist hegemony that is now strangling communities confronting dire environmental, economic, social, and political issues driven by climate change and runway inequality.
Movements throughout our country have yet to figure out a strategy for the successful transformation of our political and economic system. But, a primary goal of RAD is providing a contribution to the broader movement of a new transformative model that has succeeded—particularly in small rural states.
"The idea of 'whole movement organizing' is to suggest we are working in an exciting historical period where we can draw from the wisdom of established organizing models and take valuable lessons of successful tactics from new emerging models," adds Haslam.
Jessica is a nurse who has organized on public health, healthcare reform, and patient advocacy issues for more than seven years. She has worked as a primary care provider for the Veterans Health Administration and has specialty training in geriatric care. She continues to work as a nurse in the Burlington, Vermont area while leading Rights & Democracy's healthcare organizing work.
Shay grew up in the Northeast Kingdom of Vermont and worked for more than two decades as a journalist, giving voice to people organizing on a variety of issues, from labor, LGBTQ and disability rights to the environmental justice and anti-war movements, and more. He was a founding board member of RAD and is now their communications director.