Written by Kristin Szakos

On August 11 and 12, the city of Charlottesville, Virginia, found itself under attack – an invasion of hate as heavily armed Nazis, Alt-Right extremists, white nationalists, KKK members and garden variety racists, anti-Semites and xenophobes swarmed in to protest the city's decision to remove a giant statue of Confederate General Robert E. Lee. Three people died in the ensuing violence, and the community was left feeling shaken and vulnerable.
As in all disasters, some were more shaken than others, stark differences that parallel longstanding inequalities that have persisted in this socially progressive Southern city for centuries.
What some saw as restrained police intervention left many in the African American community, whose distrust of police had been built over generations, to conclude that the police were not interested in protecting them from white supremacists, and had intentionally left them vulnerable to attack.
The fact that the white supremacists were attracted to Charlottesville ostensibly to protest the removal of a Confederate statue led many to ask why the statue had been allowed to stand for almost 90 years, telegraphing support for the Southern cause in the Civil War despite the city's widely touted socially progressive politics.
Predominantly African-American neighborhoods that were the object of threats from white supremacists who marched and drove through them on the morning of the 12th were held up as evidence that inequitable patterns of poverty, along with a failure to adequately provide affordable housing as property values rise, demonstrated that Charlottesville was not just a victim of white supremacy: it was an illustration of it.
A downtown business campaign to announce Charlottesville's recovery, co-sponsored by the state Tourism Commission, was attacked as tone deaf and offensive: how could the city talk about returning to "normal," activists demanded, without recognizing that "normal" is how we got here.
As the swarm of national media has packed up and left for south Texas on their way to the next disaster, Charlottesville is once more out of the national spotlight. But residents have increasingly turned the spotlight inward to ask if the city is committed to battling white supremacy at home as vigorously as we reject those from out of town who came here to terrorize us.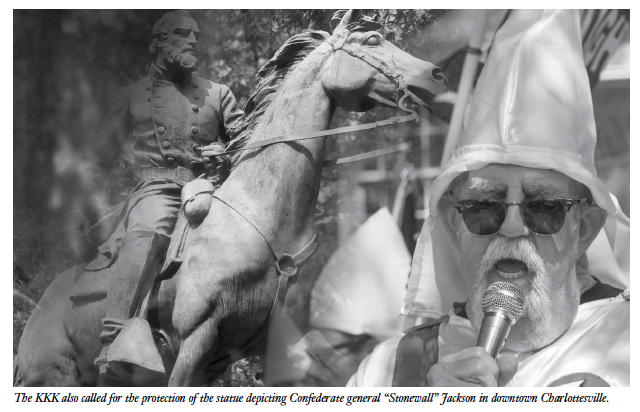 The Statues are Still Here
As city after city across the nation tears down monuments to the Confederacy in the wake of August 12, Charlottesville's statues of Robert E. Lee and Stonewall Jackson are still standing. An arcane state law that may or may not prohibit Virginia cities from removing war memorials has been cited as the basis for a court injunction in a lawsuit brought by the Daughters of the Confederacy and a loose coalition of "southern heritage"-loving Charlottesville residents.
For generations, white Charlottesville – and America – has refused to recognize that Confederate statues in our midst were a direct slap in the face to our African-American neighbors. That refusal is one with the inability to see what it's like to be part of a community that has been systematically disenfranchised for 300 years, criticized for being militant or overreacting when they call attention to problems that their white neighbors don't understand or see, and being told to accept the slow, incremental change that will take generations to close gaps in housing, economic opportunity and education.
Many of us in Charlottesville have long been committed to the work of racial justice, and believe that the removal of the Confederate statues is necessary if we hope to move forward to true justice and equity. We should have done it years ago.
But Charlottesville and the other cities it has inspired to tear down their own monuments to white supremacy must not stop there: we must continue to take concrete steps, in collaboration with all sectors of our communities, to root out white supremacy in our laws and systems as well.
Dismantling Inequity in Charlottesville
We do take some comfort from the knowledge that one reason the Unite the Right Rally chose to invade Charlottesville is that the City Council, on which I serve, had publicly committed ourselves to not just removing a statue, but to working toward racial justice, LGBT celebration and rights, cultural diversity, and resistance to the dangerous rhetoric and actions of the right.
The vast majority of participants in the Unite the Right rally were not from the area, in most cases not even from Virginia. They flew and drove in from around the country to invade and intimidate us.
The City of Charlottesville has publicly committed itself to becoming a community that values true diversity and promotes racial and economic justice. Over the past several years, we have begun to make real inroads in closing longstanding gaps in school achievement, employment, community engagement and historical narrative.
We have partnered in an Alliance for Black Male Achievement, welcomed hundreds of refugees and other immigrants, banned the box and raised the Living Wage for all city employees, provided college and childcare scholarships and expanded public preschool, after school and summer programming, increased graduation rates, and created employment pathways to quality jobs.
In this year's budget alone, the city government doubled funding for affordable housing and added funding for an additional HBCU college scholarship, for a school curriculum on African American history, for GED training in public housing neighborhoods, for a Youth Opportunity Coordinator to focus on the needs of youth of color, for public housing redevelopment, for historical markers to memorialize our city's African American history, for recreation facilities in neighborhood parks, and for a second round of the Dialogue on Race begun almost a decade ago.
The city requires developers to provide affordable housing or contribute to the Affordable Housing Fund to the maximum extent allowed by state law, and has petitioned the state legislature to give it more latitude and power – currently strictly limited. The City Council this year committed to fully fund HUD Housing Choice Vouchers and establish a Landlord Risk Reduction Fund to expand the number of affordable rental units for very low income residents as local rents rise. The City's Housing Advisory Committee has developed a list of recommendations to increase the availability of affordable housing; the Council has adopted the first round of these recommendations. Many of the practices used by others cities to increase affordability are not allowed to cities under Virginia law, so the Council has developed a list of legislative proposals to change state law to allow them here.
Our police department was one of the first in Virginia to agree to collect data to identify and eliminate racial inequities in our law enforcement system, and instituted training and policies that ensure that that work continues. We've studied and reduced disproportionate minority contact in the juvenile justice system and begun a similar study of the adult system; we've reduced our jail population and reduced recidivism, and increased employment opportunities for folks coming out of incarceration.
In the past few years, our police department has recommitted itself to building relationships, particularly in the African American community, to increase trust and make our city safer for all our residents. This work is imperative, as all our citizens need to be confident that the police will be there for them.
And yes, we voted to move the statues of Confederate generals Robert E. Lee and Stonewall Jackson from their venerated pride of place in our most central parks.
Have we eliminated racial disparities in our city? Clearly not. Have we eliminated all racial bias and disproportionate minority impact of our policies and actions? Not yet. Did the fact that we left standing for 90 years monuments to the lost cause of the Confederacy constitute a collective wink and a nod to the forces of white supremacy? Undoubtedly.
That's why we must re-commit ourselves to the work already begun to make Charlottesville, as the City Vision inspires us to be, "A Community of Mutual Respect, [i]n all endeavors … committed to racial and cultural diversity, inclusion, racial reconciliation, economic justice, and equity."
As a newly awoken public demands that white supremacy be addressed at home as well as from organized hate groups, we are hopeful that future city councils – and those in other cities – will be able to accelerate progress on these and other initiatives. It will take continued public pressure to prevent city leaders from accepting the progress that has been made as enough, and truly begin to achieve the economic, educational and political equity that our Vision demands.
Some folks have been asking me if Charlottesville is getting back to normal, and I've responded that I don't want to get back to normal. Along with my neighbors, I am working to make sure we come out of this traumatic summer more unified and with even more determination to live out the values we hold dear.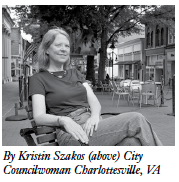 Kristin Layng Szakos is an activist and former journalist who has lived in Charlottesville since 1994. A writer who has served as a member of the Charlottesville City Council for eight years, she serves on the National League of Cities Race, Equity and Leadership Council, as well as the NLC Youth, Education and Families Council and Public Safety Policy Committee and a dozen local boards and authorities. She and her husband, Virginia Organizing Executive Director Joe Szakos, are the authors of two books, We Make Change: Community Organizers Talk About What They Do – and Why and "Lessons from the Field: Organizing in Rural Communities (published by Social Policy Press).