Written by Fred Brooks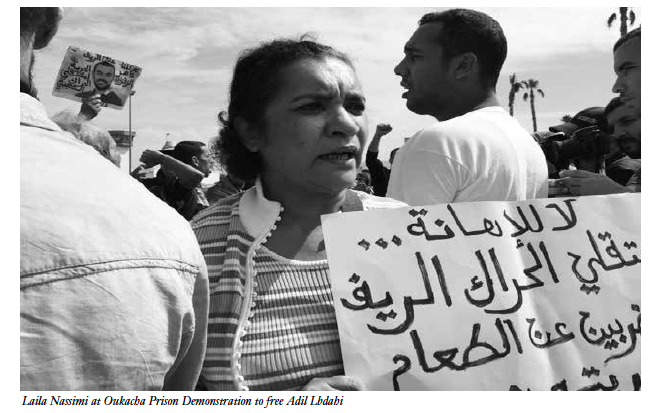 Our organizers from ReAct France and Morocco—Marielle Bencheboune, Laila Nassimi and Bouchra Rhouzlani—created a full action packed week for the delegation of community and labor organizers from North America and Italy. During the week in Casablanca and Rabat we met with a wide variety of organizers and activists working in the following areas: free speech and press; labor unions, theatre groups, women's organizations, political prisoners, the Hirak movement in the Rif region, freedom of religion, LGBTQ rights, and domestic workers' rights. The impressions of Moroccan organizing and activism I describe here were filtered through translations (French to English), and we realize in just a week there is no way we can understand and describe the full depth and breadth of organizing happening in Morocco today.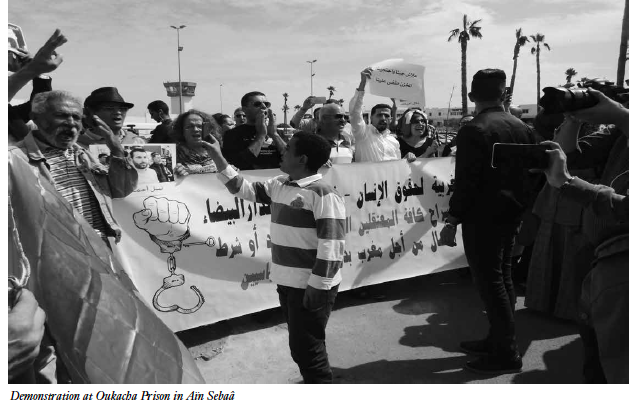 Context/Background
A journalist in one of our first sessions described Morocco as "the most neo-liberal country in the Middle East." Journalists and academics argued that in the 80s the ruling regime in Morocco endorsed a strong turn toward a neo-liberal agenda. For the past 30 years the regime in power has diminished the public sector in the areas of health care, housing, water supplies, electricity and education. One journalist reported that 80% of children are currently enrolled in private schools; (according to him) these schools function primarily to support the current regime and offer little in critical education. A majority of the population has no health insurance, and hospitals are understaffed and lack adequate supplies and medical equipment. Corporate interests have influenced the water stressed agriculture sector to grow products for export markets, such as flowers, rather than prioritize food products for local consumption. Free trade agreements have opened up Morocco to foreign corporations by offering cheap labor, little or no taxes, no regulation, and a harsh anti-union environment resulting in what was described as a "Maquiladora" zone in northern Morocco. A major example of this was an expansive call-center industry employing some 75,000 workers in low paying jobs, with difficult working conditions, and oppressive anti-union management structures.
Another activist we met with described King Mohammed VI as the "first banker, first insurance company, and first farmer" suggesting the ruling family owned huge swaths of the corporate sector in most major industries. While less than 6% of workers are unionized a majority of urban workers are in the informal sector working for modest pay with no benefits.
One of our host organizers, made the oppressive organizing atmosphere perfectly clear when she described the three tier process the authorities use to harass activists: 1) Intervene in an activist/organizer's personal life by getting their landlord not to renew their apartment lease (resulting in eviction), and/or getting their employer to fire her/him. 2) Arresting the activist and imprisoning her/him for 30 days or so. If these first two tactics fail to deter the activist, the third method is active surveillance and assassination attempts. The organizer stated her friend Rabii Houmazen, who was a prominent leader of 20th of February Movement in Kenitra, experienced all three forms of harassment and was currently on-the-run and hiding from authorities. As this article goes to press Rabii Houmazen has made it safely to Tunisia, and is currently seeking asylum. To naïve westerners, whose pre-visit impression of Morocco was a stable, cosmopolitan, tourist friendly country—the environment for organizing seems harsh and challenging at best and quite dangerous at worst.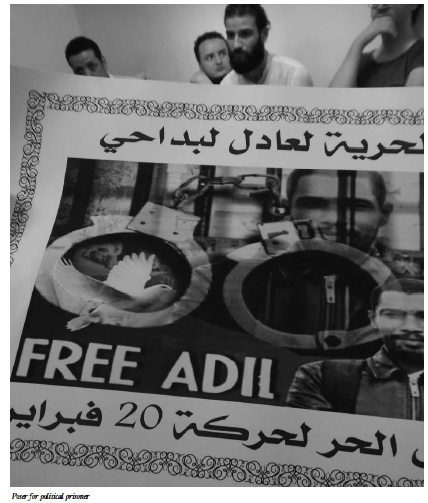 Organizing Through Theatre
Listening to all the speakers we heard during our week in Morocco it was difficult to tell if the Arab Spring uprisings had any positive lasting effects on organizing for social and economic justice. The people we met with that appeared most positive and optimistic about the direction of Morocco were leaders in two different theatrical organizations Racines & Theatre of the Oppressed. They felt the 2011 Arab Spring demonstrations had opened up "the square" and other public space to artistic/cultural expression that their theatre groups (among others) were taking advantage of. They used theatrical performances in public spaces to entertain and educate children and others. The theatre group Racines adopted a slogan "Culture is the Answer" as a direct challenge to the Muslim Brotherhood slogan "Islam is the Answer." While the theatre leaders were optimistic and ambitious, it was difficult to see how quickly this type of organizing would produce material improvements in people's lives in areas like jobs, housing, or health care.
Housing
The only session the Organizers' Forum had on housing painted a fairly grim picture of the status of affordable housing for low to moderate income families. We met with an official from the Housing Committee of the Moroccan Association of Human Rights. On the positive side, for many decades many Moroccan families benefited from rent control that allowed modest rents from the 70s and 80s to be inherited by younger family members who remained in long rented apartments. In recent years it has become common for the owners of old apartment buildings to allow the physical structures to deteriorate to such an extent that the building can be condemned, tenants removed, and the property either sold for development or rehabilitated into expensive condominiums. The impression given was that landlords are doing whatever they can to get around or phase out rent control laws in Casablanca. The housing committee receives numerous complaints, on a weekly basis, from families who state they are being wrongfully evicted. The housing committee sometimes intervenes to stop evictions, but it appeared they are only able to temporarily delay evictions rather than stop them completely.
The practice of eminent domain seemed heavily biased toward government and corporate interests. According to the housing official, low and moderate income tenants are often displaced from central city neighborhoods (where they were conveniently located near jobs and markets) to social housing built way out in the suburbs of Casablanca. He described these new locations as very disruptive for the families relocated to the suburbs. One tactic that the Housing Committee has used with modest success is getting historic buildings declared "landmark" status which prevents them from being torn down. The committee won landmark status for two buildings, but it was not clear how many units of affordable housing were saved by these declarations. Like many cities, the fight for decent and affordable housing and against gentrification in Casablanca seems like a steep uphill battle.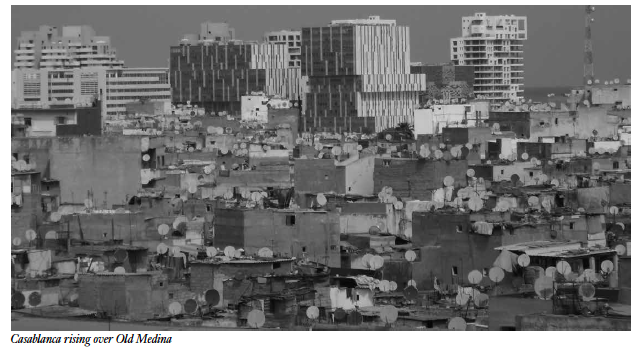 Political Prisoners
During the week, the Organizers' Forum was scheduled to visit the family of a Adil Lbdahi, a political prisoner sentenced to three years in prison for blogging about a local politician involved in political corruption (never clear on what he was officially charged with but exposing corruption was what upset the authorities). The family lived out in the suburbs of Casablanca, in what local parlance calls a "popular" neighborhood. "Popular" appeared to be a euphemism for low and moderate income neighborhood. The pre-visit briefing, by local organizer Laila Nassimi, got everyone's attention quickly when she warned us that the family is under surveillance by the authorities, and while visiting the neighborhood we might be followed and the authorities might even hire local gangs to harass, intimidate, rob, or resort to violence during our visit. In dramatic fashion she said we should all think about this seriously, and make our own, individual decisions about whether to take this risk or not. If we decide to go we should leave laptops, cameras, and large amounts of cash back at the hotel. This was definitely a more sobering preaction prep session than the one's we are used to in Canada or the USA.
As it turned out, the scene when we arrived at the family's home was 180 degrees from the worst case scenario we had prepped for. We were warmly greeted by 15-20 local activists, neighbors and family members who seemed excited about our visit. Between our group of 10, and assorted family and friends we packed the front living room for presentations and dialogue; people were sitting on the floor, jammed in the doorway and out into the hall. Cameras were out and videotapes rolling for the entire session. The excitement in the room suggested this was the most highly anticipated dialogue of the entire week in Morocco.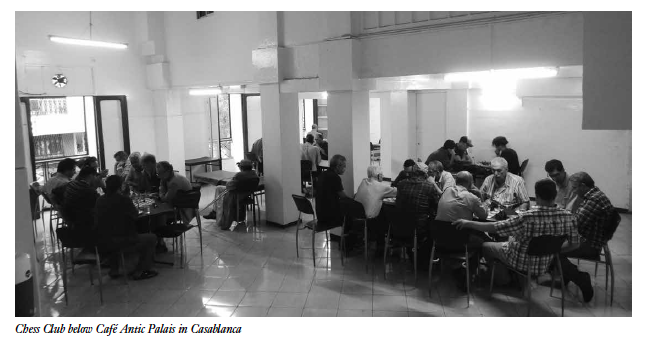 While it is difficult to get an accurate count of the number of political prisoners currently locked-up in Morocco, the Hirak uprising in the northern Rif region has resulted in some 300 people detained for nothing more than participating in protests against police harassment and for free speech, job opportunities, electricity, clean water and more funding for education. Adil Lbdahi was involved in the February 20 protests associated with the Arab Spring and had continued to blog on a website titled "Body of Moroccan Life." After posting a video that showed a corrupt deal between a local politician and "the mafia" he was arrested. The judge at this trial also served as the jury and he was promptly sentenced to three years in prison. When we visited his family Adil was still in solitary confinement and his mother had not yet been allowed to visit him even though he had been imprisoned for over 30 days. At the end of our dialogue Adil's family and supporters invited us to a protest the following afternoon at the Oukacha Prison in Aïn Sebaâ (another suburb of Casablanca) where he is incarcerated.
After the Organizers' Forum delegates debated the pros and cons of a handful of westerners participating in a local action, we decided to honor their invitation and attend the protest for one hour the following afternoon. The protest was in full-swing when we arrived around 1:30; over 50 local supporters were singing, chanting, carrying signs and picketing peacefully in an empty space some 25 yards from the prison entrance. Since all the chants were in Arabic or French it was challenging to join in, but considering the chant leaders did not have a bull horn it was some of the most boisterous chanting we've ever heard at a demonstration. The protest continued with no intervention from the authorities who were massed on the opposing corner of the wide boulevard in front of the prison entrance. The prep session for this rally was not as ominous as the one before the neighborhood visit, but we were explicitly told not to speak to any reporter milling about asking questions. We were told that the authorities pay informants to pose as reporters, who infiltrate the protests to try and collect whatever information they can that would be useful to authorities.
While it is difficult to ascertain if our presence had any impact on the treatment of the political prisoners, Laila Nassimi reported that following the protest Adil was allowed to have a cell phone for the first time so he could call his family, and 37 political prisoners from the Hirak uprising were let out of solitary confinement and they promptly ended a hunger strike they had been on. The local organizers had the impression that the presence of westerners at the demonstration, "who were not just here for tourism" seemed to have helped the prisoners cause. If this is true, it does not bode well for the treatment of the prisoners after we left Casablanca.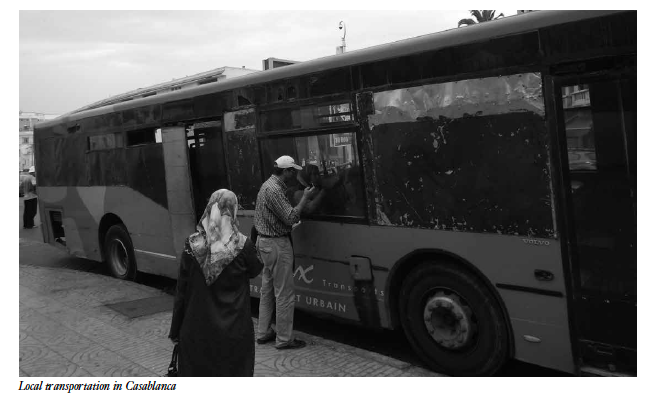 Conclusion
Having spent only a week in Casablanca and Rabat and listening to the views from the ground of 15 activists/organizers it is difficult to say which way the "moral arc of the universe" is currently bending in Morocco. One piece of evidence suggested there was probably a lot more organizing going on, beneath the radar, beyond what we were exposed to during our week in Morocco. On the second night of the conference our delegation assembled in a large meeting hall waiting for the arrival of youth from four progressive political parties. The topic for the evening was "Workshop on the current radical left." After waiting some 45 minutes for the arrival of the young radicals, our local host got a call that another organizing opportunity had arisen that the youth had to jump on immediately so they would not be able to speak to us that evening. It was hard to glean everything through the translation, but it was pretty clear that there was more movement on the ground than we could keep up with during our brief week in Morocco!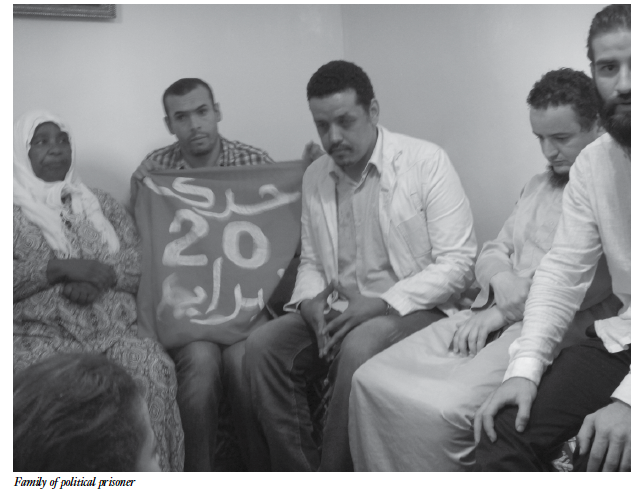 Fred Brooks is a professor of Social Work at Georgia State
University in Atlanta.