Written by Ashley Reyns
Introduction
Too often women from African and Middle Eastern countries are depicted as powerless victims beholden to the wishes and archaic laws of a more powerful ruling class of men. While this article will not sugarcoat the dire conditions that come with living as a woman in Morocco, it will seek to paint a different kind of picture. The women organizers that delegates of the 2017 Organizer's Forum met were far from powerless; they were passionate, motivated leaders shaking up the foundations of the neoliberal and patriarchal systems of Morocco.
The Family Code
One of our first introductions to women's rights in Morocco was on the second day of the forum when our speaker, Mr. Hapsee of the Parti Socialiste Unifé, mentioned in passing revisions to the Family Code. As curious organizers we probed for more details and as such the Family Code continued to be a topic of discussion throughout the week. The Family Code of Morocco governs laws pertaining to marriage, children, divorce and inheritance. First attempts at reform made by progressives and feminist organizations such as the Association Démocratique des Femmes du Maroc (ADFM) were met with
significant backlash from the Islamist Party and others. Nonetheless, in 2004 when revisions were proposed by King Mohammed VI the opposition jumped in line.
While enormous gains had been made with the new amendments - women's independence under the law, divorce requiring approval by a judge as opposed to just the husband's word, and requiring women's legal consent before engaging in polygamy – our hosts were still critical of what still remains to be improved. Some of those areas included underage marriage, division of assets upon divorce and inheritance laws. While the legal age for marriage is 18, girls between the ages of 15 and 18 can still be wed under the discretion of a judge. Moreover, if there is no formal division of belongings between couples before marriage, by default the husband becomes the sole owner of these items. And finally, in the case of inheritances little progress has been made. While inheritance is an old issue for the ADFM there is fierce opposition from the Islamist Party making it very difficult for groups to push the issue. Therefore, male children of deceased family members still receive twice in inheritance as female children.
Violence Against Women
Violence against women is one of the most widespread yet ignored human rights violations across the globe. Despite Bouchraaldef's assertion from The Association Challenge for Environment and confirmation from Houdna, President of the ADFM, that violence against women is one of the biggest issues facing Moroccan women, we barely scratched the surface of how that violence transpires in everyday life.
One of the most jarring examples we were told was that of the institutional and physical violence against single mothers. When a single woman gives birth to a newborn the mother must pick the child's last name off a list as opposed to the child inheriting hers. Moreover, delegates were told that it is horrifyingly commonplace for when a single mother goes to a hospital to give birth, that if a Caesarean Section is needed, the cut is rough and the incision is sewed crudely back together as if to inflict even more pain during one of the most physically painful human experiences.
Though only touched on briefly, tales of sexual assault and harassment- like most places of the world were not uncommon. Whether that story is of the sexual exploitation of domestic workers by their rich employees, activists being molested by the authorities or even my own run ins with street harassment walking down the sidewalks of Casablanca and Rabat, the consensus is that Moroccan women are still forced to struggle with the sexual objectification of their bodies much like all women across the world.
Women in Politics & the Streets
While only two countries in the world can currently boast 50 percent or above representation of women in parliament, women in Morocco have made significant progress on this front thanks to feminist organizing. The ADFM was one of the first feminist organizations in Morocco. Created in 1985, it was founded by left wing party activists who couldn't pursue their issues in their own parties so they created their own association. Their core goal is the advancement of women's rights and women's involvement in politics. Before 2000, women's participation in politics was 0.05% but has since risen to 21%. It is worth noting that this figure is higher than the United States of America and is not far behind Canadian representation. Nonetheless, the numbers drop once you examine the percentage of women that hold roles of major responsibility in politics.
Outside of the realm of traditional politics women still have to fight to have their voices heard, even in resistance. Bouchra Rhouzlani and Laila Nassimi, two of our Moroccan organizers, were by far two of the most spirited activists we met during our stay so it is frustrating to think of how much energy it would have taken to attempt to silence them. Yet both organizers commented on how in the beginning of the February 20th Movement attempts were made to deprioritize the issues of women. The droves of women that came to participate in the movement were alarming to some and active attempts to reduce their role were made. Despite their opposition, Laila and Bouchra successfully helped create a women's committee in 2012 to highlight and legitimize the issues brought forward by women in the movement.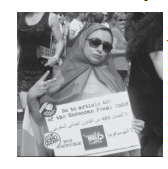 Organizer Profiles: Fighting for Individual Rights – Ibtissame Betty Lachgar
In 2009, Betty founded the organization MALI which in Moroccan dialect means, "so what if I am different." Betty proclaims that MALI was one of the first movements in the Mena Region to use social media to mobilize people on the streets. MALI is a universal, feminist, secular movement that specializes in civil disobedience. Its main focuses include individual liberties, women's rights, sexuality, abortion rights, freedom of speech, LGBTQ+ rights and religious freedoms. These topics of discussion are taboo in Morocco but MALI is chipping away at these barriers.
MALI was at the heart of the February 20th Movement in Rabat. Betty's aggressive participation in the movement got her a lot of unfavourable attention due, in particular, to the t-shirt she wore during one of the marches. It stated bluntly, "I don't need sex, the government fucks me every day." While applauded by delegates of the forum and followed by inquiries on where we too could buy one these shirts, this infamy for her unabashed activism came with real life consequences. On Dec 31st, Betty was harassed and when she tried to report the incident to police she was arrested for 24 hours. This was only one of the several times she's been unjustly detained by authorities because of her activist status.
In 2012, MALI took aim at abortion rights by inviting the Dutch organization, Women on Waves, to Morocco. Women on Waves' mission is to prevent unsafe abortions by providing safe medical abortions and education on women's right to bodily autonomy. It was the first time the boat had come to a Muslim country. Betty explained that the drug that could safely induce an abortion previously had been accessible without a prescription, but this is no longer the case. Now the drug requires a prescription with many doctors refusing to sign the doctors' pad; acting as gatekeepers to a woman's right to choose. As such, the need for such an organization was strong. Anticipating opposition from the authorities, MALI very cleverly advertised the wrong date for the boat's arrival so by the time the government had come to block the boat's entry they were a month late.
In 2013, MALI broke taboo again by organizing a kiss-in outside of the parliament building in Rabat. The protest was in response to the government's arrest of a teenage couple (both of which were only 14 years old at the time) and their friend for taking a photograph of the couple kissing and posting the image on Facebook. Public displays of affection such as holding hands or kissing are illegal in
Morocco and this form of civil disobedience seemed to disrupt the values of passer-by's to the very core. 40 people participated in the kiss-in and within two minutes chaos broke loose. This time it was the public who attacked first, mainly men, followed by police.
Since 2013, MALI has focused largely on the rights of the LGBTQ+ community. In 2012 MALI was actually the first group to organize around International Day Against Homophobia and Transphobia in Morocco. The circumstances under which those who choose to be open about their sexuality live with on a daily basis are violently oppressive– even if just among family and friends. Members of the LGBTQ+ community are assaulted, jailed by the police and either shunned by family or married off as an attempt to "cure" them.
This can escalate even further if you're queer and a political agitator. Betty and her partner went public that they live together and have sex; as a result, a fatwa- a holy decree for her blood – was issued against her. In 2015 she was put on ISIS's hit list. With many disturbed faces around the room, Betty was asked how this has impacted her personally, but she was quick to respond that she is used to this and she is ready to die for her beliefs, leading many of us to refer to her later on in conversations as a warrior. And a warrior she is.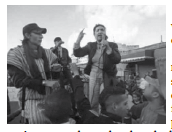 Breaking the King — Laila Nassimi
Laila Nassimi was born in the village outskirts of Casablanca in 1961. When asked what motivated her to get into activism her response was quick and simple – her father. Her father was a prison guard of political prisoners and very loyal to the king. Laila, however, was a rebel girl. When Laila was around 8 years old she transcribed a Tunisian poem into her own language but with one edit. She changed the poem's sentence, "if the people break their chains," to ",if the people break their king." Laila's father found the poem and chained her inside the house for 3 months; she was a prisoner in her own home. After 3 months Laila was given "temporary freedom" by attending school but would be locked up in the garage every day afterwards.
In 1979, when Laila was 18, she escaped and started her life with no money but would take small jobs in a pharmacy or at a bar. Laila recalled her first experience of activism being acts of feminism. She was the first woman in 1985 to play chess competitively and gained national attention in 1986 when she out-skilled the rest of the competition and became the first female chess champion of Morocco.
However, Laila's troubles did not end after leaving her father's house. From 1988 to 1997 she was married to a man who was an alcoholic and physically abusive towards her and her two children. She wanted a divorce but this was still illegal under the Family Code when requested by a woman. After leaving her husband Laila became homeless. But in 1999 Laila found work in a marketing company and was able to afford a trip across Morocco. During this trip she saw everyday people with no money who were bored and lacked education. In addition to her own experience, this trip made her very sensitive to the cause of her people.
A few years later she took a seminar on mass mobilizing and knew she wanted to put this new knowledge into practice. In 2007, she created her own social/cultural association. At the same time she was
working at a call centre. Initially, Laila thought the call centre would be a good gig since it started in Europe and workers' rights would be expected. However, rights were not respected and Laila started talking to her colleagues about organizing a union. When the boss found out management fired 350 workers, leaving Laila and her coworkers crestfallen – at that point in time she said she did not know if change was even possible
But on February 20th 2011 – in her own words – she went back to break the king. Since the start of the February 20th movement, Laila has been most proud of standing up for the rights of political prisoners as she believes freedom of expression is one of the most sacred freedoms. According to Laila, she is fighting for the rights of everyone – the king included – even if he doesn't know it.
In closing, I had asked Laila as we sat in the lobby of our hotel in Casablanca, if there was one thing I had to be sure of to include in this article what would that be? Laila's response was that the people – especially the people of Arab or monarch countries – suffer because they are poor. Poverty doesn't stop death, it stops life. Fear doesn't stop death, it stops life. The people must rise up together in solidarity against fear in order to live a better life.
Reflections and Conclusions
While there are no better words than Laila's, I feel obliged to conclude this piece. Feminist organizers and progressives alike should be congratulated for the accomplishments that have been made in advancing women's rights under the law. Nonetheless, there is still a lot of work to be done on the ground. That being said, regardless of the significant challenges that face them, I am deeply encouraged by the relentless force of will behind the women organizers we met that change is in fact possible in Morocco.
Ashley Reynes directs the Ottawa office of ACORN Canada.