Written by Camille Walsh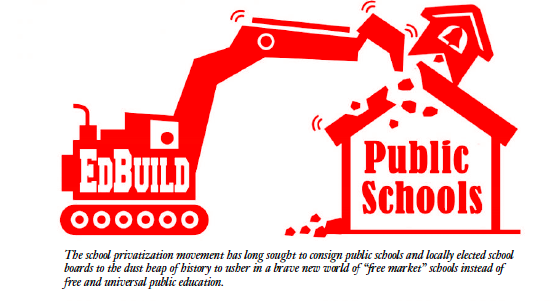 At the start of the recession of 2008, Kelley Williams-Bolar's daughters had been attending Copley-Fairlawn schools in suburban Ohio for two years already. Williams-Bolar worked as a classroom aide with Akron Public Schools and lived in Akron, but she had grown worried about her daughters' safety walking home from the Akron schools when she was at work. She listed her father's address on the enrollment forms for Copley-Fairlawn, which allowed them to attend Copley schools as residents without the out-of-district tuition fee. In 2008, Copley-Fairlawn hired private investigators to track parents' addresses and began offering a hundred-dollar bounty to anyone who turned in another family "illegally" obtaining education. By 2008, a private investigator hired by the district had been watching Williams-Bolar's home in Akron for months, keeping track of the time her family spent away from her father's home in Copley.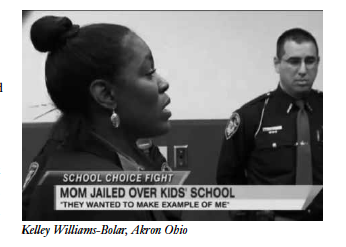 Though the case was picked up by the national media, defenders of the school district remained convinced that local taxes could, should, and did define the rights of citizenship not only for Williams-Bolar but also for her children. Copley resident and Akron Beacon-Journal editorialist Bob Dyer argued that the case had nothing to do with race and blamed Williams-Bolar for her predicament, saying "I pay a lot of money in property taxes, 53 percent of which go to the schools, and I want the money to go to the people who live in the district." In January 2011, Williams-Bolar was found guilty of felony record-tampering and sentenced to five years in prison (later reduced to ten days with time served). That felony conviction — falsifying records to attend a different school — was a first for Ohio. Since that conviction, which endangered her special education career plans, Governor John Kasich has reduced such convictions to misdemeanors, stating that the original punishment was "too harsh." Williams-Bolar has since organized an Ohio "parents' union" as an intended counterweight to teachers' unions. In organizing this parents' union, Williams-Bolar now works with a self-described "free market think tank"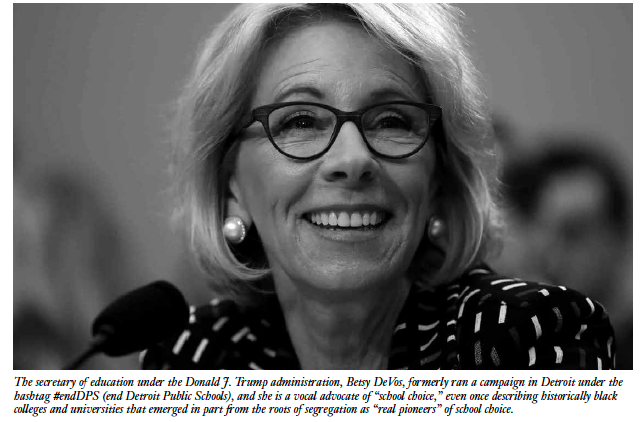 Another African-American mother, Tanya McDowell, was arrested and charged with first-degree larceny for the "theft" of educational services from the Norwalk, Connecticut, school district in April 2011. McDowell, who was homeless at the time of the arrest, was accused of living outside Norwalk since she rotated between a Norwalk homeless shelter and a friend's house in Bridgeport, Connecticut, where she could sometimes stay the night (but wasn't allowed to be during the day). Though the city, rather than the school district, brought the charges against McDowell in the case, Norwalk school board president Jack Chiaramonte told a local newspaper that "there has to be a penalty for stealing our services." McDowell was sentenced in March 2012 to five years in prison for felony larceny of $15,686 of "free" education services from Norwalk and four counts of sale of narcotics. As the language of these cases indicates, the notion that some people are "taxpaying citizens" who have "paid" for the public schools and that some (poor, black, female) people are "stealing" services is not only still pervasive but perhaps better organized than ever.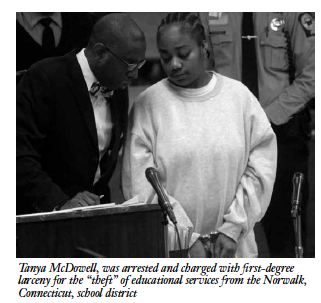 In East Baton Rouge Parish, Louisiana, wealthy and middle-class residents have sought to create their own new city, school district, and property tax system in the name of local control. The reported impetus for this move is that the current East Baton Rouge school district of forty-two thousand students encompasses a number of high-poverty neighborhoods along with the wealthy, high-value property neighborhoods pursuing separation. One mother of two students in the district, Tania Nyman, said that the plan would "devastate us," because "they're not only going to take the richer white kids out of the district, they are going to take their money out of it."
Other cities, including Birmingham, Alabama, have pursued similar plans to split districts between wealthy and poor neighborhoods. But Alabama also has the distinction of the lowest per capita property taxes in the nation. In 2012, in Lynch v. Alabama, poor school-children and their representatives brought suit against the state arguing a rare historical argument – they claimed that the property tax system created in the 1901 constitution was intended to protect wealthy landowners from high property taxes and prevent black schools from accessing funds and was therefore discriminatory.
Added to this, in the 1970s, state constitutional amendments ensured that certain types of land, specifically timberland and farmland, would be taxed at levels as low as possible. This left rural school districts in Alabama's Black Belt unable to raise enough funds for basic educational
needs. Plaintiff Stella Anderson, a mother of two who lives in rural Sumter County, stated that "if things continue the way they are with farmland and timberland not being taxed properly, then what we're going to see is more declining of educational resources within rural communities especially but the entire state…This is not about trying to increase anyone's taxes. It's about doing the right thing." In 2011 district court judge Lynwood Smith penned an 854-page opinion denouncing the history of racial discrimination in Alabama's educational system but dismissing the claim that the property tax laws were enacted with racially discriminatory intent, and in early 2014 the ruling was upheld by a federal appeals court.
While only a handful of such challenges to property tax based, racialized school finances have survived litigation, taxpayer -rights agendas and tax politics have grown more deafening in recent years. And the attention and anger of these movements is frequently focused on the poor, immigrants, or perceived recipients of government payments. A minor media outcry emerged in 2010 when it was claimed – through a partial use of statistical information – that nearly half of all households do not pay federal income tax. By 2012 the notion that almost half of US households were "shirking" their tax responsibilities had become a conservative standard. While Mitt Romney faced a great deal of criticism when he made remarks about the "47% of the people …who are dependent upon government, who believe that they are victims," it is perhaps most telling that he linked each of these negative stereotypes specifically with the notion that "these are people who pay no income tax." The rhetorical connection between the amount and type of tax payments (since there does not seem to be any serious analysis that claims that these families pay on taxes of any kind) and the degree of citizenship and rights has never been more opening embraced than in the past two years. Simultaneously, movements explicitly centered on tax-based anger, like the Tea Party, have focused their ire on the Department of Education and tax-based public education funding in particular as "blatantly unconstitutional." The secretary of education under the Donald J. Trump administration, Betsy DeVos, formerly ran a campaign in Detroit under the hashtag #endDPS (end Detroit Public Schools), and she is a vocal advocate of "school choice," even once describing historically black colleges and universities that emerged in part from the roots of segregation as "real pioneers" of school choice.
At the same time, recipients of the earned income tax credit are often described in derogatory terms as welfare recipients or "takers" including by members of Congress, and they are among the groups most heavily targeted for audits. In fact, comparative analysis of state tax systems illustrates that many states' taxation schemes force the lowest-income residents to pay up to six times more of their income in taxes that the wealthy pay. Meanwhile, racialized economic disparities continue to seriously affect education funding. And there are calls for more progressive taxes to fund education – in California, Proposition 30 was passed in November 2012, temporarily raising the income tax rates on the wealthiest residents while increasing the sales tax by a quarter of a cent, while Proposition 38, which would have temporarily raised taxes on all incomes over $50,000 failed.
Exempting pure subsistence income from taxes is inherent in our graduated income tax structure – the Tax Policy Center has illustrated convincingly that for most households with no federal income tax liability, the "zeroing out" results from low levels of income rather than any particular tax breaks. Ironically, it was the George W. Bush tax cuts, lowering marginal tax rates across the board and granting a huge windfall to the wealthiest Americans, that bumped millions of lower-income families into that "47%" by eliminating their modest federal income tax liabilities. That signature Republican policy has now created a quite explicitly class-based argument that nearly half the nation is made up of half citizens, people who cannot be fully brought into conversation or consideration since their federal income tax liability zeroed out in one or more years. These half citizens, viewed as such due to an inextricable combination of their (tax-based) class and (class-imputed) race, are particularly vulnerable to attacks on basic common goods like public education.
The organization EdBuild developed a map in the summer of 2015 that illustrates the nature of the inequities in school financing in spatial terms. This map exposes the way that the children of, for example, Camden, New Jersey, are "fenced off from their more affluent peers –
in effect, sacrificed to keep the poverty of the city from dragging down the property wealth of its neighbors." [Jonathan] Kozol, in his discussion of economically and racially segregated school districts, points out that most citizens never have to acknowledge the denial of equal opportunities to other people's children because "inequality is mediated for us by a taxing system that most people do not fully understand and seldom scrutinize." The power of tax systems is their ability to hide in plain sight, even as they enact great injustices.
Drawing Conclusions
Popular US history and legal mythology about public education understandably focus on the importance of Brown v. Board of Education. Backlashes, court battles, and Cold War cynicism aside, it represents what many Americans see as the best of the nation in the last fifty-plus years. Brown, however, cannot make sense of the ongoing racial and economic segregation that continues in U.S. schools. The problem of racially segregated, economically unequal school expenditures predates and has long outlasted formal Jim Crow segregation laws and their overturning in Brown. The techniques of separate taxation structures facilitating segregation and inequality may have been pioneered in the South in the nineteenth century, but they have been perfected in the North and West.
Hidden behind the seeming innocuousness (and impenetrability) of tax law and "local control," these racially separate property tax bases have created dramatic disparities in the funding of white and black schools since the Civil War that Brown did little to change. In Rodriguez the court ruled that there was no constitutional right to education and that property tax-based school financing did not discriminate on the basis of wealth, despite the 96 percent minority student population and the fraction of funding they received compared to overwhelmingly white, wealthy school districts. In doing so, the court reflected a legal consciousness of taxpayer citizenship rights that had briefly appeared a hundred years prior to offer equity and protection for poor families. But in Rodriguez they pushed it to its logical end to argue that those who were too poor to pay high enough taxes or live in a wealthy enough area to fund their schools adequately were simply enjoying the "equality" of the marketplace.
The story of racial segregation in public schools and the legal battle to overcome it has been told many times before as a battle over race and rights. That legal battle was also strongly connected to a racial consciousness of "taxpayer" rights that had an earlier legacy in aspirational equality litigation that would have an important effect on later possibilities for demanding educational equality in the courtroom. Ultimately, though newly freed slaves, school board attorneys, segregationists, and NAACP activists would seem to have little in common as a group, they shared an emphasis on the perceived taxpayer status for claiming the right to education. Just as many African Americans who wrote to the NAACP identified their legal rights through the lens of broad "taxpayer citizenship," segregations who wrote to the Supreme Court after Brown demanded the maintenance of their separate and unequal schools in a similar, but more exclusionary, language of "taxpayer rights." The category of "taxpaying citizen" does not have a legally important meaning by itself that could win most of these cases – legal standing as parents or direct constitutional rights violations were virtually always the basis for judicial decisions – yet it was powerfully important in the legal consciousness of citizenship for people on each side of the racial divide. But because of its deep historical linkage to the idea of whiteness and exclusion, the identity of taxpayer bent toward inequality far more often than justice. This act of claiming citizenship and rights through a rubric that is so easily defined in terms of wealth, in terms of who pays "more" and who "doesn't pay," continued to haunt the struggle for equal education.
Education is the sine qua non of the democratic experiment. Without education, freedom of speech loses its function, the franchise loses its effectiveness, and the law loses its meaning. The fight for integrated and equal education continues, but it has also continued to be deflected by a legal system unwilling to see the connections between economic and racial inequality, local taxation, and widespread segregation. A wrong that was given shape and form in the law, nurtured and built up by precedent and legal classification, has yet to find a remedy, but it survives as a rhetoric. In part because of the opaqueness, almost mysteriousness of the deep structure of tax codes and tax policy, the system of racialized school financing and the equally racialized language of taxpayer status have resisted virtually every other social movement transformation of the twentieth century. When we say government funds for schools or roads or parks belong to "the taxpayers," it has a different connotation than if we say the funds belong simply to "the people." Though an identity as a "taxpayer" may have inspired momentary coalitions and sometimes prompted bursts of pride and patriotism, ultimately the division between "taxpayers" and "taxeaters" grew from the roots of racial segregation, white entitlement, and unequal taxation, and its use continues to enable and facilitate those structures today.
Camille Walsh is assistant professor of American and Ethnic studies and law, economics, and public policy at the University of Washington Bothell. Racial Taxation: Schools, Segregation, and Taxpayer Citizenship, 1869-1973 is available from the University of North Carolina Press at www.uncpress.org.