Written by Kevin Albertson, Chris Fox, Chris O'Leary and Gary Painter with Kimberly Baily and Jessica Labarbera

Payment for Success
Early pioneers started exploring the use of Payment for Success (PFS) as early as 2011. Support from the Harvard Kennedy School Government Performance Lab was integral to most early projects. The Government Performance Lab offers a technical assistance model that embeds a full-time staff member within government to provide expertise on the PFS model as well as added capacity for data analysis, project design and evaluation, fidelity monitoring, and performance management. Government Performance Lab fellows also act as liaisons and coordinators for day-to-day activity throughout all stages of the project, providing critical support in the capacity-constrained environment of government, where competing political priorities can make it difficult for staff to devote time to PFS. The work of the Government Performance Lab and its fellows has been supported by philanthropy since its inception, and more recently by the federal Social Innovation Fund (SIF), and has acted as an in-kind contribution to early projects.
After a flurry of activity near the end of 2014, the following year, 2015, was a slow year for new PFS programs, with only one new project launched. Catalytic investments in project feasibility assessment and transaction structuring by the federal Social Innovation Pay for Success program in late 2014 helped to create an invigorated pace of project launches. The SIF is a program of the Corporation for National and Community Service, a federal agency that engages millions of Americans in service through its AmeriCorps, Senior Corps and Volunteer Generation Fund programs, and leads the nation's volunteer and service efforts. The SIF positions the federal government as a catalyst for impact – using public and private resources to find and grow community-based nonprofits with evidence of results.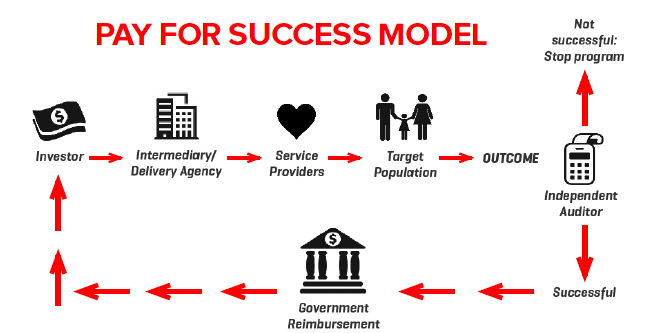 Evaluation Approaches
Evaluation is a central component of PFS. Program evaluation, whether interim or final, triggers repayment of the initial PFS investment, and any additional payments tied to higher levels of impact or success. Evaluations can be paid for by funds raised either through the PFS financing process, or separately by philanthropy or government. In either scenario, payment for the evaluation must not be tied to the achievement of the outcomes; nor can the evaluator have a financial interest or stake in the project.
In the U.S. the majority of projects to date have used a randomized control trial (RCT), considered the gold standard of evaluation design. An RCT relies on comparison to a group of individuals randomly assigned to a control group that does not receive the services being evaluated. For government, an RCT is usually viewed as the best way to ensure that it is paying for outcomes that would not have been achieved otherwise; likewise, some investors and stakeholders in the PFS market feel strongly that the use of an RCT is critical in order to establish the rigor of the PFS model.
Payment outcomes tend to be ones that can be most easily tied to available administrative data from government, though in some cases data is collected by the service providers. Projects define outcomes with different metrics and methods of measurement. Despite differences in projects, only a handful of outcomes have been used namely, utilization of jail or prison beds, academic readiness and achievement, and stable tenancy in housing. However, many projects are tracking multiple indicators and outcomes beyond success payments to build knowledge about population wellness and look for additional ways to improve social service delivery.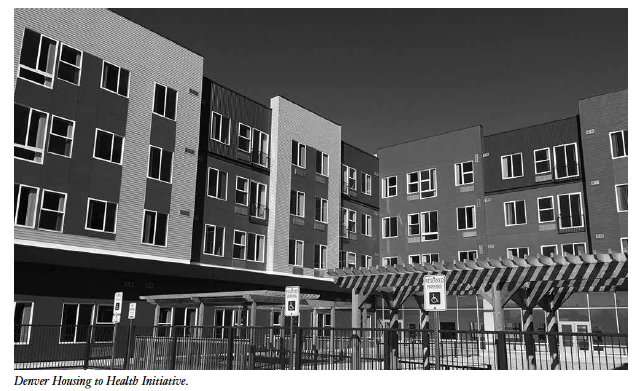 Financial Models
The original conception of the PFS model included attracting private capital to help fund the social good. However, with expected returns often below required returns given the risk of the project, philanthropic funds were typically embedded in the deal, acting as an insurer against non-payment of a contract or a subordinate position to attract commercial capital. Community development financial institutions have also been involved in filling a number of roles in the project development and implementation phases, as transaction coordinators, project managers, and technical assistance providers, as well as acting as senior and subordinate investors.
In the initial 10 PFS projects, senior positions comprised the majority of the capital stock, while the second round has seen an increasing role for subordinate and grant capital. Some argue that the early hope that PFS models could be funded by private equity dollars is partially a failure of the model. Rangan and Chase (2015) note that the second round of PFS projects in the US was mostly funded by philanthropic dollar, and that private equity largely retreated from the SIB approach because investors were being asked to take on an equity risk and receive only bond returns. However, the launch of new funds – such as those managed by Maycomb Capital and the Reinvestment Fund – seeking senior positions in PFS projects shows a continued interest in the model if sufficient subordinate capital can be accessed to mitigate the risk. Further, this next phase also saw projects exploring other financing options beyond the traditional capital stack. Notably, Denver created tranches of senior capital based on issue area. In Santa Clara the first project was launched without commercial capital and the second had no outside investment at all. In Illinois a Social Impact Guarantee structure has government funding a majority of the program up front, while letters of credit secure the project should it not succeed.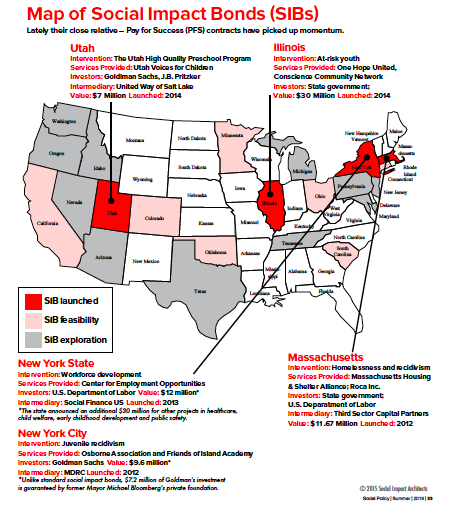 Recent projects have also used different outcomes to trigger repayments to senior and subordinate investor groups, or tranches of investors in the case of the Denver Housing to Health Initiative. This reflects differences in risk tolerance and is only possible for interventions where short-term proxy measures exist that can linked by strong evidence to longer-term measures of success. For example, in housing projects, housing stability for one year with minimum interruptions is considered a strong indicator of longer term stability and retention in housing, with the associated positive benefits of improved health, and reduced use of emergency services and criminal justice systems. Similarly, for early childhood education programs, measures such as kindergarten readiness can be correlated to great rates of academic achievement continuing through primary and secondary school, based on existing longitudinal studies.
Santa Clara's PFS initiatives demonstrate the county's commitment to moving towards outcomes and use of PFS as a tool to further that transition. Project Welcome Home was constructed on the county's willingness to pay for outcomes in excess of the estimated ROI (return on investment) and was also the first project to be constructed using CDFIs in the senior position instead of commercial capital. The county further invested in PFS, launching Partners in Wellness, the first mental health PFS project. The project does not involve outside investors, but rather operates as a risk-sharing agreement between the county and the service provider, Telecare Corporation. This structure has allowed for a deep partnership between Telecare and the county, as they jointly bear the financial risk of the project.
Towards a Conclusion
Since PFS was first introduced to the United States in 2010, the PFS market has established itself as a small but rapidly growing and evolving feature of the social sector landscape. To date 20 projects have gone from concept to implementation, and there are dozens more in development. When PFS was first introduced it was defined narrowly as a tool for upscaling proven interventions that could demonstrate cost savings. While the use of evidence and the potential for cost savings remain two powerful motivators, they are not the only reasons why PFS is used. Early projects demonstrate that practitioners have applied the tool creatively, and in ways that depart from the initial construct of PFS, to help advance solutions to persistent community issues and needs.
It is worth noting that while the initial foray into PFS programs was motivated by increasing the speed of social innovation and determining the scope for redistributing from the public sector for social experimentation, a number of ancillary have occurred that have impacted public management. These ancillary benefits often include encouraging delivery organizations to prioritize investment in the infrastructure necessary to track data and measure the outcomes of social programs, as well as shifting cultural attitudes around measuring whether service programs were truly making a difference in people's lives. For example, the City and County of San Francisco's recent feasibility analysis helped transform the way it plans to serve homeless people in the city, even though it determined that it was not feasible to pursue a PFS contract at the time. It found that it lacked the necessary infrastructure and staff capacity to track how clients fared after using its services or to conduct effective evaluations to learn whether families served in its shelters were later able to secure stable housing. However, the feasibility study fueled the City and County's decision to invest considerable funding into services for homeless families, and it has announced plans to create a new department to oversee, align and coordinate these efforts. It is also updating and adding systems, processes and capacity to collect and use more robust outcomes data.
PFS is but one front in a movement towards an outcomes-oriented social sector that better delivers highquality, effective services to communities in need, with these 20 PFS projects demonstrating the potential that PFS has to spark innovation in delivery, evaluation, contracting and financing. The proliferation of interest in PFS from service providers, foundations and governments at all levels and in all corners of the United States speaks to the potential of the PFS model as one tool to further much larger, and far-reaching, changes in how social services are provided and funded in this country. A central challenge– and opportunity – in the next phase of the shift towards outcomes-based approaches is not to advance a particular financial innovation, but to collectively improve our ability to deliver better results.
Kevin Albertson is a Professor of Economics at Manchester Metropolitan University, Kimberly Bailey is a Senior Associate at Nonprofit Finance Fund, Chris Fox is Professor of Evaluation and Policy Analysis at Manchester Metropolitan, Jessica LaBarbera is VP, Strategic Innovations at Nonprofit Finance Fund, Chris O'Leary is Deputy Director of the Policy Evaluation at Manchester Metropolitan University, and Gary Painter is a Professor in the Sol Price School of Public Policy at the University of Southern California. This excerpt is printed with permission of Policy Press, University of Bristol and available form them at www.policypress.co.uk.