Written by Review By Beth Butler with Ruth Rinehart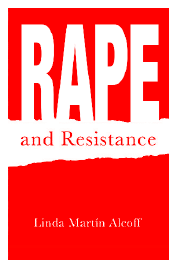 Among a range of vital voices on rape, Linda Martin Alcoff has issued a call to action for all of us to hear. In Rape and Resistance her prescription begins with the powerful and simple: to listen more closely to those who have been violated. No, really listen. The #MeToo movement has also forced us to hear some of these voices. It has increased our understanding of the depth of the problem, the legitimate anger of women trying to change these conditions, and the depth of nuance necessary to understand the life of the survivor. Yet, the level of sexual violence and aggression against women and girls is so vast and ubiquitous that the statistics remain staggering and massively undercounted. Globally, Alcoff points out, it might be impossible to ever assess the numbers.
Within their first waking moments at home or opening the front door, many women and girls begin their day confronting sexism, brutality and
violence. Whether the violations are as common and socially acceptable as enduring the male gaze or as violent as rape (reportedly one each minute), women live the world over under the constant real or latent threat of sexism, attack and sexual violence.
Alcoff illustrates the conditions at play and the necessity to listen well to survivors who too often are discouraged from sharing their moments of fear and abuse. She urges us to get a handle on how to listen, while she highlights the culture that shuts down the story-telling. And she highlights that the culture is essential. How many women do you know — in your inner circle as well as your wider community —who are survivors of rape and sexual assault? Have you heard their stories? Have you listened well? Why not? What is it about the dominant culture that controls the behavior of women and girls to the point that they have no voice to share the horror, to share their feelings, or share their lives? Why have only some exceptionally brave people who come forward and risk being reduced to the stereotype of victim? What's in it, in the short run, for a rape survivor to be vulnerable and talk to anyone, ever?
To know and understand the very details, feelings and nuances of these encounters is to better understand sexual violence and what can be done about it. It starts with listening to folks who have been violated, including men, boys, girls, women, transgender folks and others who identify as non-binary.
Alcoff's call to listen is powerful. The listening and the being heard is transformative. The act of one person's affirmation of another is deceptively simple. Listening to another's story, their pain, their confusion, their anger, their rage, their healing, their power, their agency — Alcoff seems to demand that really listening directs us to change. That is where it starts in all organizing, listening. We need to know that change will involve organizing. And that as organizers we have responsibilities to figure out the model for more changes.
It is true that more rapes are now reported, and this certainly can be seen as a victory. It is not a means for systemic change, however. Alcott insists that the first step is listening to survivors. This deceptively simple act offers more opportunity for change, for healing, and for organizing. We must listen. We must do this in order to get it right.
Where are we as organizers in a culture of rape, misogyny, and the patriarchy? We're all survivors of the patriarchy … women, men, cis-, trans-, non-binary people. Where are we as women organizers, working for justice within a rape culture, swimming in misogyny? How do we assess the issues and understand where and how to move to change this condition?
From direct community organizing experience, there are some examples that highlight a listening culture, and how changes can be made.
A sexual offense victim, "Mary," contacted A Community Voice (ACV) since chapters were working on rape issues in the low to moderate income neighborhoods of New Orleans. She heard that ACV members were doing outreach on a rape issue; this is a form of actually listening. In her initial visit it was very clear that she hadn't been listened to, that her very words could have helped the investigators or detectives solve the crime and likely prevented others from being raped as well.
As the group requested help for her from others who were better trained — specifically a police monitoring group — we learned more details from Mary that were horrific, disempowering, highly insensitive to her life, and her being. We learned of her community's support for her, and her boyfriend's lack of support. We learned of her boyfriend's constant pressure for sex when she could only "feel nothing." Listening to her, sometimes it seemed that she had it so together and that she was doing great, until she had said something to let us know that no, she wasn't fine at all. She carried with her fears heightened by her proximity to the sexual offender's likely residence in the same community.
Alcoff asks us "where would Mary's story be reflected in a rape statistic?" Statistics alone are inadequate to move changes in the conditions of rape and sexual abuse. Alcoff argues that there are other unheard, un-listened to voices out there that reflect other factors of oppression for women of color, of poverty. This brought to mind other community organizing experiences that helped develop a construct of how to listen for stories of sexual violence. The mere fact that women, low-income and people of color can have a sisterly camaraderie through community organizing may be the very reason that they can feel supported in bringing forward incidents of rape.
In 1979, the Memphis ACORN chapter began perhaps the first campaign against rape ever by a community organization. An incident was brought forward by a single mom whose differently-abled daughter was raped in a school gym. The principal and vice- principal, both male, denied the rape, ridiculed the daughter and ostracized the mother. The ACORN chapter there however, was almost entirely women, and led by women of color, experienced in fighting injustice. The mother's courage to bring forward her own heartbreak for her daughter and the way she was dealt with were met with strong sympathy, empathy and support for making vital changes in an institution. Her voice was supported before she brought the tender and hurtful subject to them. She had a way to believe that her sisters there had the fight in them and would rally with her. Throughout the pickets, the shunning, the division of the principal's pets against the ACORN members, she was strengthened and her daughter supported. At the end, the principal was fired, the school had new procedures, and there was security for the students. There was also justice and belief in fighting for change. There was an experience for all to learn the value of community organizing.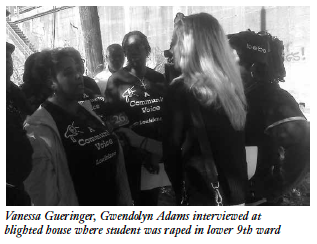 This wildly successful campaign presaged another rape campaign in another ACORN chapter in New Orleans. In that case, the rape was in an abandoned house, which the group tore down in a single day. It was such a radical action that the police threatened members, leaders and staff, and finally broke the large plate glass windows in the ACORN office, and stole 3 electric typewriters before dumping them in a nearby garbage can, just to leave a message. Eventually, in a huge victory, the state law was changed so that a house could be torn down; but in the meantime, women from all over were enthused and thrilled at this fight so clearly highlighting community and women against the system.
Boston ACORN also had a fight for street lights and other changes to make women safer. In post – Katrina New Orleans, A Community Voice leaders took on a rape campaign when a student was violated in an abandoned house on an unlit street in the lower ninth ward. After marching and rallying, suddenly five abandoned houses on that block were torn down, all of the street lights were brilliantly lit, and the school system stopped allowing drivers to drop students in blighted areas.
In one key elevation of historic rape campaigns, ACORN was able to lift the statewide campaign to the national level and support the efforts of mainstream women's groups who led the way to propose the National Violence Against Women Act. (NVAWA) Although rape was seen as a women's issue, ACORN had been politicized and changed to grasp it as a community issue, so it was normalized to step into the "women's arena" and support the National Violence Against Women Act through a national canvass and lobbying operation. ACORN was credited by the women's groups with the fact that the NVAWA passed where it previously had been doomed to failure.
Clearly, organizing is one serious vehicle for change. The voices of the threatened and the survivors beckon us. Listen Up and yes, Organize!
Beth Butler is a Director of community organizing at A Community Voice, New Orleans, LA, an affiliate of ACORN International and pillar of the citywide coalition Justice and Beyond. Butler developed ACORN's largest community organization in the South, with a 45-year focus in organizing low to moderate income people. Rev. Ruth Rinehart is a Unitarian Universalist minister, a former ACORN organizer and works to smash the hetero-normative, ableist, white supremacist, capitalist patriarchy in every way she can.