Written by John Anderson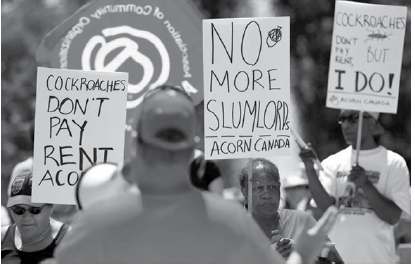 Doing research for the Hamilton ACORN's campaign to reign in bad landlords shows again the stark power imbalance that exists between property owners and tenants. That imbalance leads to owner-friendly policy and low-quality housing for our low-to-moderate income people.
Case in point: By decree only property owners can sit on Hamilton Property Standards Committee, the appeal body for all tenant complaints in the city. I just checked the calendar and it is 2018 and not 1865, yet the City of Hamilton systematically excludes a large segment of its population from having any say in what it classifies as a property standard violation.
Look at the makeup of Hamilton Property Standards Committee and you won't be surprised. All white, 80% men, 40% real estate agents — these are people with biases and a vested interest in not protecting property standards but doing the exact opposite.
A recent report put out by our allies at the Advocacy Centre for Tenants of Ontario shows how bad tenants have it, even in the postindustrial city of Hamilton, Ontario, which has seen hard times with the closing of steel mills. Forty-five percent of Hamilton renters are now living in unaffordable housing. With rents going up by five percent annually, and the vacancy rate at two percent, the
One of our leaders reported that a member of ACORN was given notice of an illegal rent increase and told by his landlord that if he didn't agree to it there would be repercussions. Now ACORN fights these things, and this member is doing just that, but this is not an isolated occurrence. The same landlord was a fixture on local news last year and these same ACORN members held actions in an attempt to get mold infestation cleaned up. This landlord has successfully exploited the power imbalance by disregarding the ineffective laws that are in place.
To date, a long, fractured and confusing debate has taken place in Hamilton on the subject. The debate is so confused that recently the Social Planning Research Council and an anti-poverty roundtable signed on to a series of landlord lobbyist recommendations that opposed tightening regulations on landlords. They argue, if I am getting this right, that regulating apartments to ensure they are up to basic living standards will mean a loss of affordable housing stock and will exacerbate the affordable housing crisis.
So nice for liberal do-gooders to tell our low-income tenants - who live in mold- infested buildings, who face the illegal rent increases from harassing sociopath landlords - that the answer to their problem is the status quo.
Interestingly, and also adding to the confusion of the debate, is that an anarchist network of activists is an active voice for tenants in Hamilton. They also oppose regulations and laws that enforce property standards, agreeing in part that fixing buildings up leads to gentrification, but even more from an anti-state/anticapitalist bent.
Now, I'm not new to all that. And I'm not confused by activists arguing, on behalf of tenants, that enforcing property standards in apartment buildings is bad for tenants because it perpetuates the capitalist state. But you better believe that average Hamiltonians are confused!
I'm making the argument that the debate on landlord licensing is so unbelievably confused in Hamilton because it lacks an organized voice for tenants themselves. Having average tenants speak for themselves will help clarify the debate, and that is essentially all ACORN ever wants to do.
ACORN tenant leaders from around the city have now together to begin planning for a large-scale campaign leading up to the municipal election in October. They have action plans, trained staff, budding tenant leaders from around the city, and are ready to roll.
With the truth at our back we are organizing to tip the power balance at Hamilton City Hall to the side of working people. If things go as planned we will create laws that protect people, not just landlords and their bank accounts and we will help clarify what working people want to fight for in Hamilton.
John Anderson is the Head Organizer of Toronto ACORN. Since 2004 John has helped to develop the ACORN Canada operations in Toronto, Ontario, and British Columbia. He is a graduate of the University of Winnipeg.