Written by Laura R. Fisher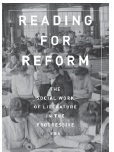 The working girls' club movement is now mostly forgotten; undercover literature languishes on unvisited library shelves and on the Internet Archive's Wayback Machine, many years out of print. But this is far from the case. If anything, recent events point to the enduring cultural afterlife of uplift institutions and reform literature.
On January 27, 2012, Hull-House closed after providing 122 years of ongoing social services to low-income Chicago residents. The Hull-House Association's board of directors cited bankruptcy, while laid-off employees claimed financial malfeasance on the part of the board. The direct, helping services Hull-House offered (child care, counseling, job training) were transferred to other community organizations. But the legacy of this association has not been erased entirely. Since 1963, the historical institution "Hull-House" has been living a double life as social service agency on the one hand and as a museum sponsored by the University of Illinois's College of Architecture and the Arts on the other. The Jane Addams Hull-House Museum was unaffected by the Hull-House Association's closure; it remains open in the original location on South Halsted Street, where it pays tribute to Jane Addams by maintaining a curatorial focus on arts education and social justice issues. The settlement house thus first evolved from its original status as a joint educational and reformist association to two discrete institutions of social work and cultural education and has now been reduced to the latter alone.
The elimination of a civic Hull-House and the retention of a cultural Hull-House tells us much about the uneven distribution of funding for institutions geared toward distinct, and differently empowered, communities: those who experience social need directly and those who visit cultural institutions to learn more about social need. But it also suggests the important place turn-of-the-century social reform continues to hold in the contemporary imagination. Although the densely populated neighborhoods of working-class Jewish, Irish, Italian, and Slavic immigrants that dotted turn-of-the-century American cities have long since disappeared, interest in the history of the urban ghetto has not abated. Today, built environments like New York City's Tenement Museum, founded in 1988, permit visitors to walk through an "authentic" urban tenement at 97 Orchard Street on the Lower East Side; its apartments are preserved and decorated in period style. In one apartment, narrow beds are pushed against the stove; In another, a small bedroom is given over to a makeshift tailor shop. The Tenement Museum invites visitors to imagine immigrant life in the late nineteenth or early twentieth century, and literary representations of the turn-of-the-century tenement, ethnic ghetto, and surrounding community organizations are central to this process of imagining: the museum's bookstore sells a large selection of immigrant literature in reissued editions, much of which addresses the importance of the settlement house to the Lower East Side and to an immigrant generation that has disappeared forever. The bookstore shelves display the autobiographies of Rose Cohen and Lillian Wald alongside Irving Howe's encyclopedic rendering of Jewish American history; indeed, most of the museum's recommended books deal to some degree with the settlement movement.
In spite of the obvious deprivations the tenement's original inhabitants suffered and the vigorous efforts of reformers to abolish those social conditions, the institutions of the turn-of-the-century ghetto are the subject of intense nostalgia at both the Tenement Museum and the Hull-House Museum. The settlement house and adjacent ghetto institutions emerge as deeply valued sites of cultural memory in the absence of any ongoing material place, functioning as a crucial node in the museums' narrative of social mobility and acculturation. Interestingly, the museums' fond retrospection on overcrowded tenements, bustling multilingual streets, and unmelted ethnics precisely reverses the tenets of Progressive reform, which aimed to change those very aspects of the immigrants' urban experience that the contemporary museums most treasure. Just as affiliation with working-class and immigrant communities once served as a balm for reformers in search of a "common life," here too direct contact with physical space and real historical figures constitutes the museums' pedagogical method; both institutions name and describe former residents of Orchard Street and South Halsted Street. Contemporary visitors reach out to the same historical milieu to rediscover the nation's roots, and perhaps also their own, in working-class urban space. Although nostalgia and social reform look very differently at the same cultural site, the modes of memorialization at the Tenement Museum and Hull-House Museum make clear that Progressive reform continues to galvanize new narratives into the twenty-first century, even as its legacy of providing direct service to underserved urban communities has been eroded.
The social and literary legacy of social reform persists in other non- profit organizations as well. In New York City, 826NYC and Girls Write Now recruit well educated volunteers to offer personal mentorship and literary training to talented young members of underprivileged groups. The participants in these programs publish journals and anthologies, read their work at high-profile public events, and, importantly, get into college at astronomical rates. (The Girls Write Now website declares that "100% of GWN seniors graduate high school and go on to college.") Meanwhile, the Occupy Wall Street movement of 2011–12 and the more recent Black Lives Matter movement have made literature a cornerstone of their social and political projects. Beginning in the early days of Occupy Wall Street in the fall of 2011, the People's Library set up shop in Zuccotti Park as the literary–institutional analog to a leaderless movement. The library was entirely donated, collective, public, and open to all; its collection was made up of fiction and nonfiction, meeting minutes, mission statements, and press. After the New York Police Department destroyed the original collection of books, magazines, and pamphlets in their November 15 raid on the Occupy Wall Street encampment, activists resurrected the library as a mobile book-sharing system of shopping carts and crates that accompanied Occupy organizers at every public event. The library's slogan delineated its unique contribution to the pro- test movement: "Literacy, Legitimacy, and Moral Authority." Occupy has spawned many other literary endeavors as well: communal reading events, a small press, the I-am-the-99% documentary project, a poetry anthology, and, of course, countless blogs and Twitter accounts. Since its formation in 2013 in the aftermath of the state-sanctioned murder of unarmed black teenager Trayvon Martin, Black Lives Matter has become a vital black-liberation movement, attacking racism and police violence through social media, mass protest, and public policy. The movement also maintains a significant literary profile, having inspired countless reading groups, syllabi, and reading lists. It has already shaped the black literary canon as well. These pursuits ramify beyond the wish to garner support and visibility for the Occupy and Black Lives Matter movements. They are literary endeavors that weave reading and writing into the very fabric of twenty-first-century social reform. Turn-of-the-century efforts to embed literary engagement in the pursuit of social justice live on in these contemporary movements, promising to redefine the social utility of literature for a new, digital generation of activists, readers, and writers.
My final example concerns the flourishing genre of undercover literature. This literary and now tele-visual mode continues apace, spawning high-profile books and programs that follow—perhaps unwittingly – the footsteps of early writer-investigators. In early 2012, investigative reporter Tracie McMillan released a book entitled The American Way of Eating: Undercover at Walmart, Applebee's, Farm Fields, and the Dinner Table, which chronicles her months spent undercover performing low-wage, unskilled labor and subsisting on its meager wages. Her goal was to expose the corporate food hierarchy's pernicious effect on the livelihoods of its employees and on public health at large. Although McMillan's working-class upbringing distinguishes her from her genteel forebears of a hundred years ago, the fact that she uses undercover methods to begin with means that education, class, and lifestyle mark an important distinction between herself and her coworkers. "Like any stranger in a foreign land, I'm overwhelmed by the landscape around me," McMillan writes with flair of her time stocking shelves at a Walmart in Michigan. McMillan's reformist mission to extend public health campaigns into the realm of literary nonfiction draws extensively on the methods of her closest contemporary, Barbara Ehrenreich, whose 2001 book Nickel and Dimed: On (Not) Getting By in America has been enormously successful. The American Way of Eating also perpetuates the work of especially progressive undercover writers of the early twentieth century, for whom waitressing or factory labor was a prelude to union advocacy or endorsement of the eight-hour day.
In contrast, the popular CBS reality television show Undercover Boss (2010– ) draws on the most conservative, individualist tropes from the undercover archive as it depicts business executives going into disguise as one of their own employees. Each episode shares an overarching goal—to become a kinder, more humane boss by heeding the voices of labor—and follows a set formula: a corporate CEO realizes that he knows very little about his own low-paid employees; he dons a fake moustache, jumpsuit, or weathered plaid shirt as necessary to impersonate one of those employees and becomes an entry-level employee at his own workplace to discover the "reality" of the labor conditions he legislates and profits from. We watch him struggle to perform necessary tasks and converse with two or three coworkers, for whom he develops a personalized concern. At the conclusion of every episode, the executive reveals his true identity to his new "friends" ("Surprise! I am the CEO of global 7-Eleven, not the slushy repairman!"), promises to institute local changes to his organization, and offers his "friends" sums of money to solve whatever issue plagues their private lives: they have, naturally, brought up their sick mothers, too-expensive weddings, mortgages in arrears, and aborted college educa- tions over the course of his week undercover. The executive weeps as he reflects on his new knowledge, and his employees weep in turn as they receive a gift that will, he swears, solve all their problems. As in early twentieth-century narratives, the undercover boss's goal has always been to pursue cross-class contact as a valuable source of social knowledge. But because this contemporary undercover agent also possesses the power to sign a check or tighten safety codes, to raise his employees' hourly wages or indeed to fire them, he may use these relationships to craft a gentler workplace while leaving the structuring mechanisms of capitalism un- mentioned and untouched. Gone is the author's conventional appeal for social action on the part of his readers: the undercover boss is the change he wants to see in the world.
Part of the pleasure of Undercover Boss for a recession-era audience has been the opportunity to watch a corporate millionaire fumble the seemingly mundane tasks of an entry-level worker and, of course, to see him cry. The show has earned its coveted Friday night time slot because the CEO debases himself by struggling to mop a floor, not because he has a heart of gold. But viewers also want to believe that corporate structures can change—and that populist cultural texts possess the power to change them. The model of "social reform" operating here is amorphous at best. In an editorial for the Huffington Post, newspaper mogul Arianna Huffington analogizes the "quiet desperation of the working classes" in Undercover Boss to Benjamin Disraeli's 1845 industrial novel Sybil, a tale of "two nations between whom there is no sympathy."  The problem of class disparity is also a matter of class distance, Huffington insists, which is why Undercover Boss is so helpful: it introduces executives to blue-collar laborers, and it introduces a diverse viewership to working-class TV characters. Huffington may be correct in electing reality television the social problem novel of the twenty-first century, but her belief in the good faith, cross-class reformism of Undercover Boss is at best ahistorical and at worst a privileged delusion. Or maybe her historical amnesia is a necessary symptom of any reformist narrative. The texts of culture—as American as Applebee's or 7-Eleven—are new again, each and every time, when they become vehicle of social change.
Excerpt from "Coda: Twenty-First Century Afterlives," from Reading for Reform: The Social Work of Literature in the Progressive Era by Laura R. Fisher appears courtesy of the University of Minnesota Press. Copyright 2019 by the Regents of the University of Minnesota. All rights reserved. https://www.upress.umn.edu/book-division/books/reading-for-reform
Laura R. Fisher is an association professor at Ryerson University in Toronto, Canada.