Written by John Anderson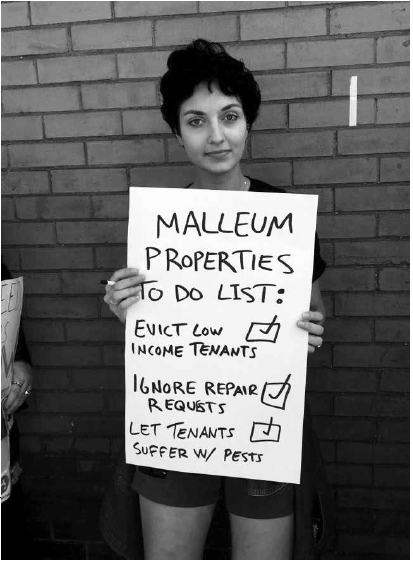 Like bankers, landlords and developers take advantage of all policy gaps that exist. If landlords and developers are able to do something that maximizes their profit, at the expense of the common good, they are will do it. Couple that with the exponential rise in the cost for housing in Canada, and the rush is on for housing organizers, advocates, and activists, to develop impregnable housing policies that put tenants before developers.
A common example of this is landlords forcing tenants out of their rent-controlled apartments under that guise that units need to be vacant in order to do necessary repairs. Dubbed renovictions, landlords are exploiting rent control laws that exist on a tenants' lease, and not on the unit itself. If the landlord can get a tenant out, they can raise the rents to whatever price the market will allow.
Renovictions are an epidemic in Vancouver, a city of 630,000 where most working-class tenants have been priced out to the suburbs where ACORN's base is. In October, the Vancouver Coalition of Progressive Electors (COPE) had a resurgence and elected long-time housing activist Jean Swanson to Vancouver city council on the promise of fighting and stopping renovation.
Swanson quickly forced the center-left controlled Vancouver council to pass measures to regulate and publicly register all tenants' buyouts. With this, the city
could mandate tenant relocation rules on developers that would be onerous and help deter renovictions.
The Vancouver rules have seemed to fall short of stopping renovictions though. The city staff in Vancouver have reported back to council claiming that the new rules would not be legal under the Vancouver Charter, a set of provincial laws that the city is bound to.
While the bluster happens in in the big city, the small suburb of New Westminster may have come up with a way to stop renovicitons.
Led by longtime ACORN ally Jaimie McEvoy, New Westminster council unanimously passed a landlord licensing system that puts strict rules on when a landlord could vacate an apartment to do renovations. The new system mandates that when a unit does need to be vacant to do a renovation that the units must be offered back to the tenured tenants at the same rent they were charged before.
New West's landlord licensing system is not a ban on landlords doing renovictions. What is does is take away all the incentive the landlord has to do it.
Landlords are challenging the legality of the new bylaw in New West. City staff expected the challenge and feel confident in defeating it. While it is unclear that it will hold up in court, New West's aggressive approach offers a policy model that could and should be replicated across BC, Canada, and beyond.
Hamilton Ontario's gentrification is in full swing with mass displacement of low-income renters taking place. ACORN Hamilton is moving quickly to determine if landlord licensing can be used to prevent tenant displacement. If so, they will be adding that to their already existing RentSafe campaign for landlord licensing in that city of 550,000.
It's likely that in Burnaby — if ACORN is successful in stopping rezoning applications that would turn our members' apartment buildings into condo towers - the developers will start getting tenants out of the building through renoviction. Licensing landlords would allow Burnaby's new mayor Mike Hurley to solidify his legacy as a true housing champion. Put your money on ACORN being the ones in his ear and in the public making that case.
Of course, ACORN was the first in Canada to suggest landlord licensing as a way to force landlord to keep buildings up to municipal building standards. Toronto ACORN's RentSafe campaign was won after years of fighting by predominately racialized working-class women in the suburbs of the city. ACORN and landlord licensing are synonymous in working class neighborhoods throughout the country. With the news of what happened in New West, expect that to continue.
John Anderson is the Field Director for ACORN. Since 2004 John has helped to develop the ACORN Canada operations in Toronto, Ontario, and British Columbia. He is a graduate of the University of Winnipeg.