Written by David Dyssegaard Kallick
My title at Social Policy when I started in 1988 was "senior editor." That sometimes made people laugh since I was all of 26 years old.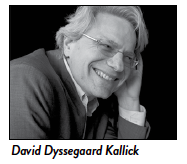 In those days, I was occasionally frustrated that the people I was working with, who were almost all a generation or two older than I was, were not very connected to the movements of the time and had a certain nostalgia for years gone by. I remember one board meeting in particular where a discussion about redesign of the magazine entailed someone saying "I don't care what it looks like, just give me the articles on mimeograph paper." I thought: mimeograph?
But my frustrations would melt into something like awe every time a new book about the Civil Rights movement came out and the board members would thumb through the index to find themselves and their friends. Or when we would organize a conference and someone would say, "I'll ask Betty Friedan to come." Frank Riessman and Alan Gartner were the co-editors who hired me, and Audrey Gartner, then Alan's wife, was the managing editor. The board included Colin Greer, Ira Katznelson, Rochelle Lefkowitz, and S.M. Miller (the executive committee) as well as Frances Fox Piven, Eleanor Holmes Norton, Ruth Messinger, Harry Boyte, Stanley Aronowitz, Barbara Ehrenreich, Peter Edelman, and many others we called on for input and guidance. It was Colin who introduced me to the magazine, and who remained my closest advisor and mentor, helping me and the magazine through a wide range of challenges from navigating my fitting into this crowd to getting the timing of issues on track to keeping a finger on the pulse of what was most politically exciting.
My years at Social Policy, 1988 to 1996, spanned some big changes.
The Cold War was ending, yet there was no "peace dividend"—the kind of big reduction in military spending and increase in social investment that followed World War II. The  uprising in Tiananmen Square led to a massacre, but apartheid ended in South Africa. The election of Bill Clinton was a welcome change from the Reagan and Bush years, but a disappointment that represented a very conscious move rightward for the Democrats. Progressive political movements had a hard time gaining traction as Clinton triangulated to the center.
A thread that ran through a lot of the writing in Social Policy in those years was a search for a "new politics." Liberalism, as many Social Policy authors understood it, seemed too paternalistic and top-down. After American interventions in Vietnam, Chile, El Salvador, Nicaragua and a host of other countries, liberalism also felt tainted by militarism and colonialism. Socialism and social democracy were better, but those approaches could also feel statist and paternalistic. Missing in even the most attractive Scandinavian social democracy, from the point of view of many Social Policy authors, was an emphasis on individual and group empowerment, a robust civil society, attention to race equity and pluralism, a ground-up approach to of social services.
The magazine convened a conference on "What's Left?," with Richard Healey and Colin Greer, the basis for our 20th anniversary issue in 1990, and one called "Is There a Politics Beyond Liberal and Conservative?" Herb Kohl and I co-edited a special issue of Social Policy on the role of the Highlander Center in nurturing social movements that included an introduction by Aldon Morris, who had recently published his now-classic The Origins of the Civil Rights Movement, and annotated sheet music by Guy and Candy Carawan called "I'm Gonna Let it Shine: Singing at Highlander."
We traced the early days of the Environmental Justice movement, from "Toxics and Racial Justice" by Pat Bryant of the Gulf Coast Tenants Association in 1989 to an interview with Cynthia Hamilton of the Los Angeles Labor Community Strategy Center, one with Judi Bari of Earth First, articles about the work of the National Toxics Campaign and one about its collapse, and a series we called "From the Front Lines of the Movement for Environmental Justice with Cathy Hinds (Litchfield, Maine), Lanny Roy (Lake Charles, Louisiana), and Evelyn Williams (Red Fox, Kentucky). In a 1995 editorial, I tried to push the case for a new politics that was not trapped in the narrow confines of "liberal" versus "conservative." I was upset to see some of my heroes, brilliant and insightful progressive critics of the welfare state, defending liberalism. Many were bemoaning the decline of liberalism represented by the Clinton Administration. I brashly wrote:
I have no objection to seeing liberal politicians, like old generals, slowly fade away. After all, liberalism has always had its problems. Social Policy began in 1970 in no small part as a critique of liberal philosophy, stressing the need to build community, avoid excessive reliance on professionals that fosters a "client" mentality rather than citizen empowerment, decentralize governmental power, and emphasize the work of (nongovernmental) political and social movements. [As Mike Miller, writing in that issue] reminds us, organizer Saul Alinsky regularly disparaged Great Society liberals as "welfare colonialists" or having a "zookeeper mentality."
The problem with liberalism's decline is that what followed in its wake was not an enlightened advance from liberal philosophy, but a one-sided counterreaction; not post-liberalism, but anti-liberalism.
The magazine's engagement with health care reform showed some of what this idea of a new politics could look like.
On the one hand, we addressed the government and public policy side of the question. Elaine Bernard laid out compellingly what a single-payer health care plan would look like, and why what worked in Canada would be a good solution for the United States. Richard Harwood stressed that the public should not be given a hard sell of a plan designed behind closed doors. To design, pass, and implement an effective change of this magnitude, Harwood argued, the public had to be deeply engaged in discussing real options. And an interview with Ray Rogers explored what it would take to neutralize the power of insurance companies so they are not setting the parameters of the public debate.
On the other hand, we brought in issues of empowerment, changing the relationship of community members to professionals, and not just race equity but also different types of answers that derive from the experience of different communities. Rinku Sen drew out central questions in low-income communities and communities about people's relationship to their own health care than just whether or not they have insurance. Frank Riessman argued for the importance of supporting alternative health approaches, especially supporting measures that do not depend on medical professionals. And we featured articles on the women's health movement, environmental health, combining community health and community organizing, and a family-oriented way to reshape health care for children.
Social Policy explored economic issues with a similar lens, focusing on worker empowerment even if that meant rethinking traditional labor unions. A 1994 issue asked:
"What would a new kind of unionism look like? Flexible, inclusive, participatory, and responsive to new workplace realities, for starters," and featured three different perspectives on "how the labor movement can revitalize itself, and regain its role as a leading advocate for social change," including a groundbreaking piece about the Chinatown Staff and Workers Association by Peter Kwong.
Social Policy also explored worker cooperatives and other forms of worker ownership. In "Time for an Employees Lobby," Herbert Gans wrote a galvanizing piece arguing that while what America needs may be a Labor Party, but what it realistically can get is something more like an organization that advocates for workers. That article spurred an op-ed column in the New York Times, a series of meetings in the Social Policy offices, and Sara Horowitz's vision and leadership taking the idea in a different direction to found what is today the Freelancers Union.
We also tried hard, maybe too hard, to find common ground with more conservative tendencies and critiques of liberalism. When Ross Perot took 19 percent of the vote in the 1992 presidential election, Tema Okun wrote an article entitled "They Should Be Our People." We wrote extensively on the importance of civil society (remember "Bowling Alone"?), and made efforts to draw at least a few conservatives into discussion around the need for non-governmental institutions. We also tried hard to engage a burgeoning community service movement that we thought—as did at least a few of its leaders—could be a more explicitly progressive force.
In retrospect, though, I'd say we were looking for something that wasn't really there. I don't think we made much headway in drawing conservatives or even many moderates toward a progressive politics. I hope we didn't discourage many progressives.
Looking back over Social Policy's 50 years is both inspiring and daunting. There's so much rich thinking, so many ties to a wide range of progressive organizations and movements, so much restless energy reflected in its pages. And yet. In the 50 years of its existence, the country has slid bumpily further and further to the right. Some progress has been made, to be sure. But, it is horrifying to find ourselves with a president spewing overt racism and questioning whether he will accept the outcome of the 2020 election. One day, we will have to pick up the pieces and rebuild after the devastation of the Trump Administration. COVID is an immediate crisis, but the larger crises are around race equity, reverse income inequality, and global warming. In the post-Trump years, whenever they come, we cannot be satisfied with restoring the previous status quo. Social Policy and its archives will be a great place to look for inspiration about how to move forward.
DAVID DYSSEGAARD KALLICK is a former editor of Social Policy, and is currently the deputy director of the Fiscal Policy Institute and director of FPI's Immigration Research Initiative.