Written by John Anderson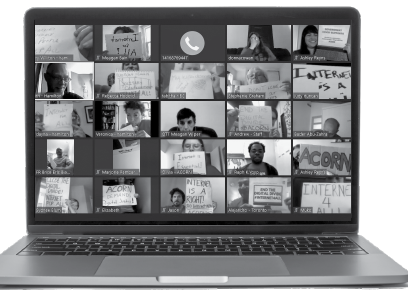 Day to day tasks of ACORN organizers have evolved slowly over the years. Field organizers knock for four hours a day, been like that as long as I have been around. Phone lists get labeled, stapled and tacked to a bulletin board. A funder, who certainly has no experience at doing the work, once tried to convince us to use iPads instead of pens and clipboards while knocking. Field organizers resisted, and for better or worse we still use clipboards. For an organization committed to making systemic change, we are not eager to change the functioning systems we have. That is until they stop functioning.
Overnight in early March, door knocking, our definitive form of outreach, along with most other standard operations came to a screeching halt, as did so many things across the globe. We were now 'work from home' people, and we had no choice but to adapt.
Our national communications team, led by our tireless National Head Organizer Judy Duncan, quickly moved our outreach from the doors to the phones using a predictive dialer that organizers could use from home. Judy knew that our member lists that we have diligently been building for 15 years at the doors are likely the best and longest phone lists of low-to-moderate income people in the country. So, the immediate plan was to milk those lists from home.
At the same time, we expanded our existing capabilities, developing online contacts through petitions and online actions so that we could develop new leads for organizers to call. The first online action was against Justin Trudeau and called for a series of COVID-19 demands of mass unemployment insurance reform, and cancelling rent.
Within the first weeks of the pandemic several thousand people from across the country did the online action, with some concentration in the cities we had larger bases. The online action generates an automatic email from the new contact to the target, Trudeau. Trudeau's people see the emails: that has some campaign value. Better organization, not unlike a day cold knocking would. It's been successful.
I always felt that 'if you work from home you are not really working'. This has largely changed. I almost can understand why some companies allowed working from home even prior to the pandemic. Disciplined organizers, it turns out, can work remotely. The check-ins that I do daily with organizers in the office I oversee happened on time, daily reports were sent with the same lively updates every night. It was all surprisingly normal. Now, don't get me wrong, all of our offices opened for the field organizers and their managers the second the Public Health authorities allowed for it, but in the meantime we adapted.
Our Montreal Organizer Raph Yoyo transferred from BC at the start of the pandemic. Upon arrival he was confined first to his new home, where he set up in his bedroom, and then to our office at the Immigrant Workers Centre once it was opened. Due to Montreal ACORN being new, and having no formal chapters organized, the lists to call were much shorter than they were at the well-established offices like Vancouver, Ottawa, and Toronto. We thought this was going to make the creation of any formal ACORN chapters difficult to impossible. But with the quick adaptation to diligently work the phones, coupled with Raph's natural charm, he finished a drive in LaSalle, a working-class borough in south west Montreal, and now has a fantastic group largely consisting of immigrants from Africa. Raph's confidence is a treasure and he remarked to me after the drive that it was never in doubt. Gotta love it, and onto the next drive in Montreal Nord.
In Nova Scotia, COVID in a roundabout way was the recruiting tool that landed us a bright young organizer, which our local office there had been trying to bring on for some time.
A young activist, Sydnee Blum, reached out to our national Facebook page at the start of the pandemic looking for advice. She had gathered 10,000 on the Nova Scotia Rent Freeze change.org petition and was struggling to move them offline and into real action. We talked, she joined as a member, and we both learned quickly that there is not much you can do with a 10,000 person change.org petition. Change.org owns the lists, and you can only message signatories through change.org messaging Also, it became unclear how many signatories actually lived in Nova Scotia, not that we told anyone that!
In the first week Sydnee was active as a member, ACORN Nova Scotia leaders voted to adopt the demands on the petition, and then held a press event touting our huge support that got a fair amount of attention. In the second week we decided that Sydnee's skills would be best suited as a staff organizer, and we brought her on as the Nova Scotia Organizer.
Since joining the staff, Sydnee has been often leading the all-important ACORN Canada stat chart, organized a vibrant formal ACORN chapter on the Halifax Peninsula that had been dormant for years, and has helped show others, including myself, what is possible during the pandemic. We can doorknock, we can have in person meetings, we can work the phones, and we can move our campaigns as we always did.
Another organizational sea change for ACORN in Canada was the immediate transition of our meetings to zoom. Chapter meetings, meetings with targets, what we call zoom rallies (where leaders do an overview of a campaign and then flash up targets phone numbers to call with a quick script) all happened on zoom, and still do for the most part.
Despite the pain that all humans are familiar with by now, zoom has its benefits. Largest has been that it is possible now to support new leaders in cities and regions where we don't have an office. Northern Ontario has a small group that has monthly meetings now, and zoom allows a staff organizer to sit in and provide information and assistance as needed. Combine that with the existing Ontario ACORN campaigns and it has become remarkably easy for ACORN members in Northern Ontario to take action, all while getting the support they need. This month after a small but fun picket at the Landlord Tenant Board office in Sault Ste Marie a headline in the local paper read Trio of Saultites protest COVID evictions. How great is that?
Crisis is a time for peoples' organizations to prove their worth, and when that happens you can see it in organizational growth. Since the start of the pandemic, we have grown from having four staffed out offices to seven, monthly members' dues totals have grown substantially, just like membership numbers.
We want to be at the doors, and a report of a three-member day at the doors in Nova Scotia yesterday is an encouraging sign that this all may pass. But until it does, we will adapt to the situation as real organizers do.
JOHN ANDERSON is the Field Director for ACORN Canada. Since 2004 John has helped to develop the ACORN Canada operations in Toronto, Ontario, and British Columbia.