Winter 2022
Written by Drummond Pike
Noa Emmett Aluli 1944-2022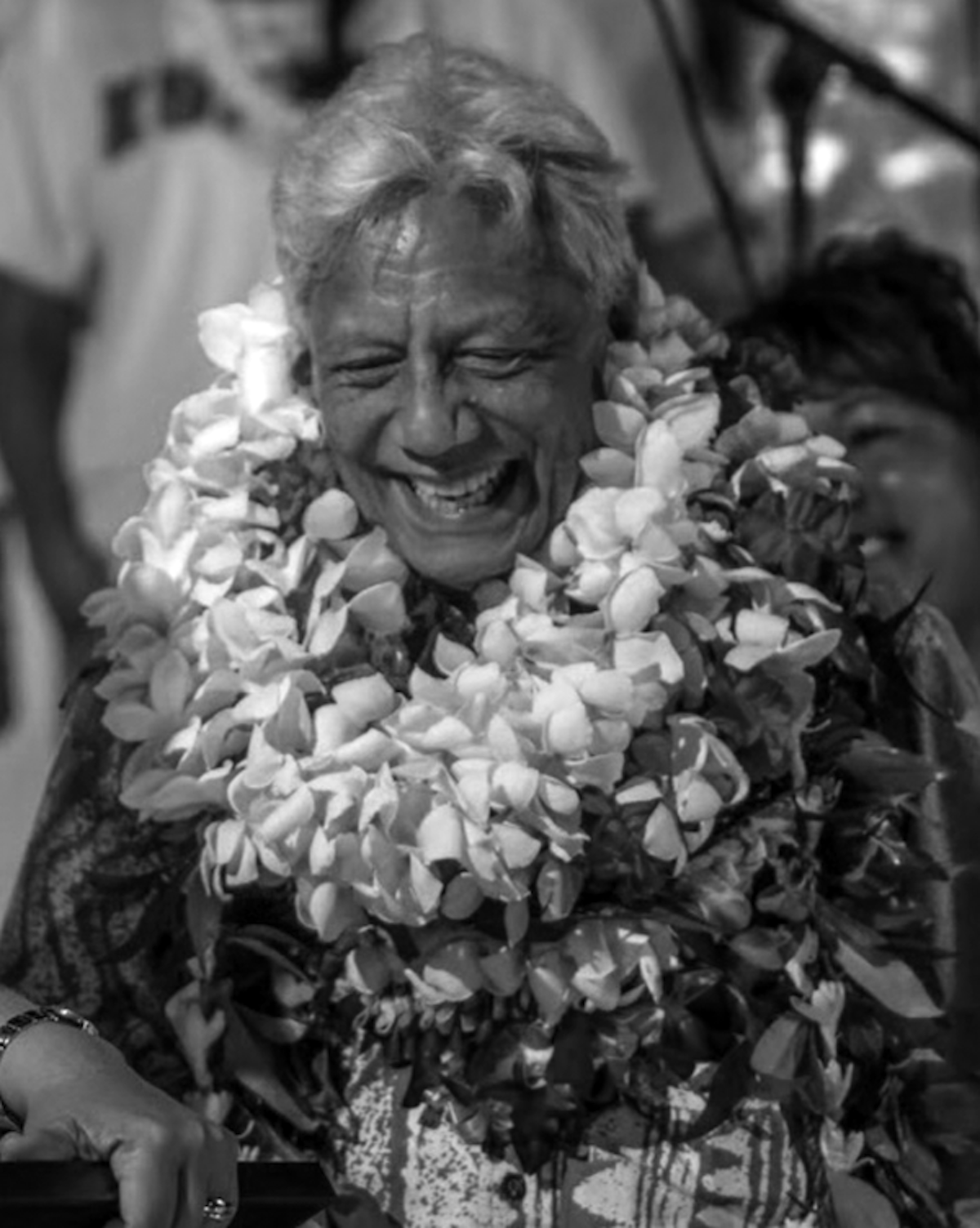 Hawaii has a way of touching one deeply. It is a special place, discovered and settled by a remarkable people. The thing Emmett Aluli always taught is that you can't separate the two. The health of the people is directly related to the health of the land. If you think about it, this makes absolute sense. Islands and their surrounding waters are all that humans have on hand to sustain themselves – literally and, in the case of the Islands, spiritually. And Emmett lived that truth in every way. It does not surprise that his beloved Pele – the goddess of volcanoes as we Haoles would say – began erupting in the days before embracing him back to the 'Aina that he so loved.
Early in 1976, when I began work as the Executive Director of the Shalan Foundation, I was exhorted by my friend Tom Layton, who ran the Gerbode Foundation, to join him on a trip to Hawaii where his foundation focused much of their grantmaking. This is where I met Emmett in the twilight of a balmy, breezy Molokai evening, slowly making my way out along a seawall of an ancient fishpond to his small shack. There was, of course, a beer and probably in those days a cigarette. Maybe even some "pakalolo." What I remember of that warm night were the first steps in a journey as I began to learn about a Hawaii few tourists ever touch. Over time, I came to understand some of what comprises Hawaiian culture and history, and I was forever changed.
As a young physician, Emmett's calling grew quickly from healing people, which he did all his life, to healing a tragic history. Long before it was even marginally acceptable, he embraced the nascent movement to re-empower the Native Hawaiian community in the home it had settled centuries before Captain Cook ever held a sextant. Through Emmett's eyes, and deep soul, I came to understand the extraordinary culture his ancestors had created that, to an environmentalist, seemed something to not only aspire to, but to replicate in any way we could. The Hawaiian concept of "ahupua'a" divided land into pie-shaped tracts leading from mountain to ocean; hunting and gathering in the uplands, taro patches in the lower reaches, and the abundant ocean provided for all. 
That meeting at the fishpond on Molokai happened not long after he and 8 others had illegally occupied the island of Kaho'olawe in what was seen to be a fraught effort to stop the US Navy from continuing its decades' practice of using it for target practice. For fear of inadvertently killing them, the Navy suspended bombing runs until the young activists left, which they did, but not before assessing the extraordinary damage the bombing had caused. Having never been seen before by civilians, the destruction was shocking to even the most callous of souls. Stripped of vegetation by feral goats and strewn with craters and unexploded ordinance, it seemed more hellscape than anything. But that occupation began a process or organizing, litigation, and a daunting commitment to return the land to its people. It took 15 long years of litigation and agitation by the Protect Kaho'olawe Ohana, founded by Emmett and others, to finally stop the bombing in 1990 and to begin a restoration project that continues to this day. For many, the struggle continues with the island a centerpiece for the long trail to sovereignty many Hawaiians continue to climb.
One of the fundamental ideas that Emmett drilled into my Haole skull was the idea that the land, the 'Aina, was a living, breathing thing, nurtured over the centuries. To the Kaho'olawe Nine, those uninvited visitors to Kaho'olawe, it must have been like observing an assault on a family member. And it became the rallying cry for an emerging generation. More importantly and with due credit to Emmett's leadership, protecting and restoring this trashed island became a life goal in which he succeeded beyond anyone's imagination at the time.
To anyone who has even the most rudimentary understanding of Hawaiian history, the willingness of the Nine to occupy that place is simply extraordinary. Less than a century before, Hawaii was a respected monarchy feted in Europe and beyond, but it was a place that at some fundamental level was in philosophical conflict with what we call "western values" like private land ownership. The early arriving missionaries married royalty and gained control of productive land and developed export crops like sugar and then pineapple. But to secure their futures, and with the connivance of the US government, these sugar barons literally overthrew the Hawaiian government in 1893 and declared a brief "republic" before seeking territorial status in 1898 during the era of gunboat diplomacy as the US sought its own colonial aims. With a deposed monarchy, and gunboats in the harbor, Hawaii set off on its 20th century future as a major US military outpost. Long before the attack on Pearl Harbor, Hawaii came to depend on the US Navy, all the while creating fortunes for the sugar and pineapple dynasties. World War II, then Korea, and of course Vietnam provided a series politically dominating events in which the Islands were a central player. Much like the indigenous peoples displaced and maltreated on the mainland, Hawaiian communities became committed supporters of the military. Pearl Harbor was an economic driver through all of this, so when 9 rebellious young Hawaiians decided to adopt civil rights tactics by "occupying" the island, they not only upset the longstanding dominance of the military but they also risked condemnation of their own, and, lord knows, they got more than their share. But they also launched a movement that thrives to this day.
Emmett and his life partner, the Hawaiian scholar Davianna McGregor, did much more than nurture the return of Kaho'olawe to the stewardship of the Hawaiian people. They collaborated and supported many others working toward the restoration of Hawaiian culture and sovereignty.  Through them, I met, and at times was able to support, other efforts. Skippy and Palikapu on the Big Island who fought geothermal development and asserted historical gathering rights. The Lin brothers and Uncle Harry Mitchell on Maui intent on preserving "Kuleana rights" to land in the Kipahulu Valley on the slopes of Haleakela. And there were many more struggles throughout the Islands. On a recent visit, one thing I noticed was how broadly the Hawaiian language is being brought back to life – a reflection I think of how deeply the movement has taken hold. Public schools have immersion programs which produce many, many bi-lingual youth restoring what was thought a dying language in those ambitious days of the 1970s.
It is noteworthy that the beginning of Emmett's activist journey on Kaho'olawe also involved loss and tragedy. Two of the nine disappeared at sea attempting a return to Maui – Kimo Mitchell and George Helm – and many to this day suspect foul play. But what they gave life to has had incredible impact on those that followed. That Emmett was able to water those seeds over much of the last five decades, and like the native plants growing today on Kaho'olawe, it was his fate to nurture a movement that will bear fruit for the many years to come.
I am sure many others will write about Emmett and his extraordinary contribution as a medical doctor. When I met him first on Molokai, he had set up and was practicing medicine which he continued to pursue until he passed. This is a community that no doc looking for the ticket to the good life would ever choose. It's a rural place far from the tourist meccas of Waikiki, Kona, or Maui. But it is also a place that waters the Hawaiian soul, of which Emmett has become a lasting part.
Emmett's generosity was legend. He gave of himself to everyone with whom he encountered. His decades of service on the Tides Foundation Board was characterized by a quiet wisdom through which he reminded us so often of just why we were committed to social justice. He was simply one of the best people I've ever known.
Last, one cannot write about Emmett without commenting on his deep, extraordinary warmth as a person. For all his accomplishments, he was always humble to a fault. And he never greeted one without a hug or a kiss – or both if you were lucky. One never will forget his touch, his soft voice, or his embrace.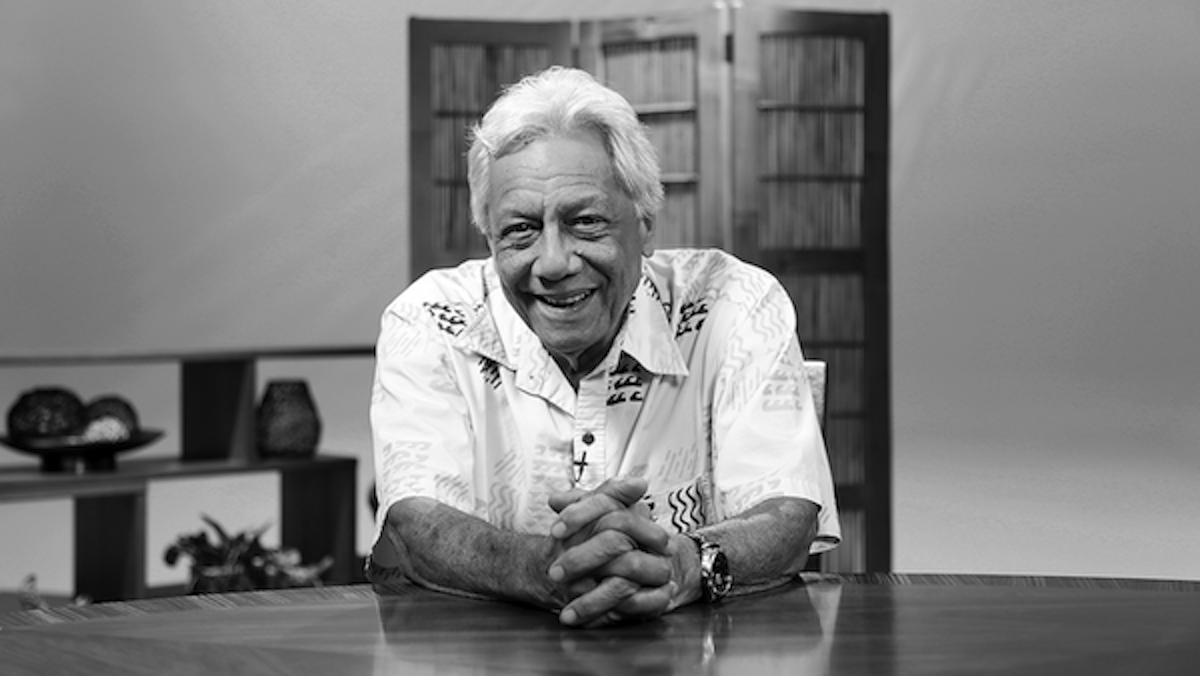 ---
Drummond Pike, a frequent Organizers' Forum participant and contributor to these pages, was the founder and CEO of Tides in San Francisco, and continues to be involved in philanthropy and social change.